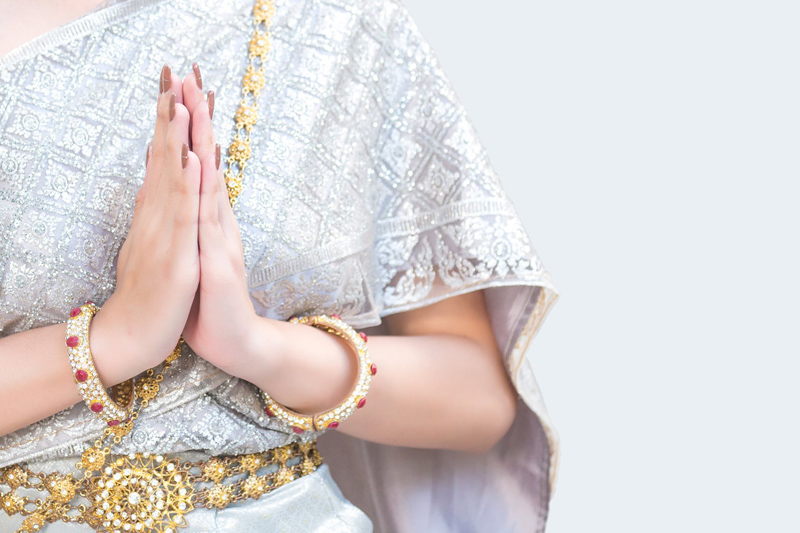 Chaploo/La lot (Piper samentosum) is traditionally used as the wrapper for this yummy snack. They are often available at Viet and Thai Markets, but if you can't find them you can use large leaves of spinach; or leafy lettuce, tear leaves into 3- to 4-inch round or square pieces


Filling Ingredients:

8 ounces cooked chicken breast, small chunks, 1/4" size


1/2 cup unsalted roasted peanuts


1/2 cup roasted unsweetened shredded coconut


1/3 cup diced ginger (about the size of a pea)


1/3 cup diced shallots or onion the same size as the ginger


1 lime, cut into small peanut-size wedges, including both peel and juice sacs


4 heads pickled garlic, stem removed and bulb cut into peanut-size pieces


10 Thai Dragon Chiles (or 6 serrano peppers, cut into thin half circles)


1/3 cup cilantro leaves


6 squares of crispy rice cakes


Sauce Ingredients:


1/4 cup finely ground dried shrimp


1/2 cup roasted shredded coconut


1/4 cup unsalted roasted peanuts


1/4 cup date palm or coconut sugar


2 Tbs. fish sauce (nam plah), or to taste


1/2 cup water


Method

To roast coconut, place unsweetened fresh, frozen that is defrosted or dried shredded or shaved coconut in a dry cast iron pan over medium heat. Stir frequently until the coconut shreds are evenly a golden brown and very fragrant. You can also do this in a toaster oven, turning over once, BUT watch it as it will burn easily.

Pickled garlic is available in jars from Southeast Asian markets. You will need to remove the fiberous covering to expose the tender garlic cloves within. I have used already peeled and pickled garlic cloves which saves a lot of time. There are some chile infused pickled garlic cloves that are fabulous for Miang Kam.

Arrange the chaploo/shaploo, or spinach or lettuce leaves and filling ingredients on a large serving platter, piling each separately and aesthetically for a pleasing presentation. I use a divided type blue and white Thai Miang Kum dish on a brass base which works great.

To make the sauce, grind the dried shrimp, roasted coconut and peanuts separately and as finely as possible in a clean coffee grinder. (For the dried shrimp, measure out 1/4 cup after the shrimp is ground.) Place in a small saucepan together with the palm sugar, fish sauce and water. Optional-add some dried powdered Thai roasted chiles.

Bring to a boil, lower heat and simmer, stirring frequently to make sure all the ingredients are well blended and the sauce as smooth as possible. Cook about 10-15 minutes, or until the mixture has thickened to the consistency of light batter. Transfer to a sauce bowl and allow to cool to room temperature before using. The sauce will thicken more as it cools.

To eat, take a leaf, fill it with a little bit of everything, top with a dab of sauce, roll or wrap up, stuff the entire leaf packet into your mouth and chew everything all at once. Enjoy the explosion of flavors!





Related Articles
Editor's Picks Articles
Top Ten Articles
Previous Features
Site Map





Content copyright © 2023 by Mary-Anne Durkee. All rights reserved.
This content was written by Mary-Anne Durkee. If you wish to use this content in any manner, you need written permission. Contact Mary-Anne Durkee for details.