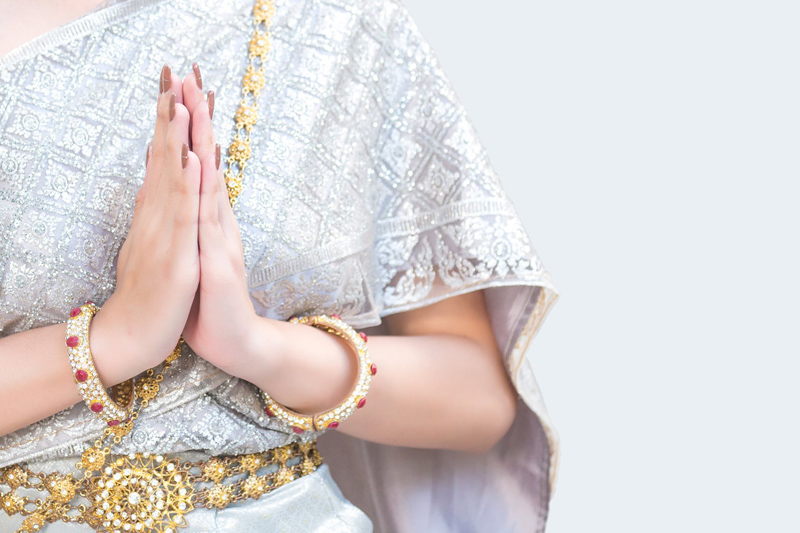 Ingredients
Peanut oil as required
3 cloves garlic, minced
8 oz. daikon, julienned
3 green onions, trimmed, julienned
3 ounces red pepper, juienned
2 inch piece of gingert, peeled, finely juilenned
Optional: Cooked skinless chicken breast or pork julienne can be also added for a heartier roll
1 tbsp. date palm sugar
1 tbs. Fish sauce
1/2 tsp. ground white pepper, to taste
2 eggs, lightly beaten
4 oz. dried spiced bean curd, julienned*
1/4 cup deep fried red onions**
1/4 cup dried shrimp, soaked in very hot water for 25 minutes and drained
Or
Smoked dried shrimp
8 square spring roll wrappers,

Sauce:
1 Tbs. sriracha chili sauce
1 Tbs hoison sauce
2 tsp. Roasted chopped peanuts

Mix the following three together for the sauce, sit aside

1 small head red ruffled leaf lettuce, washed and dried
Handful Cilantro leaves, washed and dry

METHOD

Wash lettuce leaves and cilantro, place on paper toweling, roll up to dry. Reserve for rolls.

Heat 1 tsp. peanut oil in wok or small skillet over medium-high heat. Add garlic, and cook, stirring, until fragrant, about 1 minute. Add daikon and pepper, sugar, white pepper, and stir-fry until fragrant, about 2 minutes. Add 1/2 cup water, and bring to a rapid boil stir-frying until tender-crisp, about 3 minutes. Remove from heat, and let cool.

Heat 1 tsp oil in a wok or nonstick skillet over medium-high heat, add eggs; sprinkle with ground white pepper, cook, flipping once, until an omelet forms, about 3 minutes. Transfer to a cutting board, roll up like a cigar, and very thinly slice crosswise; set aside.

Heat 1 tsp Peanut oil in skillet, and add bean curd; cook, stirring, until golden brown, about 5 minutes; set aside.

To assemble:
I use a flat smooth clean cutting board to make the rolls.
Place 1 spring roll wrapper on the flat surface diagonally with one corner pointed towards you. Brush bottom third of wrapper with a little of the chile, hoison, peanut sauce, and place 1 leaf of lettuce on top; place a little of each ingredient- daikon, pepper, sliced omelet, bean curd, fried onions, cilantro leaves, and dried shrimp (and Chicken or pork if using) on top of lettuce. Place the ingredients evenly down the center of the wrapper allowing 1" at each end free of ingredients.

Lift bottom corner of wrapper snugly over filling. Fold the two sides inward over filling, and roll forward away from you to form a 5¡± long tight roll, about 1 3/4¡± diameter. Be careful not to tear the wrapper skin with your finger nails as you snugly roll them!

Repeat this process with the remaining wrappers, filling with the Chile, hoisin peanut sauce, lettuce, daikon, peppers, omelet, bean curd, onions, and shrimp.

Place rolls on a serving plate, cut each diagonally crosswise into 4 pieces. You can line the plate edges with extra lettuce leaves for colour and as an edible garnish.

Drizzle with the remaining Chile, Hoison Peanut Sauce.

Variation: Wrap lettuce leaf on the outside of the roll instead of placing within the wrapper. If doing this serve larger lettuce leaves that will allow diners to wrap around the rolls.

*Spiced or marinaded bean curd can be found in the cooler section of Asian markets. It is firmer and contains less water than regular bean curd.

** Deep fried red onions: Available at Asian markets or you can make your own by deep frying thinly sliced red onions in oil. I prefer to buy them-less mess!

You Should Also Read:
Thai Dipping Sauces


Related Articles
Editor's Picks Articles
Top Ten Articles
Previous Features
Site Map





Content copyright © 2023 by Mary-Anne Durkee. All rights reserved.
This content was written by Mary-Anne Durkee. If you wish to use this content in any manner, you need written permission. Contact Mary-Anne Durkee for details.