Thai Vegetarian Jungle Curry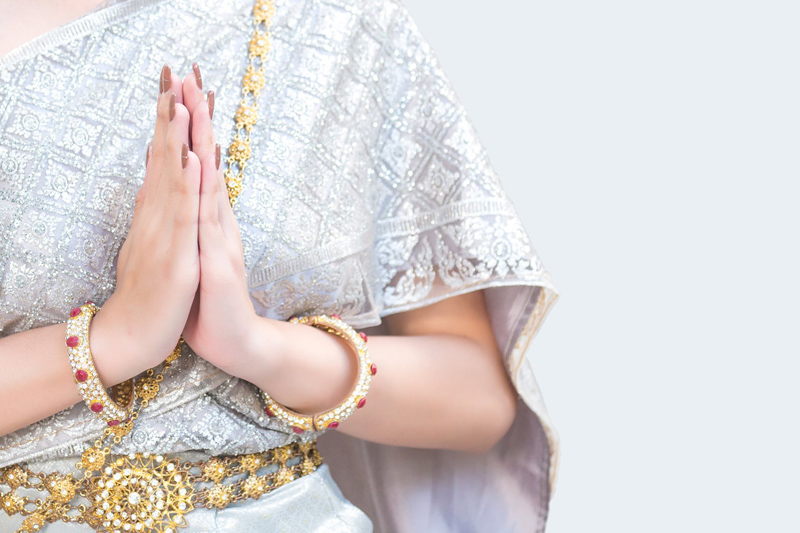 Jungle Curry is one of my favourite curries of Northern Thailand.

Jungle Curry
(Krung Kaeng Pha)

The first time I had Jungle Curry was in Chiang Mai at a little outdoor family restaurant. Papa took our order and mama was in the open air kitchen. We ordered the Jungle Curry which included fresh bamboo and other local vegetables. This exotic sounding curry can be made with garden fresh seasonal vegetables of your choice, as well as with Asian vegetables.

I like adding hard boiled quail eggs to this curry. Also chicken eggs or duck eggs quartered make a great protein addition to this flavourful curry.

Serves 2

1 Tabs peanut oil
1 Tabs of the curry paste -following
10 ounces assorted vegetables, cut into bite size pieces
1/2 cup vegetable stock
1 Tabs Mekong Thai whisky (or rum)
2 Tabs pea eggplants (fresh peas can be substituted but will not give the slight bitter taste)
4 oz yardlong beans cut into 1 1/2" lengths
4 oz bamboo shoots, juilenned
10-12 fresh holy basil leaves (Bai Krapao)
4 krachai (lesser galangal) stalks, scraped and julienned (frozen or in jar)*
1 Tabs fresh green peppercorns (or frozen or in a can)*
3 kaffir lime leaves, slivered
2 tsp fish sauce (nam pla)* optional use soy sauce


* found in Asian Markets either frozen or in a can or jar

Note: Tabs=tablespoons

CURRY PASTE

1 1/2 Tabs small fresh green Thai Bird chiles, chopped (Phrik Kee Nue)
4 shallots, chopped
5 cloves garlic, minced
1 stalk lemongrass, finely sliced, outer hard leaves removed
1 Tabs kapi (shrimp paste), roasted, toasted in toaster oven on tin foil until fragrant-be sure and open the kitchen window!**
1 tsp salt
1 Tabs galangal, peeled and finely sliced (kha)
2 small cilantro roots, sliced (coriander)
1/2 Tabs kaffir lime zest (lime zest can be used)
3 krachai roots, peeled and sliced
10 white peppercorns, ground

**omit if you do not eat shellfish

Method
Place chiles, shallots, and lemongrass in mortor pound with pestle to a fine paste. Add the kapi, salt, and galangal, cilantro roots, kaffir lime zest, krachai, and peppercorns continue pounding after adding each ingredients until all are incorporated into a fine paste. Set aside. This can be done in a food processor, but the flavour will be a little different as pounding releashes the flavour oils.

In a preheated medium sized saucepan add the oil and swirl to cover the bottom. Add the curry paste and fry until fragrant. Add the vegetables and turning to all sides to cook. Add the stock and Mekong whiskey, simmer for 2 or 3 minutes until the meat is cooked-IE no longer pink.

Just before serving add the rest of the ingredients including the fish sauce, kaffir lime leaves, etc. Allow these ingredients to simmer and the flavours to meld together. This is a salty and hot dish. Adjust fish sauce or soy sauce to taste.

Opional - Serve with Nam Phrik Pla (fish sauce with thinly sliced Thai chiles) for individual diners to adjust the heat and saltiness to their taste.

Garnish with a handful of Thai Holy Basil (Bai Krapoa).



Related Articles
Editor's Picks Articles
Top Ten Articles
Previous Features
Site Map





Content copyright © 2022 by Mary-Anne Durkee. All rights reserved.
This content was written by Mary-Anne Durkee. If you wish to use this content in any manner, you need written permission. Contact Mary-Anne Durkee for details.