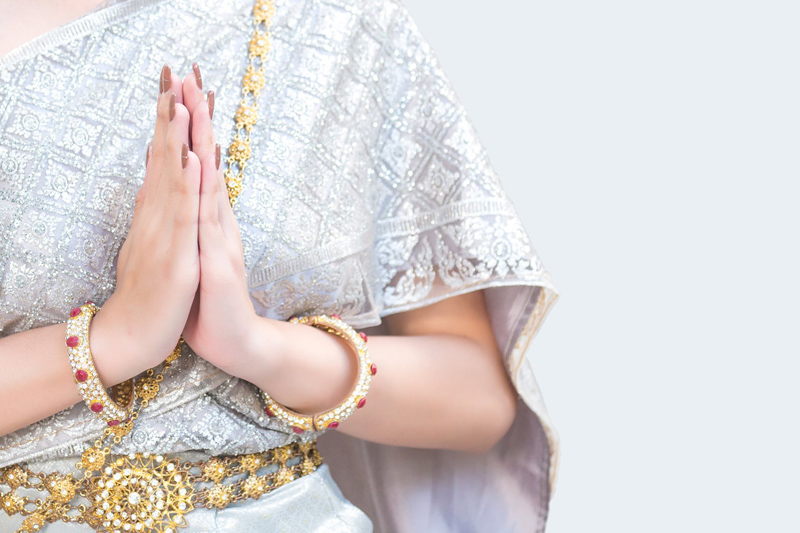 Penang Mu

Penang is a drier style curry originating in Southern Thailand from Penang, Malaysia. Phanaeng curry is named after Penang island, an island which is located in Malaysia. Penang is called Phanaeng in Southern Thailand's dialect. In Penang, this dish is mostly served by the Malay and Peranakan people of Penang. Many other curries require much more coconut milk than in this Penang style curry.

Often Penang is made with beef, but can be made with any meat, fowl or seafood, or vegetables. We really enjoy using cubed pork for a lighter version.

You can buy prepared curry pastes in Asian markets, but nothing beats the flavour of home made curry paste. You can lessen the effort by using a food processor, but traditionall curry pastes are made by hand using a mortor and pestle.

You can adjust the heat level to your taste by using fewer or more chiles. I would suggest using at least 15 chiles for a good curry flavour.

Penang Curry Paste

25-30 dried red Thai chilies, discard the excess seeds
2 tablespoons minced shallots
2 tablespoons minced garlic
2 tablespoons of very finely sliced and minced lemon grass
1 tablespoon grated galangal
1 teaspoon of toasted coriander seeds
2 tablespoons of minced coriander root
1 tablespoon kapi (shrimp paste)
2 tablespoons of chopped freshly roasted peanuts

Mix together to a fine paste in a food processor or pound using mortor and pestle. This paste will keep in a glass jar in the refrigerator for about 1 month.

I like to make the curry paste a few days prior to using it to develop the flavours.

Pork Panang (Mu Penang)
2 cups of pork, cut into bite sized pieces (I like skinless, boneless thigh)
1 cup of coconut milk
1-2 tablespoon of chopped garlic
4 to 6 tablespoons of the curry paste
2-4 tablespoons of fish sauce (nam pla)
Sugar to taste (date palm sugar is best)
4 Kaffir lime leaves, finely slivered
20-25 holy basil leaves, finely shredded

Place wok or deep skillet over medium high heat, and warm the coconut milk, but don't let it boil. Add the curry paste, and stir it until it begins to separate and becomes fragrant. This important step develops the flavour!

Add the remaining ingredients except the lime and basil leaves, and simmer until the sauce is absorbed and thickened.

Then add the leaves and stir fry briefly before serving. Garnish with julienned red chilies, with steamed jasdmine rice.

Serve with Thai table condiments - such as nam pla phrik to increase the heat of the curry.

This recipe is based on one given to me by Recipe from: Colonel Ian F. Khuntilanont-Philpott during our vist with him and his wife in Korat, Thailand in the mid 1990's.

If you want to make a quick Penang Curry and do not have home made Penang Curry Paste you can opt for ready made Penang Curry Paste. I much prefer Mae Ploy in the plastic tub to the canned options and other brands. You can try brightening the flavours with additional fresh ingredients or even combining two brands to your taste.




Related Articles
Editor's Picks Articles
Top Ten Articles
Previous Features
Site Map





Content copyright © 2023 by Mary-Anne Durkee. All rights reserved.
This content was written by Mary-Anne Durkee. If you wish to use this content in any manner, you need written permission. Contact Mary-Anne Durkee for details.