Shrimp & Crab Coconut Rice Crêpes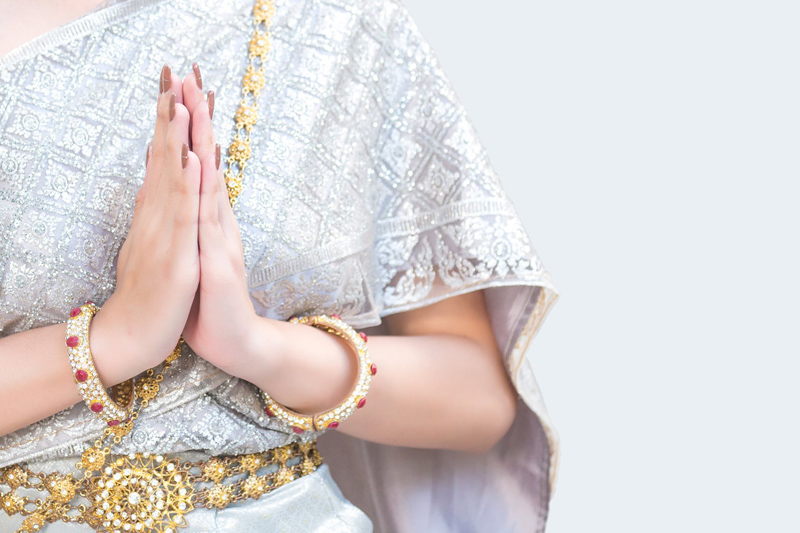 One of the most popular street foods sweet snacks is Khanom Buang, a rice crêpes filled with meringue and various delights such as grated fresh coconut. The sweet toppings are usually orange coloured, including such as golden thread (extruded duck egg yolks cooked in syrup), raisins, mango or persimmon.

Savoury crêpes often contain small shrimps as a topping while others contain strips of eggs, coriander leaves, chopped onion and sweetened dry pork. These simple crêpes are popular street foods. The recipe below is a more elegant savoury crêpe served as an entrée or as a first course for a sit on the floor Khon Toke meal.

Shrimp & Crab Coconut Rice Crêpes (Goong Pu Khao Maprao - Kanom Buuang Yuan)

Ingredients
2 cups rice flour
1/2 cup coconut milk
2 eggs (duck eggs preferred)
2 teaspoons ground turmeric
1 lemongrass stalk, very finely minced and pounded
5 scallions, very finely chopped
Salt and freshly ground pepper (long pepper, black or white or combination)
1 cup Nam Pla (fish sauce)
1/3 cup sugar (date palm sugar)
¼ cup distilled rice vinegar
1/4 cup fresh lime juice
4-6 Thai Dragon chiles, thinly sliced
2 shallots, minced
5 garlic cloves, very finely chopped
¼ cup grated fresh ginger
1/2 cup shredded carrots
¼ cup vegetable oil, plus more for frying
1 pound shelled crab meat
1 pound shrimp, peeled and deveined, coarsely chopped
2 heads of red leaf lettuce
½ cup chopped roasted peanuts
2 cups mung bean sprouts, root end trimmed off

Plate of Salad herbs - mint, cilantro, Thai basil leaves and saw tooth (pak chee farang)

Method
Dipping Sauce ((Nam pla phrik)
In a small bowl, place the nam pla (fish sauce), sugar, vinegar, lime juice, Thai chiles and ¼ cup of water-whisk together. Add one-third of the minced shallots, and half each of the garlic and ginger and the carrots, mix to blend. This is best to make the night before and chill.

Preheat the oven to 150° to keep crêpes and filling warm.

Place the rice flour with the coconut milk, eggs, turmeric, half of the scallions and salt and pepper in a medium bowl and whisk. Add enough water (about 1 ¾+ cups) to resemble thin pancake batter after whisking.

Place a wok or large skillet over medium high heat, add ¼ cup of vegetable oil. Add the remaining onion, garlic and ginger and stir-fry until softened, about 5 to 6 minutes.

Add the crab, season lightly with salt and pepper and stir-fry over high heat, lightly about 2 minutes, add the chopped shrimp and stir-fry for about 1 more minute.

Stir in the remaining scallions. Transfer the mixture to a bowl and keep warm. Cover with tin foil and place in preheated oven.

Brush a little oil on to crêpe pan to lightly oil and heat until very hot. Pour in about 3 tablespoons of the crêpe batter and rotate the pan to coat evenly with the batter. Cook over moderately high heat just until the edge is just turning brown and the crêpe is nearly set, about 1 minute.

Lightly flip the crêpe over to cook the other side, about 20 seconds. Turn the crêpe out onto an oven proof platter or tray baking to keep warm in the oven; repeat with the remaining batter to make 14 more crêpes.

To server:
Place crêpe platter on to the table along with the Salad platter of lettuce and herbs.

Serve alongside the pork-shrimp mixture. Place condiment bowls of the chopped peanuts and carrot-chile sauce.

Dinners place a lettuce leaf on their plates, then place a crêpe on top of the lettuce leaf, then add a spoonful of the shrimp-crab mixture down the center of the crêpe, add herbs, sprinkle with peanuts, drizzle with dipping sauce.

ENJOY!

Repeat and repeat!

PREPARE AHEAD:
The coconut crêpe batter is best when thoroughly chilled overnight.

The carrot-chile sauce can be made and refrigerated overnight to allow flavours to develop.

NOTES
Rice flour is a common Asian ingredient and readily available in Asian markets.

Variations: Make with minced chicken instead of crab and shrimp
Vegetarian version-can be made using a filling of Curried vegetables.





Related Articles
Editor's Picks Articles
Top Ten Articles
Previous Features
Site Map





Content copyright © 2023 by Mary-Anne Durkee. All rights reserved.
This content was written by Mary-Anne Durkee. If you wish to use this content in any manner, you need written permission. Contact Mary-Anne Durkee for details.