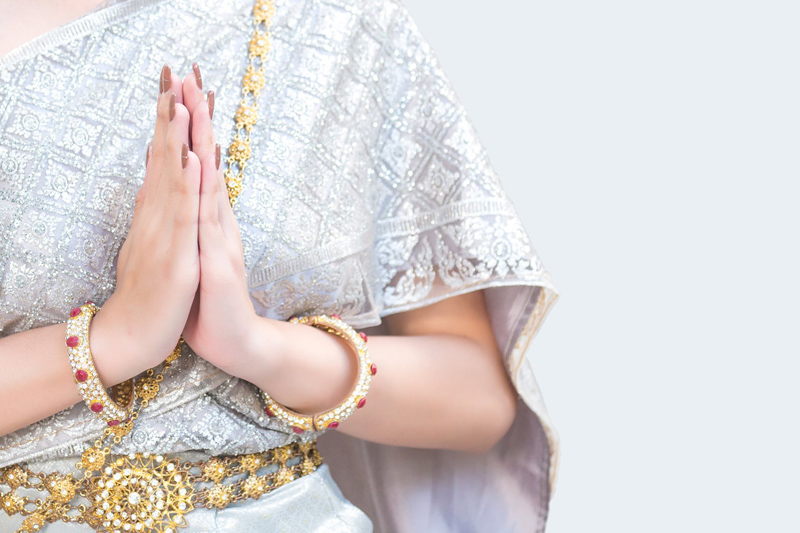 2 oz vermicelli noodles
3 cloves garlic
2 coriander (cilantro) roots
6 white peppercorns
1 Tbs safflower oil (for frying paste)
2 oz shrimp meat, minced
2 oz lean chicken, minced
2 oz. pressed marinated tofu, cut into 1/8" dice
1 Tabs minced scallions
1-2 Thai Chiles minced (optional)
2 Tabs fish sauce
1 Tab palm sugar
4 oz bean sprouts root removed
2 Tabs fresh coriander (cilantro) leaves
2 Tabs sliced shallots
1 packet spring roll wrappers (about 50 sheets)
4 Tabs plain (all-purpose) flour mixed with
2 Tabs water to make a paste
6 cups safflower oil for deep-frying

Preparation:

Place the vermicelli noodles in a bowl of warm water for 15 minutes to soften. Then remove from water and cut into 3" lengths. Set aside

Place the coriander roots, garlic, chiles, and peppercorns in a mortar and pound with pestle until a fine paste is made.

Add the paste to the hot oil and stir fry until fragrant. Then add the prawns and pork and stir fry until done, about 2 or 3 minutes. Now add the noodles, fish sauce and date palm sugar stirring to incorporate.

Place mixture in a bowl to cool. Add the coriander leaves, scallions, shallots, and bean spouts and mix together.

Set up your work station: plastic cutting board or work surface, bowl with chicken-shrim-tofu mixture, bowl with flour and water mixture, plate with wrappers (covered with a slightly damp cloth to prevent drying out if it is a hot day.

Place a wrapper on the work surface, place 1 Tbs of meat mixture along the bottom third of the wrapper covering within ¾" of the two side edges. Tightly roll up the bottom edge of the wrapper, then fold over the right and left sides, continue rolling tightly up to almost the top edge, apply a little flour water slurry with your finger tips to aid in sealing the roll.. This should be done one hour prior to frying and serving. This allows the "glue" to dry. Repeat this process until the meat filling is gone.

When ready to fry: pour oil into pan, heat to 350 deg F. Place several egg rolls (6 or 7) in the oil to fry, turning them to evenly brown all around.. Place fried egg rolls on paper towels to drain.

Serve at once with Hot Sweet Spicy Dipping Sauce or Cucumber Relish

Hot-Sweet Spicy Dipping Sauce
(Nam Jeem Kai Yang)

This hot, sweet and spicy dipping sauce is excellent with barbecued chicken and deep fried snacks such as egg rolls or fried calamari.

1 cup distilled white vinegar
2 cups sugar
½ tsp salt
2 Tabs Chile Sauce (Lee Kum Kee has a good one with garlic)

Bring the vinegar and sugar to a boil in a sauce pan., simmer and stir until sugar is thoroughly dissolved. It will need to boil for 2 or 3 minutes. Add the salt, reduce heat and continue simmering for another 5 or 6 minutes. Remove from heat stir in the chile sauce.
Serve at room temperature.
Place in glass jar in refrigerator for up to 3 weeks.
Makes 1 cup.

Thai Cucumber Relish
(Nam Thaeng Kwa)

This colourful relish is served with many Thai dishes such as egg rolls and barbecued chicken.

Combine the following in a saucepan:
• 1/2 cup distilled white vinegar
• 1/2 cup white or brown sugar
• 1 large hothouse type cucumber (1#)
• 2-3 Thai chilled (phrik khee nu) minced
• ¼ cup peanuts, roasted, unsalted and chopped
• 3 cup cilantro leaves and stems, chopped

Boil sugar, salt and water in small sauce pan to dissolve. This will take less than a minute. Let the mixture cool to room temperature.

Peel the cucumber, cut in half lengthwise, thinly slice. Combine with the sugar mixture in a bowl, carefully nmix. You can add the optional peanuts and cilantro at this time.

This must be made just before serving or the cucumbers will not be crisp.
If you must use regular cucumbers, please remove the seeds by scooping them out prior to slicing.
Makes 1 ½ cups





Related Articles
Editor's Picks Articles
Top Ten Articles
Previous Features
Site Map





Content copyright © 2023 by Mary-Anne Durkee. All rights reserved.
This content was written by Mary-Anne Durkee. If you wish to use this content in any manner, you need written permission. Contact Mary-Anne Durkee for details.