Lobster Balls with Green Curry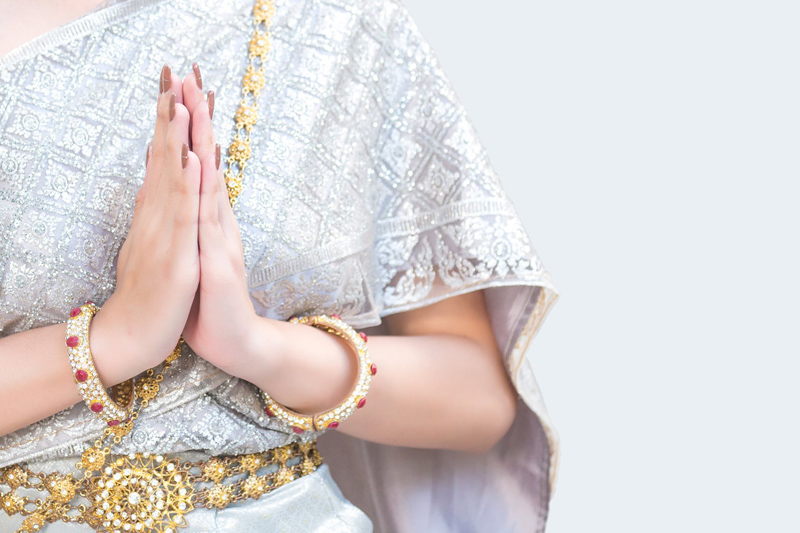 I love Thai Lobster balls as an easy add to ramen or rice noodle soups, but discovered they are delightful in my creaming green curry along with fresh seasonal veggies for a quick and easy delightful meal.

The Thai Lobster Balls I buy are from 99 Ranch and are in the fish market section.

Serves 4
Ingredients
1 pound, Thai Lobster balls*
3-6 tbs. green curry paste
2 cups coconut milk
1 cup green beans or asparagus cut into 2" sections*
1/2 cup small pea eggplants (ma-keua puang), OPTIONAL
handful Thai basil leaves (bai Krapao)
1-2 red chiles, sliced (phrik chee fa)
3 kaffir lime leaves (bai magroot), torn
1-2 tbs. fish sauce (nam pla) or to taste
1/2 cup water
• Pre-cook to ala dente only

Method
Heat wok over medium flame, fry green curry paste with the solid part of the coconut milk until fragrant.
Add Thai Lobster Balls, and stir-fry until just barely cooked.
Add the remaining coconut milk, water and ala-dente vegetables. Bring to a gentle boil, reduce heat and just warm through.
Add fish sauce, Thai basil leaves, and red chiles (optional).
Serve with steamed Jasmine rice.

Variations: I often use zucchini in this curry when in season, Thai eggplant or yard long beans. You can use whatever is in season and fresh.

*If you want to make your own Thai Lobster Balls:

LOBSTER BALLS
24 ounces lobster meat
1/2 pound cod, skinless, boneless, patted dry and diced
2 lemongrass stalks, cleaned and chopped
8 green onions, chopped
6 cloves garlic, crushed
6 tablespoons chopped cilantro
1 tablespoons Thai fish sauce (to your taste)
1 teaspoon date palm sugar
2 egg whites
2 teaspoons rice flour

Remove lobster meat from shells and pat dry. Cut into cubes and place in food processor bowl, pulse to coarsely chop with cod and remaining ingredients.

Divide mix into 36, 1 3/4-inch balls. Refrigerate for 2 hours to maintain shape.



Green Curry Paste (Phrik Kaeng Kiao Wan)

This is a paste for a green curry, and the 'wan' indicates that it should be a balance of slightly sweet as well as hot.

1 cup green birdseye chiles (phrik kee nu)
5 T lemon grass, finely sliced
10 T shallots chopped
10 T garlic, minced
5 T galangal (kha) grated
5 T coriander/cilantro root, chopped
2 T coriander seed
1 T cumin seed
1 T freshly ground black pepper
2 T shredded fresh lime leaves (bai makroot)
4 T fermented shrimp paste (kapi)
1 T palm sugar

If you don't have access to Bird Chiles (phrik ki nu) or Thai Dragon Chiles(Phrik chee fa), you can use 1/2 pound of green serrano chiles, or even 3/4 pound of jalapeno chiles.

Note that if you use a substitute you will get a different volume of paste, and that you will need to use different amounts in subsequent recipes.

If you can't get galangal(kha) use ginger. If you can't get fresh Kaffir Lime leaves (bai makroot) use lime zest

If you can't get coriander root, use coriander stems and leaves leaves.

Coarsely chop the chiles. Toast the dry seeds in a heavy iron skillet or wok, and grind them coarsely.

Place the kapi on a piece of double tin foil formed into a little dish. Place this into your toaster oven to develop the fragrance. Open window first as it gives off a very strong aroma. This mellows and develops the proper flavour.

Add all the ingredients to a food processor and process to a smooth paste or pound with mortar and pestle the traditional way.

Place in a glass jar with tight fitting lid and keep in the fridge for at least a week for the flavors to combine and develop before use. This chile paste will keep for several weeks when refrigerated.

















Related Articles
Editor's Picks Articles
Top Ten Articles
Previous Features
Site Map





Content copyright © 2023 by Mary-Anne Durkee. All rights reserved.
This content was written by Mary-Anne Durkee. If you wish to use this content in any manner, you need written permission. Contact Mary-Anne Durkee for details.