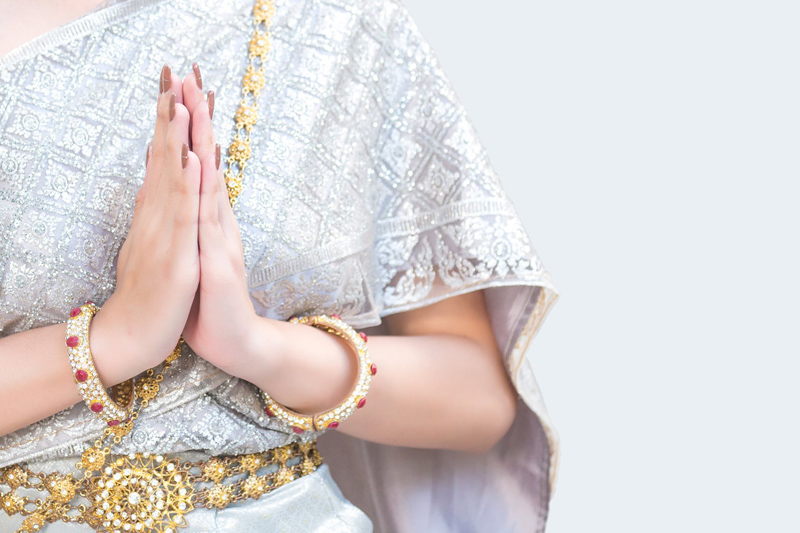 2 kabocha squash

2 teaspoons peanut oil

Pinch salt

2 teaspoons fresh garlic, minced

1 tablespoon fresh ginger, minced

1 stalk lemongrass (inner tender parts, sliced, and minced and pounded

2 shallots, cut in julienne strips

2-3 handfuls Thai basil leaves and flowers

Small handful of fresh cilantro leaves

1-2 tablespoons red Thai curry paste (to your taste)

1-2 teaspoons sweet type curry powder (non-bitter)

1 cup water

2 cans coconut milk

1 cup heavy cream

2 quarts chicken stock (low sodium)

2 ounces date palm sugar

2-3 teaspoons, to taste fish sauce (nam pla-Golden Boy or Dragonfly are recommended brands)

2 Fresh Limes, (1 cut into 6 wedges for garnish)

Garnish: 6 red ripe Thai chiles for Chile Flowers-see below

Directions

Preheat oven to 350 degrees.
Cut the squash in half remove seeds with a spoon. Rub or spray squash inside and out with the olive oil and season lightly with salt.
Place kabocha cut side down on a roasting pan.
Roast at 350 degrees for 30 minutes or until fork tender.
Remove from oven and allow kabocha to cool to room temperature.
Place remaining 2 teaspoons of olive oil, garlic, ginger, lemon grass and shallots in a medium stockpot over medium heat and sweat for 2 minutes.
Stir in basil, cilantro, curry paste and water and continue to mix well until curry paste and powder has completely dissolved. Then add coconut milk, cream, chicken stock and sugar, and mix well. Bring to a boil. Once it boils turn the heat down to a medium simmer to infuse all of the flavors. Let simmer for 20 to 30 minutes, stirring occasionally.
When the kabocha has cooled and you can handle comfortably, remove all of the outer skin and place the roasted kabocha into the stock pot. Mix well and continue to cook for another 15 to 20 minutes.
Add Fish Sauce and Lime Juice to taste.
Taste and adjust seasonings to your taste. Remember sweet-hot-salty-sour should be balanced. You might want to add more curry, date palm sugar, lime juice or fish sauce.
Ladle the soup in batches into a blender, blend on high until smooth. Then strain through a fine chinois or other fine strainer into another pot. Continue process until all is soup has been strained. Soup should be smooth and semi-thick; add more liquid to get desired consistency or bring to a boil to reduce.
Garnish: Chile Flowers – Holding stem of red ripe chiles firmly slit with a sharp pointed knife or slim kitchen scissors (such as those by Joyce Chen) into four "petals" being careful not to cut through the stem. Carefully remove chile seeds, place "flowers" into a bowl of ice water with ice cubes. Allow to sit for 20 to 30 minutes. The chile petals will curl outwards forming your chile flower garnish.

Serve with individual dishes of Nam Pla Phrik and a wedge of lime for dinners to adjust bisque to their taste.

Note: Kabocha is a very popular squash in Thailand. Kabocha is commonly called Japanese pumpkin, especially in Australia, New Zealand and Southeast Asia, and kabocha squash in North America. Kabocha is hard, has knobbly-looking skin, shaped like a squatty pumpkin, and has a dull colored deep green skin with some celadon-to white-colored stripes, and an intense yellow-orange color on the inside. The flavour is sweet and the texture fluffy. It cooks very quickly and is delightful in curries.



Related Articles
Editor's Picks Articles
Top Ten Articles
Previous Features
Site Map





Content copyright © 2023 by Mary-Anne Durkee. All rights reserved.
This content was written by Mary-Anne Durkee. If you wish to use this content in any manner, you need written permission. Contact Mary-Anne Durkee for details.