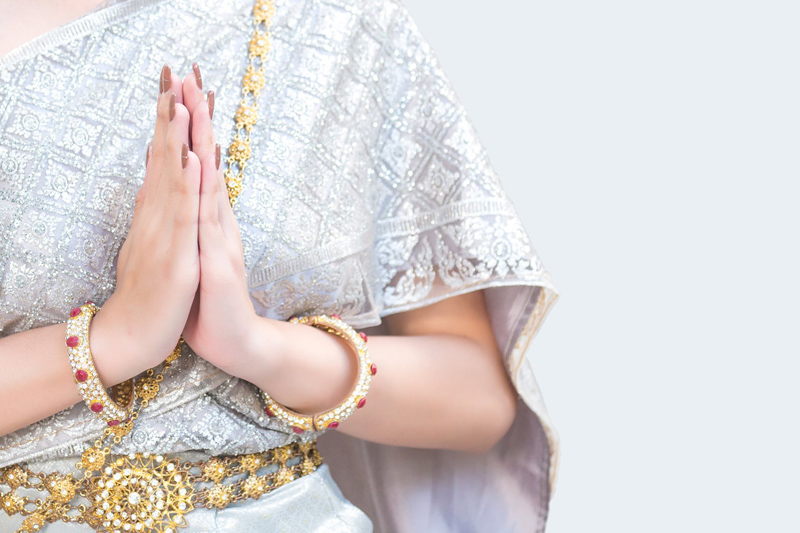 I first had cut up small frogs stir fried thid way at a small family restaurant in Chiang Mai called Arun Rai. Their frog is succulent and sweet as it is from the rice paddies.

The flavours of hot-sour-sweet-salty are a perfect compliment to frog. I prefer using cut up small frog, but if ionly frog legs are available they work great too. If possible buy fresh frog for a sweet flavour. For this dish they cook very quickly and are not tough.

Variation: I do prepare this at times with a mixture of shellfish including clams, mussels, and shrimp. Calimari rings can be added during the last couple of minutes for an awesome feast from the sea.

1 1/2 pounds frog legs, or small cut up frogs *
1 Tbs. peanut oil
8 cloves garlic, chopped
4 thinly sliced shallots
6-12 Thai chiles, slit but left attached at the stem
2-3 Tbs. roasted chile paste (nam prik pow)
2 Tbs. hot water
1-2 tsp. coconut sugar (disolved in hot water above)
1 packed cup Thai basil leaves (bai horapa),
1 Tbs. fish sauce (nam pla), to taste

Prepare frogs by rinsing and and cutting into dfesired size pieces.

Dissolve coconut sugar in the hot water.

Place wok over high heat until smoking hot. Put in oil, swirl about the wok to cover the surface. Add the garlic, chiles and shallots stirfry, add chile sauce/nam phrik pao, and date palm sugar water. You must work quickly to prevent the garlic from burning. Combine all ingredients in your hot wok, add frog legs, stirfy to coat them in the the other ingredients.

Stir fry until frog is done, stir in basil, and taste for hot-sweet-salty balance. Balance flavour by adding fish sauce, sugar, chile to your taste.

Do not overcook as they will shrink and become tough and rubbery. Pour the stir fried frog and sauce out onto serving dish, garnish with a few basil leaves and flowers. Serve at once.

This is perfect with sticky rice or with steamed Jasmine rice if you prefer. (Thai Hom Mali)

Serves 4 as an entree or 6 as a multi-course Thai meal.

*frog legs are often reafily available at Asian markets. Sometimes they have live frogs in tanks and I have them clean them and cut into pieces. I use the bodies and legs as they do in Thailand.


Related Articles
Editor's Picks Articles
Top Ten Articles
Previous Features
Site Map





Content copyright © 2023 by Mary-Anne Durkee. All rights reserved.
This content was written by Mary-Anne Durkee. If you wish to use this content in any manner, you need written permission. Contact Mary-Anne Durkee for details.