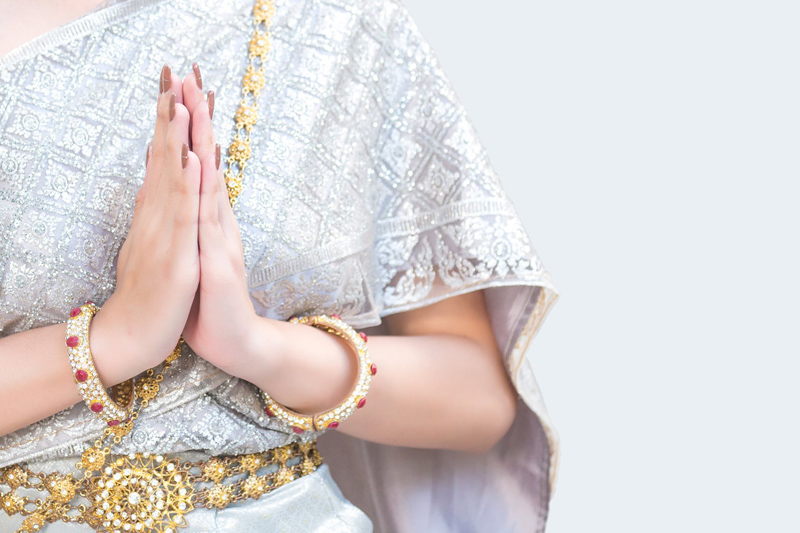 The name Volcano Chicken is due to its' unique serving style.

The cooked chicken is stood vertically on a plate or stainless tray and ignited flames come upward from the open body cavity which resembles the eruption of a volcano. A very dramatic centerpiece for your Thai meal!

Ingredients

1 2 ½ to 3 pound chicken

marinade

3 tablespoons of garlic (kratiem), minced
3/4 teaspoon black pepper (phrik thai), freshly ground
1/3 cup of fish sauce
1/3 cup of Thai whiskey (Mekong)*
1/3 cup of honey
1/3 cup of coconut milk
11/2 tablespoons of red curry paste
3 tablespoons nam prik pao (black chili paste in oil)

for flambee : 1 cup whiskey

Method

n a mortar and pestle, pound the first 5 ingredients into a paste. Then mix this paste with the remaining ingredients to form the marinade. Wash and pat dry the chicken being sure to remove any remaining feathers.

Thoroughly coat the chicken with the marinade, rubbing into skin with your hands and leave to stand upright. Place in refrigerator overnight or better for 12 to 15 hours hours.

Remove the chicken from the refrigerator, allowing it to drain thoroughly. Place marinade in small sauce pan over medium heat, reduce to form a thick sauce.

The chicken should be stood upright and placed over a chicken roaster rack, often called a beer can chicken roaster. Note I like placing it over a can of good beer for extra flavor and moisture.

Bake chicken at 375 deg F until the skin just begins to change colour and lightly brown. Every 20 minutes or so baste the chicken with marinade, and turn chicken to ensure it gets brown on all sides. The chicken should cook for about 60 to 90 minutes, depending on it's weight. The internal temperature should reach 165 degrees.

Remove the chicken and place it on a flame proof but table-ready plate or stainless tray and bring to the table. Allow the chicken to rest for 10 minutes to cool down and allow juices to settle into the meat.

In an area free of flammables such as drapes, curtains flowing hair, or napkins.
Pour whiskey through the interior of the bird. Then ladle the whiskey over the outside of the chicken, so the bird is thoroughly coated, then ignite and allow the whiskey to burn itself out. It will flame for up to a minute depending on how much whiskey you use. The skin will become golden brown.

Carve the chicken, and serve with khao suay (steamed Thai hom mali jasmine
rice) or sticky rice which is typically eaten in Isan.


I also serve Sweet Hot Chicken Chili Sauce as we like to dip the chicken and sticky rice balls (formed by fingers) in this sauce.

Other side dishes might include stir fried green vegetables, or stir fried mushrooms, and the usual Thai condiments and the reduced sauce.

*Thai Whiskey such as Mekong is traditional drink in Thailand. Despite being known as a whisky, Mekhong is in fact much closer to a rum. The distilled spirit is made from 95% sugar cane/molasses and 5% rice. This distilled spirit is then blended with a secret recipe of indigenous herbs and spices to produce its distinctive aroma and taste. I haveused a good rum in this recipe and it works great, especially Bacardi Dark Rum.



Safety Note: Never pour liquor directly from a bottle into a hot pan or an already flaming dish as the flames may travel to the bottle.


Based on a recipe I learned from Muoi Khuntilanont.in Korat, Thailand in the mid 1990's.

For pgoto: https://www.facebook.com/#!/shantihhh
You Should Also Read:
Red Curry Paste
Nam Phrik Pao


Related Articles
Editor's Picks Articles
Top Ten Articles
Previous Features
Site Map





Content copyright © 2022 by Mary-Anne Durkee. All rights reserved.
This content was written by Mary-Anne Durkee. If you wish to use this content in any manner, you need written permission. Contact Mary-Anne Durkee for details.