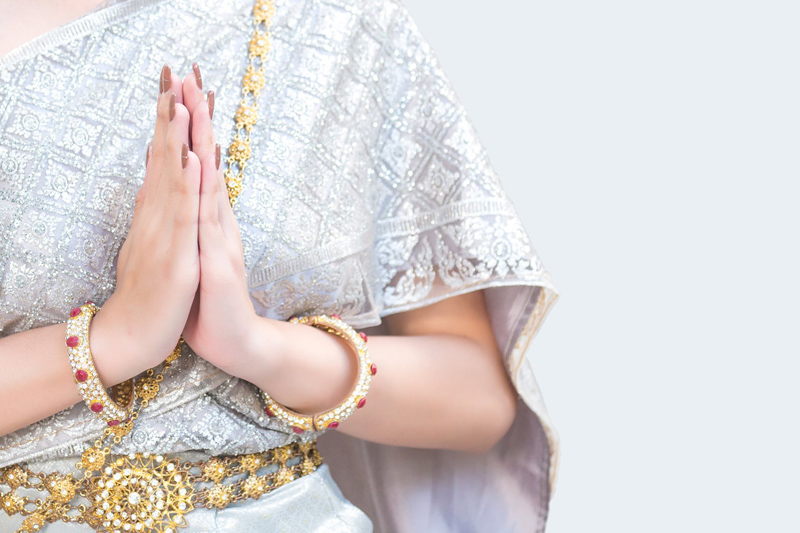 You can make the Kratong Tong cups ahead of time and just fill with the various fillings before your guests arrive.

To prepare the cups, a special brass mold with a long handle is used. Dipped in heated cooking oil and then into a egg-yolk, coconut milk and then into a flour batter, the thin shells form around the mold as you deep fry them. The cute shapes make a fun party presentation.

One of my favourite fillings is to use Gai Kaprao or Basil Chicken and garnish with a fresh basil leaf or chile ring. Larb is a wonderful and very spicy filling too. Sometimes I make shrimp curry and use as filling.
One very traditional filling is a combination of pork and shrimp with garlic and other Thai seasonings.

Just before serving, you fill the little cups, garnish with cilantro or basil leaves and slivers or rings of Thai chiles. Fill the cups immediately before serving to retain the crispness of the pastry.

Krathong Crispy Golden Cups
1/2 cup rice flour
1/3 cup all purpose flour
3 tablespoon cornstarch
1/4 tsp salt
1/4 tsp sugar
1 egg yolk
1 egg
4 oz soda water (plain no flavor)
4 oz light coconut milk
Oil for deep frying
Golden Cups
In a large bowl, mix the dry ingredients and salt. Break in the egg and whisk. Gradually add the water, coconut milk, stirring constantly until you have a thick batter.

Allow to stand for one hour.

Heat oil to 375 deg F for deep frying.
Dip the mold into the oil, remove and shake off as much excess oil possible.
Then dip the mold into the batter to coat the outer surface of the mold, and return it to the hot oil. After 20 seconds the "cups" will come loose.
Cook until golden brown. Remove cups from oil using "spider" strainer, drain on paper towels or wire racks, let them just sit awhile.
Repeat the procedure until all the batter has been used.
Filling
1/2 lb minced shrimp
1/2 cup carrot, diced
1/2 cup onion, diced
1/2 cup green beans, diced
1/2 cup water chestnuts, diced (use fresh if possible)
1/2 cup white mushrooms, diced
1 tbsp minced garlic
1 tsp minced Thai chiles (remove seeds for milder flavor)
1 tsp ground black pepper
1 tsp ground white pepper
2 tbsp palm sugar
1 tbsp soy sauce
1 tbsp fish sauce
Stir fry garlic and chiles in peanut or vegetable oil until lightly golden brown. Add minced shimp and cook until just barely pink, do not overcook.
Add carrots, onion, green beans, water chestnuts and mushrooms; stir-fry until cooked.
Season with palm sugar, peppers fish sauce, and soy sauce.
Stir-fry until dry.
HINT: Fill cups with filling just before serving to retain crispness of cups.
Garnish with cilantro leaves, or Thai Basil leaves and slivers of chile if desired
Note: Krathong Tong brass forms are made of brass and are attached to a wooden handle. Four different shapes are on each handle. The dimension of each brass cup is approximately 1 5/8" to 1 3/4". This Thai form is available from some online Thai stores. I bought my at a department store in Bankkok. Ask your local Thai market if they carry this wonderful little form.
Substitution: I have used mini cupcake pans lined with phylo dough which I bake. You just cut circles and pleat to fit the cups.




Related Articles
Editor's Picks Articles
Top Ten Articles
Previous Features
Site Map





Content copyright © 2023 by Mary-Anne Durkee. All rights reserved.
This content was written by Mary-Anne Durkee. If you wish to use this content in any manner, you need written permission. Contact Mary-Anne Durkee for details.