Tostadas from Guadalajara Recipe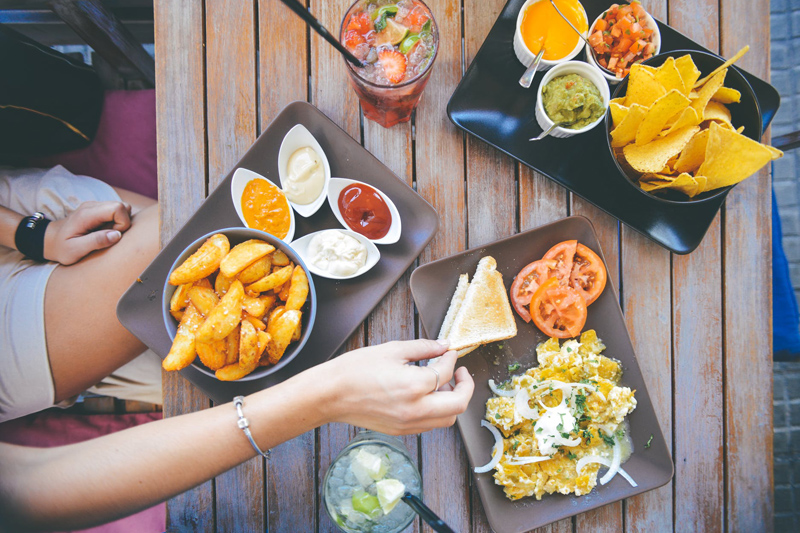 Mexico's second largest city, Guadalajara, is home to Los Tapatíos as its residents are known. They are very keen on their food and the local cuisine is rich and savoury, with noticeable pre-Columbian and post-Hispanic roots; needless to say, the numerous local markets are the best place to sample it and both the traditionally pit-cooked birria and the "drowned" torta or Torta Ahogada (see link below) are real celebrities, famous throughout the country. However, the deep, aromatic flavours of the region can be found in countless other dishes which are well worth searching out.
Tostadas Tapatías come in different forms and with different toppings, but refried beans – frijoles refritos - and pork are fairly staple. The meat may be "carnitas", or perhaps the flesh from pigs' trotters, coarsely shredded, beautifully soft and gelatinous. Crumbled spicy sausages are another alternative, as is bright red, peppery chorizo (my favourite). The finishing touches usually include chopped lettuce, cheese (fresh or aged) and guacamole, but finely sliced red onions, red and green chillies and sliced radishes are commonplace.
Ready-made tostadas are widely available but as they have invariably been deep-fried, I prefer to bake my own in the oven – simple and straightforward.
Although the list of ingredients and the recipe look long, the different steps are easy and relatively quick, and the beans, chorizo and tortillas can all be prepared ahead of time, so please don't be put off trying these tostadas as they are utterly delicious!
Tostadas from Guadalajara – Tostadas Tapatías
Makes 6 tostadas
For the chorizo:-
175 g/6 oz cooking chorizo, skinned and crumbled
150 g/5 oz onions, peeled and coarsely chopped
2 garlic cloves, peeled and crushed
5 ml/1 tsp dried Mexican oregano
For the refried beans:-
175 g/6 oz black beans, rinsed
100 g/4 oz onions, peeled and coarsely chopped
5 ml/1 tsp chipotle chilli powder or paste
5 ml/1 tsp ground cumin
Sea salt and freshly ground black pepper
For the guacamole:-
2 ripe avocadoes
30 ml/2 tbsp olive oil
25 g/1 oz red onions, peeled and finely chopped
1 garlic clove, peeled and crushed
Fresh lime juice, to taste
Sea salt and freshly ground black pepper
For the tostadas:-
6 corn tortillas, about 15cm/6 in diameter
15 ml/1 tbsp oil
25 g/1 oz red onions, peeled and finely sliced
150 g/5 oz strong Cheddar-style cheese, coarsely grated
6 Cos or Romaine lettuce leaves, shredded
Place the beans in a saucepan and add enough cold water to cover by at least 10 cm/4 in. Bring to the boil, turn the heat right down and leave to simmer until totally tender, at least two hours. Add more water if they start to dry out. The beans can be prepared well ahead of time.
While the beans are cooking, cook the chorizo with the onions and garlic in a dry frying pan, stirring regularly, until soft and starting to brown. Stir in the oregano and fry for a further minute. Scrape into a small bowl, leaving some of the fat in the pan, and set aside.
Add the onions for the refried beans to the chorizo pan and stir-fry over medium heat until soft. Sprinkle in the chipotle and cumin and continue to cook for a further two minutes.
When the beans are tender, transfer them to the onion pan with a slotted spoon, add some seasoning and mash them down with the back of a wooden spoon or potato masher, keeping some texture. Stir in enough of the cooking liquid to make a medium thick purée – neither sloppy nor stiff. Check the seasoning.
For the tostadas, preheat the oven to 200oC/400oF/gas 6/fan oven 180oC. Spread the tortillas out in a large roasting tray and brush them on both sides with oil. Bake until crisp and light gold, about 10 minutes.
Halve and peel the avocadoes, discard the stone and crush the flesh with a fork. Fold in the olive oil, onions, garlic, some seasoning and about one tablespoon of lime juice. Taste and adjust the sharpness. If you are not serving the guacamole immediately, push the stone into the mixture to prevent it from going grey.
When you are ready to eat, reheat the chorizo and refried beans. Place the various constituents for the tostadas on the table and let everybody assemble their own as follows: spread some refried beans on a tostada, spoon over some chorizo, then some lettuce, guacamole, sliced red onions and finally a generous sprinkling of cheese.
Eat immediately as the tostadas will start to soften immediately and if you wait too long, they are likely to collapse in a soggy mess in your lap.
Buén provecho!
| | |
| --- | --- |
| Chilli and Chocolate Stars of the Mexican Cocina by Isabel Hood is available from Amazon.co.uk | Just The Two of Us Entertaining Each Other by Isabel Hood is available from Amazon.com and Amazon.co.uk |
You Should Also Read:
Antojitos, the Street Food of Mexico
Mexican Antojitos - Tostadas
Tortas, part of everyday Mexican life


Related Articles
Editor's Picks Articles
Top Ten Articles
Previous Features
Site Map





Content copyright © 2023 by Isabel Hood. All rights reserved.
This content was written by Isabel Hood. If you wish to use this content in any manner, you need written permission. Contact Mickey Marquez for details.