Eggs in Mestiza Sauce Recipe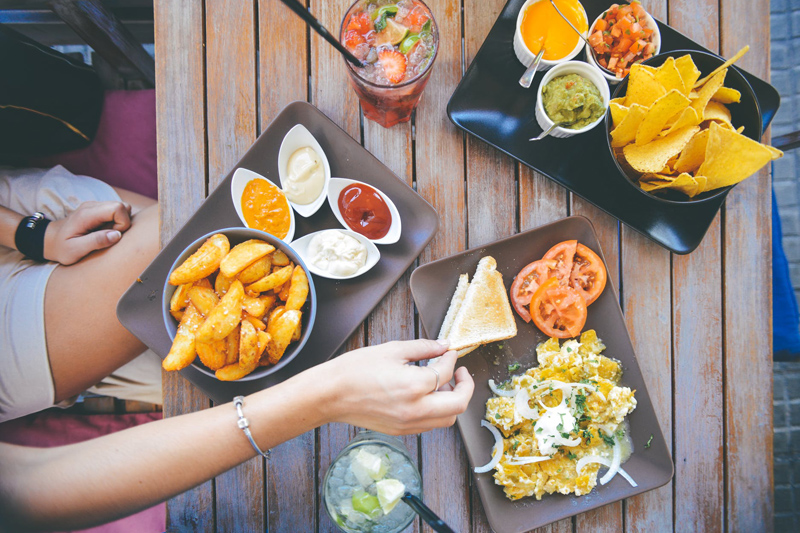 The traditional name is impossible to describe or interpret. Translated word for word, it means eggs in the rags and tatters of a woman born of a Spaniard and an indigenous Mexican – which of course means nothing at all! The dish is said to have originated in the state of Sán Luís Potosí and all my extensive research has produced no real result. Admittedly chickens and their eggs, as well as cheese, were Spanish additions to the Mexican kitchen, while tomatoes and peppers are native to the Americas, so the modern huevos combine pre- with post-Hispanic ingredients and class them as mestizo cooking; and I suppose the strips of grilled poblano chilli could be likened to a rag. Anything more however stretches the imagination a bit too far.
So what are Huevos en Rabo de Mestiza? Quite simply eggs poached in a thick, spicy sauce of tomatoes and grilled poblano chillies – and very reminiscent of the North African chekchouka. While they are cooking, they are topped with a slice of cheese which melts down and provides a gorgeous richness to balance the acidity and piquancy (not fieriness as this is a mild concoction). I have eaten them with full fat cream cheese, stringy Oaxaca cheese, queso fresco or Feta and a grated aged cheese similar to Cheddar – cream cheese always wins hands down.
Chile Poblano © Philip Hood
In the absence of poblano chillies, substitute green bell peppers and increase the fresh chillies or add a sprinkle of chilli flakes or chipotle powder.
Huevos en Rabos de Mestiza are rustic and traditionally served in their cooking pot, which is fine for a family supper, particularly if you have an appropriate stove-top gratin dish. For a slightly more elegant presentation, however, they can be baked in the oven in one large gratin dish (cook for about 8 minutes) or individual ones (cook for about 4 minutes).
Eggs in Mestiza Sauce Recipe – Huevos en Rabo de Mestiza
Serves 2
2 poblano chillies or green bell peppers, about 200 g/7 oz each
15 ml/1 tbsp olive oil
125 g/4 1/2 oz onions, peeled and coarsely chopped
2 garlic cloves, peeled and crushed
15 g/1/2 oz red or green chillies, deseeded and coarsely chopped
450 g/1 lb tomatoes, skinned and coarsely chopped
4 eggs
100 g/4 oz cream cheese, chilled
10 g/1/3 oz fresh coriander/cilantro, coarsely chopped
Warm tortillas, to serve (optional)
Sea salt and freshly ground black pepper
Heat the grill to high. Line the grill pan with foil, arrange the poblano chillies or green peppers on it, and grill 10 cm/4 in from the heat, turning them as needed, until the skin is blistered and charred all over. Cool, peel, discard the stem, core and seeds and cut into long strips about 1cm/1/2 in wide.
While the chillies are cooking, heat the olive oil in a non-stick frying pan at least 30 cm/12 in wide. Add the onions, garlic and chopped chillies and cook over medium heat, stirring often, soft and golden. Mix in the tomatoes and some seasoning and cook until the tomatoes have broken down into a thick sauce. Check the seasoning and stir in the poblano chilli strips. The sauce can be prepared up to this point well ahead of time, several days if convenient, and refrigerated.
When you are ready eat, bring the sauce back to a simmer make four hollows with the back of a large spoon. Break the eggs into the sauce, season and crumble over
the cream cheese. Cover the pan and cook it all gently just until the whites are set but the egg yolks are still soft and runny; this will take anywhere between four and six minutes so keep checking. Sprinkle with coriander.
Serve immediately straight from the pan with warm tortillas.
Buén provecho!
| | |
| --- | --- |
| Chilli and Chocolate Stars of the Mexican Cocina by Isabel Hood is available from Amazon.co.uk | Just The Two of Us Entertaining Each Other by Isabel Hood is available from Amazon.com and Amazon.co.uk |
You Should Also Read:
The Spanish Influence in Mexican Cuisine
The Chillies of Mexico - El Poblano
Breakfast in Mexico - Huevos Rancheros


Related Articles
Editor's Picks Articles
Top Ten Articles
Previous Features
Site Map





Content copyright © 2023 by Isabel Hood. All rights reserved.
This content was written by Isabel Hood. If you wish to use this content in any manner, you need written permission. Contact Mickey Marquez for details.