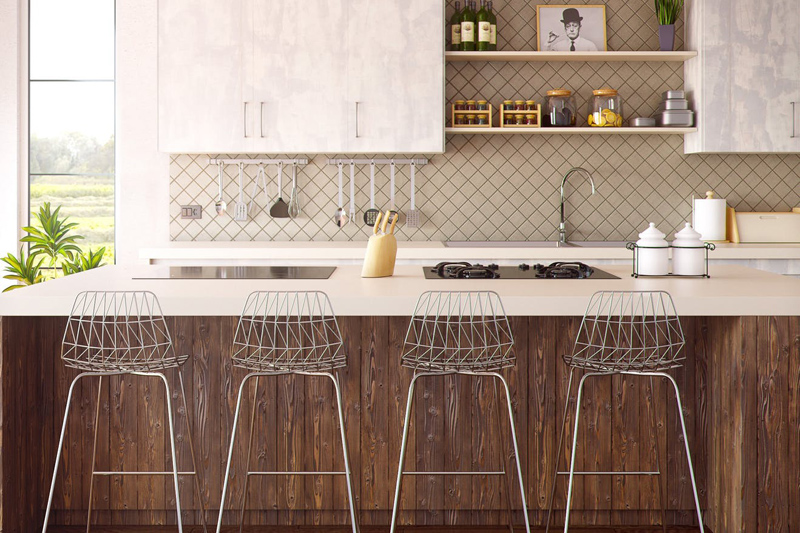 Corn brightens a meal. It´s one of the most loved of all vegetables. Since fresh sweet corn season is beginning in many areas, here´s a few corn facts plus buying, storing, and cooking ideas.
Corn is a good source of many nutrients. A medium size ear of corn has about 75 calories and 1 gram of fat. It supplies carbohydrates, protein, potassium and it´s also a good source of dietary fiber.
White corn such as "silver queen" is usually tender with a sweet taste. Yellow corn varieties generally have a slightly more chewy texture with a sweet and hearty taste. Bi-color varieties, such as "butter and sugar" or "bread and butter"... with both yellow and white kernels, have a very sweet taste.
Buy corn as fresh as possible. Look for fresh corn at farmers' markets and roadside stands, but remember that homegrown doesn't always mean fresh. Don´t buy corn that feels hot to the touch since such exposure to heat may cause deterioration. Inspect the ears when possible, by peeling back some of the husk. Look for evenly spaced, tight rows and slightly plump kernels. Reject ears with enlarged or shriveled kernels and missing rows. The silk should be dry but not brittle. Stems should be light green and moist rather than yellowed and dry. Husks should be grassy green and tender. Inspect the outer husk and for holes and other evidence of worms.
Corn should be cooked and eaten soon after picking for the best taste. As fresh corn ages it loses it´s sweet taste, it´s nutrients, and it becomes starchy, tough and rather tasteless. After buying, wrap unhusked ears in a plastic bag and refrigerate until preparation time. Do not remove husks before storing fresh corn....The husks help retain freshness.
Cooking Corn on the Cob
When it comes to cooking, corn is very versatile. After husking, cook corn by placing ears upright in a stockpot with 1 to 1-1/2 inches of water and a tablespoon or two of sugar. Cover the pot and let it steam for about 7 minutes after boiling begins. Or... lay the ears in a pan, with two to three quarts of water and about 3 tablespoons of sugar, and boil for about 4 minutes. Never add salt to the water since that can make the corn tough. Do not overcook.
Corn can also be microwaved. For the best flavor, remove the outer husk, letting the inner husks remain. After microwaving, pull the husks downward to remove them along with the silk. Or... you can clean and husk the corn first, wrap it in waxed paper or plastic wrap and cook for about two minutes per ear.
Grill corn by wrapping individual ears in aluminum foil after cleaning and husking. Add a small amount of butter and seasoning and wrap the corn in the foil. Grill for about 15 minutes, turning a few times.
Honey Roasted Sweet Corn
6 ears corn
1/3 cup honey
1/3 cup water
salt and pepper to taste
Preparation -
On each ear of corn - Pull the husks back partially but do not remove them. Remove the silk; set aside. In a small saucepan, bring the honey and water to a boil. Reduce heat to medium and cook for about 4 minutes. Brush the corn with the honey and water mixture. Add salt and pepper to taste. Pull the husks back on the corn. Wrap each ear in aluminum foil. Place the wrapped ears on the grill and cook for about 15 minutes, turning frequently.
Herbed Corn on the Cob
6 ears corn
1/2 cup butter
2 T. fresh parsley - minced
1/2 tsp. thyme
1/4 tsp. pepper
Preparation -
Clean and husk the corn. Mix the parsley, thyme and pepper with the melted butter. Lay each ear of corn on a piece of aluminum foil. Brush each ear with the butter mixture. Wrap carefully in the foil. Grill for about 15 minutes, turning frequently.
Corn can be removed from the cob and used in chowder, fritters, puddings, soups and other recipes. Add cooked corn kernels to cornbread, corn muffins and hush puppies. Figure about 1/2 cup of corn per cob.
For whole kernels, use a sharp kitchen knife and a large cutting board. Cut off the stem end off to give you a flat base. A good grapefruit knife with a curved tip does a great job of removing kernels. Hold the ear, tip end up, then cut downward, removing a few rows at a time.
For creamed corn, score the kernels first. Use the back of a knife to scrape from top to bottom, squeezing out only the pulp and juice.
Corn freezes well on or off the cob, but for best results it must be blanched and frozen soon after harvesting. To blanch sweet corn on the cob, use a large stockpot partially filled with water, enough to cover several ears at a time. Bring the water to a rolling boil, then place the corn in the boiling water. Begin timing as soon as you immerse the corn in the boiling water. Cover the pot and boil on high temperature... small ears for 7 minutes, medium sized ears for 9 minutes, and large ears for 11 minutes. You may use the same boiling water two or three times. After boiling, cool the corn immediately in ice water for the same amount of time as it was boiled. Drain the corn thoroughly. To freeze whole kernel corn, blanch the corn on the cob for about 5 minutes. Cool thoroughly in ice water for 5 minutes. Cut the corn from the cob and package in freezer containers or good quality freezer bags. Frozen sweet corn (at 0° F or lower) can be stored for a maximum of 12 to 18 months.
---
For the taste of melted butter without the fat and calories of butter or margarine, try this recipe...
Low-fat Buttery Tasting Sauce
1/2 cup skim milk
1 tsp cornstarch
2 tsp. butter-flavored granules(such as Butter Buds or Molly Mc Butter)

Preparation -
Mix all ingredients together in a saucepan and bring to a boil, stirring constantly. Reduce heat and simmer for 2 to 3 minutes, or until well blended.

~~~ printer friendly recipe ~~~



---
Corn accessories


Nonstick Corn Basket
This handy corn roaster holds up to four ears of corn and adjusts to the width of your corn. It's made of sturdy aluminum with a nonstick coating and features a rosewood handle that's firmly attached so it's easy to flip.
Set of 4 Porcelain Corn Dishes

Here's the perfect solution to easily butter and hold your corn! Place a pat of butter in the plate, then place a hot ear of corn on top, and turn. They're made of durable porcelain and have a corn design inside. This is a set of 4.


---
You Should Also Read:
The Home Cooking Recipe Index and Site Map
Summer Cookbooks
Summer Cooking


Related Articles
Editor's Picks Articles
Top Ten Articles
Previous Features
Site Map





Content copyright © 2022 by Sandy Moyer. All rights reserved.
This content was written by Sandy Moyer. If you wish to use this content in any manner, you need written permission. Contact Allyson Elizabeth D´Angelo for details.