Affirmations - Expressing Affection and Acceptance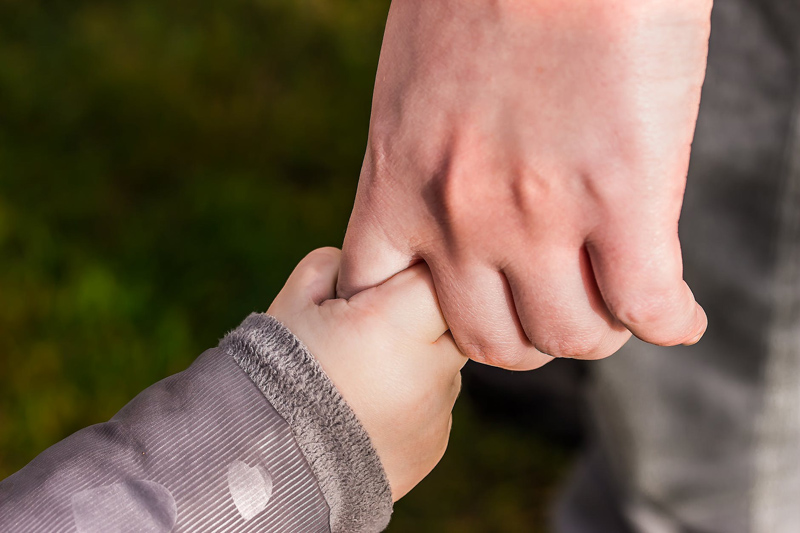 These days, we can be so busy and so hurried that we don't take the time to relate to one another in positive and life affirming ways. Ordinary life should be delightful and inspiring for all of us. We are not in a dress rehearsal a future we can only imagine. Life happens every day.
We can easily miss the small pleasures because we are not paying attention as our real lives unfold. I started learning this when my children were very small and a week would fly by while I was working hard to get everything on my list and everyone else's done. Things that happened outside my control included 90% of everything in my life. I was very fortunate that both my daughter and son refused to let me live outside the moment most of the time.
In appreciation of all they brought to my life, I decided to follow some advice I read in a magazine article on affirmations for babies and toddlers. I started saying "I am happy to be with you" during middle of the night diaper changes, after melt-downs, and during times of sickness. It was partly an experiment to see whether feelings follow words. In my case, they did. Especially those times when I had felt I was enduring an inconvenience, I paid attention to how much I enjoyed being with my daughter or son. The feeling was there all the time, but the actual words were needed to illuminate it.
Often, what is written up on developmental charts or as IEP goals have little to do with a child's personality, talents and abilities. They are always having to spend time on what is most difficult for them, rather than building on their strengths and interests. Our children could hear that we enjoy and treasure them every day, but unless we make a conscious effort, we may be too busy or distracted to think up the simple phrases that would let them know.
Having a list of activities that crowd our days while cutting us off from real contact with one another is common in families who do not have a child with a diagnosis, too. Taking a deep relaxing breath and thinking of what we most enjoy about a child at that moment, forming the words, and letting them be said can have a significant effect on how we feel and how our children feel about themselves.
If the ideas do not come, managing our facial expressions can communicate what we are not able to put into words. I noticed in the mirror one day when I was brushing my son's teeth that I was scowling as I cleaned every tooth. Making a conscious effort to smile and compliment each tooth helped us both relax. I made the same effort when I was brushing my daughter's hair with good results, too.
When you are counting what is wonderful about family members, count yourself in, too. We are role models and more to our children. They identify with us. Hearing positive remarks and affirmations about their parents is like hearing the same about themselves. They feel they are partially us until they are fully grown.
Many families do not have the habit of making positive comments about themselves or one another. Self-deprecating humor and sarcasm is often difficult for children to understand. It can take time to be comfortable making positive observations and saying what is in your heart, but it's a good tradition to start.
It is well worth making the effort to spend time with friends and family members who build up our self confidence and trust, and finding education professionals and medical staff who do the same. Often, mentioning that you are experimenting with affirmation in your child's life and asking other adults to try it out for a while will instigate better relationships all around.
Browse at your public library, local bookstore or online retailer for titles like:
Your Child's Self Esteem by Dorothy Briggs; Being Me: A Kid's Guide to Boosting Confidence and Self-esteem by Wendy Moss;
and Bonding While Learning
16 ways to say "I love you" to your baby:
https://bit.ly/1jODPsm
https://www.babyzone.com/parenting/16-ways-to-say-i-love-you-to-your-baby-today_12913673
Thoughts From the Middle of the Night
12 things you should always tell to your kids
https://www.babble.com/babble-voices/living-and-loving-with-down-syndrome-eliana-tardio/12-things-you-should-always-tell-to-your-kids/
Amar a un hijo incondicionalmente. 12 frases diarias de amor.
https://elianatardio.com/2013/04/14/amar-a-un-hijo-incondicionalmente-12-frases-diarias-de-amor/
You Should Also Read:
New Mother Newly Diagnosed Child
People First Language Awareness
Perfection, Gift Giving and Winter Activities


Related Articles
Editor's Picks Articles
Top Ten Articles
Previous Features
Site Map



Follow @DownSynAdvocacy
Tweet





Content copyright © 2023 by Pamela Wilson. All rights reserved.
This content was written by Pamela Wilson. If you wish to use this content in any manner, you need written permission. Contact Pamela Wilson for details.