Thai Pesto Grilled Shrimp (Goong Phao Pak-chee bai Horopha)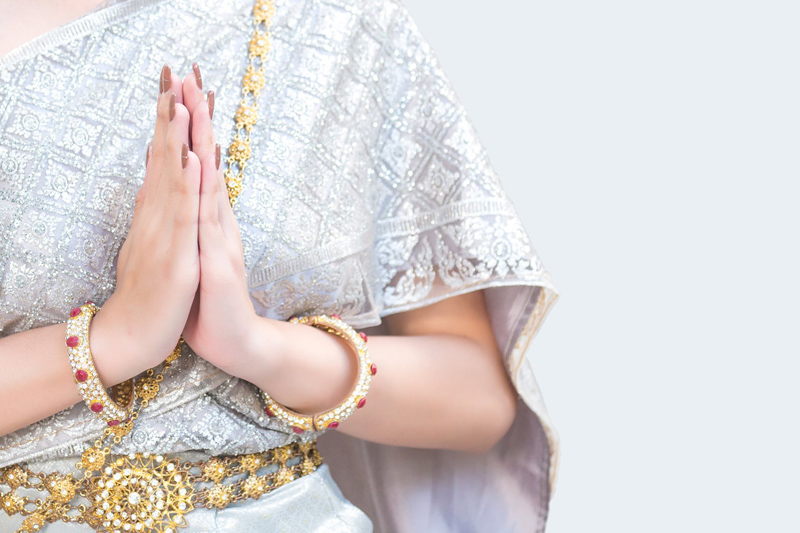 In Thailand both large fresh water prawns and sea shrimp are available. You can find both frozen outside of Thailand. The fresh water prawns sometime have the head attached. Just remove the head and shell and use for a wonderful stock for Tom Yum Goong.

To refresh the just out of the water taste - place the prawn or shrimp in a bowl of cold water that has 1 teaspoon of salt dissolved in it. Gently massage the shrimps to work the salt water into their bodies. Allow them to soak for 15-20 minutes.

4 Servings as a salad or appetizer, 2 servings as a lunch entree.

3/4 cup dry roasted peanuts (raw peanuts can be roasted in a dry skillet until lightly browned)
4-6+ Thai Dragon Chiles (Phrik chee fa)
3 Garlic cloves
1 tablespoon Minced ginger
Juice of 3 limes
2 tabelspoons Fish sauce-nam pla (Golden Boy Brand)
1/2 cup Peanut oil
1 teaspoon Date Palm Sugar
2 cups Thai basil leaves (bai Horopha)
1 cup Cilantro leaves (include pounded roots if available)
1 cup Mint leaves
Canola oil
12 large Shrimp; peeled, deveined, (Tail on)*
Salt to taste
Freshly-ground black pepper-to taste
1 Baby romaine head - cut into chiffonade
Chile Flowers for Garnish**

*Fresh water Prawns or large shrimp-6 to 8 to the pound size

In a food processor, puree peanuts, chiles, garlic, ginger, lime
juice, fish sauce, oil, salt and sugar until smooth. Do not over process,
as you can heat the mixture if processed too long.

Add the herbs and puree smooth. Check for seasoning, adjust lime juice, sugar, chiles, and fish sauce to balance the flavours. It should balance so that not just one flavour is prominent, but one new flavour.

Brush oil on both sides of the shrimp, and season with salt and pepper.

Grill on both sides for about 5 minutes total. 3 minutes on the first side and 2 minutes on the second side. Do not over cook the shrimp!

Place a layer of romaine on a plate.

Lay 3 grilled shrimp on top and liberally drizzle with pesto.

Garnish with chile flowers** and a few herb sprigs.

This recipe yields 4 servings.

** To make chile flowers, slit the chiles up to, but not through the stem in 4 sections. Place the chiles in a bowl of ice water with ice cubes. Leave for about 20 minutes. The chiles will curl outward to form the "flowers."




Related Articles
Editor's Picks Articles
Top Ten Articles
Previous Features
Site Map





Content copyright © 2023 by Mary-Anne Durkee. All rights reserved.
This content was written by Mary-Anne Durkee. If you wish to use this content in any manner, you need written permission. Contact Mary-Anne Durkee for details.