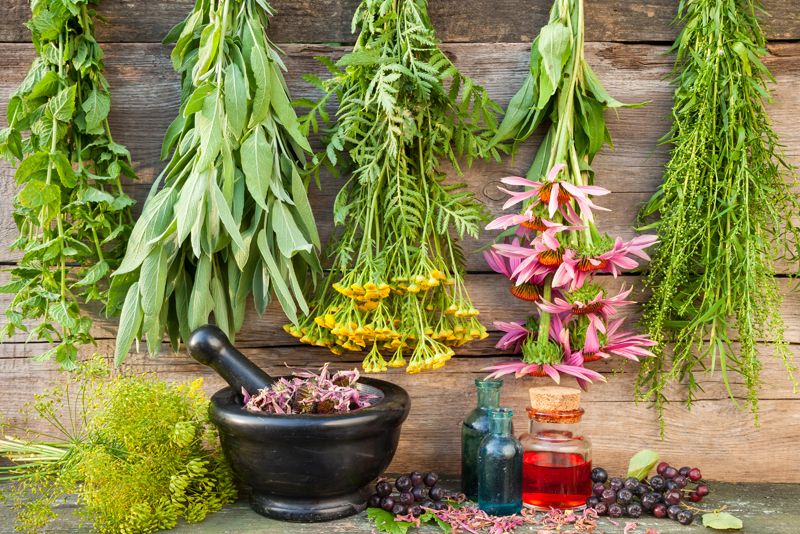 At one time or another our nerves get shot. One too many projects on our list. Too many whining kids. A bad day at the office. Life in chaos. We get to "wit's end". We've all been there. Next time you feel that sensation creeping up in you, don't reach for that bottle of wine or whatever your usual crutch is: think about trying an herbal alternative.

There are several herbs that work to restore your nerves to a healthy condition, which were discussed in a previous article posted on BellaOnline, entitled "Herbs for Stress". This article will focus on one particular herb known for its ability to alleviate headaches, diminish premenstrual tension and even get rid up hiccups! This herb is called Skullcap (Scutellaria lateriflora). It is also known as blue pimpernil, mad-dog weed, hoodwort and helmet flower.

Many herbalists agree that skullcap is a very effective herb for calming the nerves. Utilized in either a tea or tincture, this herb will settle you right down. The leaves and flowers of the plant contain an active flavanoid called scutellarin, which provides the medicinal properties in the plant. Historically, skullcap was used to treat a myriad of nervous disorders including delirium, epilepsy and hysteria. Modern day herbalists recommend it for relieving nervous tension, agitation and anxiety. It is also said to help reduce the pain caused by nerve-related injuries or disease, and reportedly eases symptoms of withdrawal from alcohol and drug addiction.

Skullcap is a member of the mint family. Although it has no noticeable smell, you can tell it is in the Labiatae family by the fact that the stems are square (four-sided), and the leaves are opposite.

Skullcap is widely distributed in North America and Canada, where it is native. It likes to grow in wet areas that have both shade and sun. It is an herbaceous perennial, meaning that it lives for many years, but dies back during the winter in most climates. Skullcap only gets to be 1-3 feet tall and can be distinguished by its two-lobed, tubular blue flowers. It is generally found at elevations under 4000 feet, where it blooms from June to September.

This herb can be found in the wild, but is also fairly easy to cultivate in moist, partly shaded areas of your garden. It can be propagated by seed or root division. The fresh or dried flowers and leaves are used to make herbal medicine.

As with most medicines, herbal or otherwise, there are precautions ("contraindications") to be considered. The proper dosage is important, especially with skullcap. Side effects from an overdose can include confusion, dizziness, twitching, stupor or loss of concentration. Skullcap is a wonderful herb, when used correctly, and is fine addition to a moist garden site.

DISCLAIMER: The author of this article is not an herbalist practitioner or a doctor. Please consult a medical professional before using any medicinal herbs.


You Should Also Read:
Herbs for Stress


Related Articles
Editor's Picks Articles
Top Ten Articles
Previous Features
Site Map





Content copyright © 2021 by Evelyn Roether. All rights reserved.
This content was written by Evelyn Roether. If you wish to use this content in any manner, you need written permission. Contact Bettina Thomas-Smith for details.