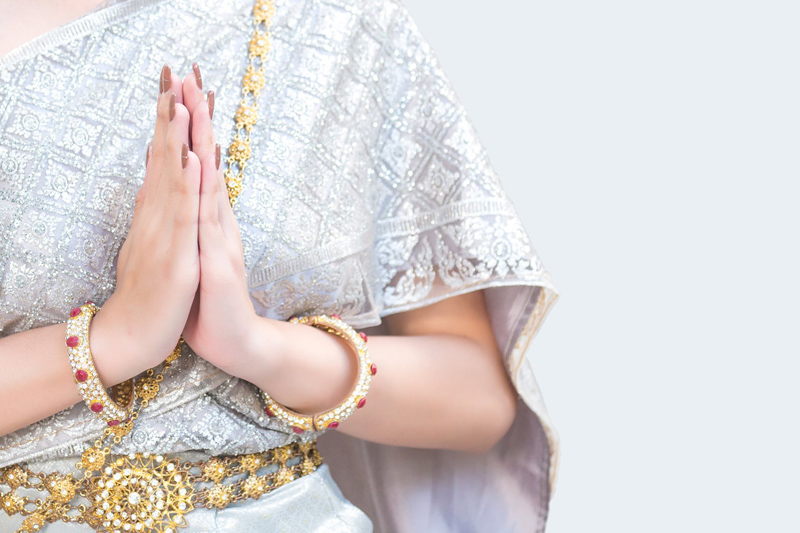 This is a fun recipe to make with a friend. We usually set up the ingredients in the middle of the table within easy reach of both of us. Then we sit on opposite sides of the table and roll these tasty treats!

Serves 8 to 10

20 (12") round rice papers
20 raw prawns in shells
1/2 pound pork loin
1 head of leafy lettuce-wash leaves, remove core centers, and set aside
1/3# rice vermicelli
1 handful bean sprouts (remove the root end)
1 bunch of cilantro
1 bunch fresh mint (leaves-remove leaves, set aside in a bowl)
1 bunch Thai basil (leaves-remove leaves, set aside in a bowl)
6 minced Thai Dragon or 4 bird chiles

Dipping Sauce is enough for 20 or more salad rolls

Place unshelled prawns in ice cold water to which 1 tsp. of salt has been added for 10 minutes Massage the water into the shrimps.

Blanch unshelled prawns in boiling water just until slightly pink. Don't overcook them. Shell, devein, and cut in half lengthwise.
Refresh in cold water and set aside.

Cook the pork in boiling water until just tender - about 20
minutes. Set aside to cool and then slice into 1 x 3" inch matchstick
pieces.

Just before making the rolls set up a salad roll assembly line. Fill a deep pie plate with very hot water. You will need to change this water to keep it hot. Either keep a teakettle hot or use an instant hot tap, as the water needs to be above 120 deg F at all times to soften the rice paper quickly and without having to work it too much which causes tearing.

I set all the ingredients up on a table in the order I will use them to make it easy to grab and add each ingredient without thinking about it. Set up your rice paper, hot water, and a series of bowls and plates holding the ingredients. I use a plastic cutting board as my rolling surface.

Take one rice paper and submerge it in the hot water and sort of work the edges to moisten them as well as the center. Be gentle and use a circular motion. When moistened, but not too soft, remove it from the water and gently lay it down on the rolling station and smooth out the sheet to a flat circle.

Place 2 shrimp halves, cut side up, on the bottom third of the rice paper, then lay two slices of pork on top of the shrimp. Now take a small piece of the lettuce and fold in half and lay on top of the pork.

Next take a small amount of the vermecilli and lay on top of the lettuce, also a few bean sprouts, plus a few mint leaves and basil leaves (medium sized leaves), and a few chile minced pieces.

Make sure you arrange the ingredients evenly to allow for easy rolling of the salad rolls. The ingredients should cover an area across the rice paper bottom third but not to the edges.

Now you press down on the ingredients to make them compact, fold both ends of the rice paper towards the center. Next, take the bottom of the rice paper and fold up over the compressed ingredients. You now roll the salad roll up as tightly as you can without tearing the rice paper. It will seem awkward at first, but then you get the hang of it and it will go quickly. It is much like rolling a burrito.

The finished salad roll should be tightly rolled and about 1 1/2" to 2" in diameter and about 5" long. It may sound complicated, but once you roll one it is so very easy!

To serve, I like to cut the rolls at an angle into two pieces. I place the cut salad rolls on a tray cut side up in a circular pattern. I place the dipping sauce bowl in the middle. Do not refrigerate these salad rolls or they become dry and brittle. If I am going to hold them for awhile (up to 2 hours is safe) I cover them with a slightly damp paper towel or cover with a plastic wrap.

I garnish the tray with the remaining herbs.

We love to drizzle both sauces on the rolls. We find dipping to be far too messy and prefer serving the sauces with a small spoon enabling guests to spoon on the sauces. If you just drizzle the sauce into the rolls it is much easier to eat.

I usually make a few dozen of these at a time for our family and
friends for parties and get togethers. They are always the first
appetizer to disappear!!! They also make a lovely Summer lunch
entrée on a hot day.

Salad Roll Drizzle Sauces

Thai Chile-Lime-Ginger Sauce

This is a very versatile sauce. Use as is for Salad Rolls. Mix with
garlic, chiles,and ginger for spectacular grilled fish, chicken, or
beef. It is also a wonderful marinade!


This sauce is potent, pungent, hot, and wonderful!

3 cloves of minced garlic
1 tab. grated ginger
4-6 Thai Dragon chiles minced
1/3 cup fish sauce (Nam Pla)
1/2 cup hot water
Juice of 1 lime including pulp
1/4 cup date palm sugar (or light brown sugar)

Place fish sauce, garlic, ginger, and chiles in mini grinder and process, or use a mortor and pestle to pound into a paste. Combine with the remaining ingredients and stir until smooth.

Now, a word about fish sauce/nam pla. Please buy the best available, as it is
only a few pennies more, and the difference is huge. My favorite brand is Golden Boy - reasonably good are the Squid and King Crab brands.

















Related Articles
Editor's Picks Articles
Top Ten Articles
Previous Features
Site Map





Content copyright © 2023 by Mary-Anne Durkee. All rights reserved.
This content was written by Mary-Anne Durkee. If you wish to use this content in any manner, you need written permission. Contact Mary-Anne Durkee for details.