Chicken Wrapped In Pandanus Leaf recipe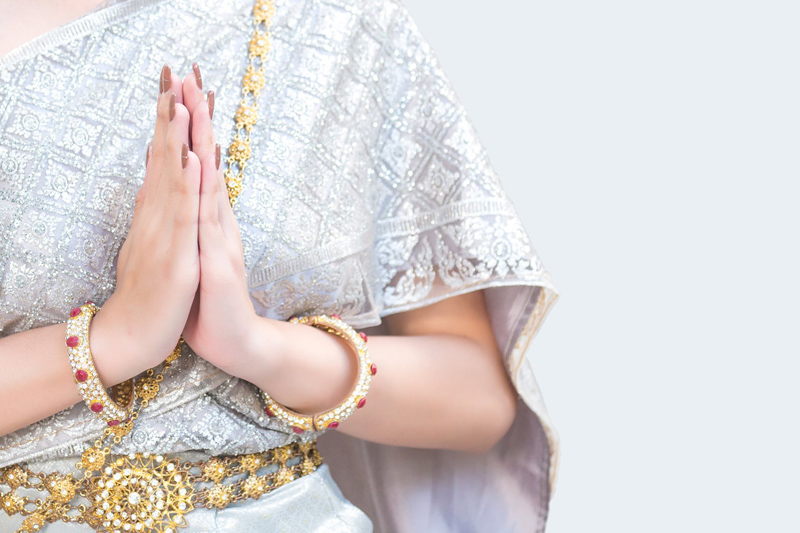 Chicken Wrapped In Pandanus Leaf (Gai Hob Bai Toey)


1 1/2# boneless, skinless chicken meat cut into bite sized pieces
2 Tbs. Thai whisky (Thai Mekong, Rum or Bourbon)
6 garlic cloves garlic-minced
2 tsp. white pepper
1 Tb. Date Palm sugar
2 Tb. light soy sauce (see-eu kao)
1 Tb. toasted sesame oil
3 Tbs. toasted sesame seeds
30-35 fragrant pandanus leaves, or foil if not available*

4-5 cups cooking oil for frying

1 recipe of Black Bean Sauce (Nam Jeem See-eu Dam)see below

Combine the garlic, sesame seeds, sesame oil, soy sauce, sugar, white pepper and whisky in a bowl. Mix the ingredients together thoroughly. Place the cubed chicken in the marinade and make sure each piece is thoroughly coated. Cover bowl with plastic film and place in refrigerator for at least 1 hour, but preferably over night.

Wrap the chicken with the pandanus leaf by rolling it down the leaf, then take another piece of pandanus leaf to cover the exposed sides, securing closing with bamboo toothpicks (traditional toothpicks can be used if bamboo is not available). If you use foil, place chicken bite into a 5" square of foil, fold in half to form a triangle, then fold each side several times to seal and form triangular packets. Continue and wrap each piece of chicken in its own bundle.

Deep-fry the packets in hot oil (360 deg F)over medium heat. Turn the bundles 2 or 3 times in batches of 5 or 6 bundles, and cook for 3 minutes. When done, remove from the oil and drain on absorbent paper to soak up as much oil as possible.

Transfer to a serving platter and serve while very hot.

When served, the chicken is removed from the pandanus wrapper and eaten with a traditional dipping sauce of black beans, or a prepared chile sauce, as desired. Discard the used leaves.

You can prepare this recipe, including the wrapping, the day before.

Pandanus Leaf can be purchased fresh or frozen in Asian Markets.

Black Bean Sauce (Nam Jeem See-eu Dam)

1/2 cup sweet soy sauce (see-eu wan)
1/4 cup coconut vinegar
1/4 cup date palm sugar (lt. brown sugar can be substituted)
1 Tbs. Black Beans-smashed

Combine the ingredients in a small sauce pan and cook over medium-high heat, stirring until sugar is dissolved. Bring to a boil and continue cooking for one minute. Allow to cool, but serve while still warm.

This sauce will keep for 5-7 days if refrigerated in a covered container. If you make the sauce ahead of time rewarm before serving.



Related Articles
Editor's Picks Articles
Top Ten Articles
Previous Features
Site Map





Content copyright © 2023 by Mary-Anne Durkee. All rights reserved.
This content was written by Mary-Anne Durkee. If you wish to use this content in any manner, you need written permission. Contact Mary-Anne Durkee for details.