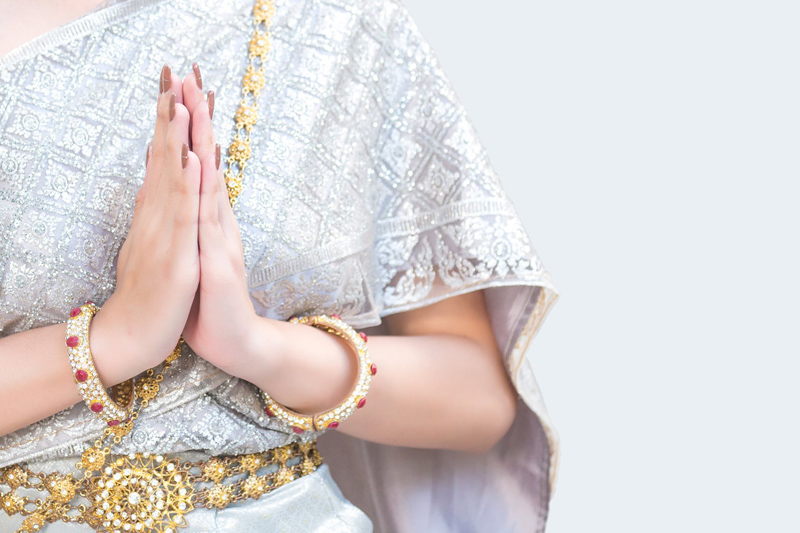 Thai Condiments

Every Thai restaurant has a "condiment set" of four or five little pots, known in Thai as kruang prung (often stainless steel). Sometimes these condiments are served in beautiful handmade porcelaine blue and whate serveware called pineapple design. This is an old and traditional design in most Thai homes even today.

These little sets are filled with:
1. sugar
2. phom prik (ground dried red birdseye chiles) which are often roasted in a pan or over a fire before grinding.
3 nam pla prik (1 part sliced green birds eye chiles to 4 parts fish sauce, marinated for a week)
4. prik dong (1 part sliced red birds eye chiles, in four parts rice vinegar, marinated for a week)
5. prik siyu wan (one part sliced green Thai serranos or jalapenos in four parts dark sweet soy sauce, marinated for a week).

These are added liberally to every dish as the diner requires. Bottles of fish sauce, dark soy, sweet soy, and sometimes oyster sauce and hot sauce are added. In some Chinese-Thai restaurants and homes you may also find MSG, however most Thais do not use this ingredient.

A sweet sauce (consisting of finely sliced red birds eye chiles, chopped garlic and grated ginger in date palm sugar syrup), is also often found.

These numerous condiments allow a diner to customize dishes to their taste!

In Thai Cuisine there are several popular condiments. All can be made at home preferably at least one week before serving so as to allow maturing of flavours. I just keep them together in my refrigerator in a plastic tub, shoe box size.

Nam pla phrik:
This is the most basic and necessary of all Thai condiments. Slice 2/3 cup Phrik Kee Nue (Thai Bird's Eye chiles) or Prik Chee Fa (Thai Dragon chiles) and place in a glass jar (1 pint size), Fill with fish sauce(Nam Pla). Allow to sit to develop flavours. For extra hot flavour use Thai yellow chiles!

Prik dong:
Slice 2/3 cup Phrik Kee Nue (Thai Bird's Eye chiles) or Prik Chee Fa (Thai Dragon chiles) and place in a glass jar (1 pint size), Fill with rice vinegar. For a softer sour taste I use coconut vinegar.

Prik siyu wan:
Slice 2/3 cup Prik Chee Fa (Thai Dragon chiles) or jalapenos in a glass jar (1 pint size), Fill jar with sweet dark soy sauce. This is especially nice on such as Thai Rice Salad.

Khing ki mao:
Julienne 2/3 cup of fresh peeled ginger cut into match stick sized pieces. To easily peel ginger use the back of a teaspoon and rack over the peel. It will easily come off and leave you ginger smooth. This method is not so wasteful as peeling with a knife. Place 5the ginger in a 1 pint jar. Add half a cup of Mekong whiskey (Mekong is a whiskey made from Rice. If you can't find Thai Whiskey you can use rum or sherry instead. Add half a cup of rice vinegar or coconut vinegar, and fill up the jar with fish sauce.

Prik nam siyu wan:
1/4 cup grated fresh peeled ginger, 1/4 cup chopped shallots, 1/4 cup sliced prik chi fa (Thai Dragon Chiles). Place in a glass jar and fill with Sweet Dark Soy Sauce stirring to eliminate air bubbles. Seal and keep in the refrigerator for a week.

Pak nam pla
1/4 cup onions, celery & Chinese white radish, sliced; Fish sauce
Place ingredients in a 1 cup container, fill with fish sauce, stir briefly and top off Keep in the fridge for a week.

There are literally dozens of wonderful Thai condiments and dipping sauces, hot or sweet. Click here for a complete list and recipes:

https://www.bellaonline.com/subjects/8263.asp

You Should Also Read:
Chile Anchovies Relish
Chile-Ginger-Garlic Sauce
Cilantro Fish Sauce


Related Articles
Editor's Picks Articles
Top Ten Articles
Previous Features
Site Map





Content copyright © 2022 by Mary-Anne Durkee. All rights reserved.
This content was written by Mary-Anne Durkee. If you wish to use this content in any manner, you need written permission. Contact Mary-Anne Durkee for details.