Fish and Pumpkin Coconut Milk Soup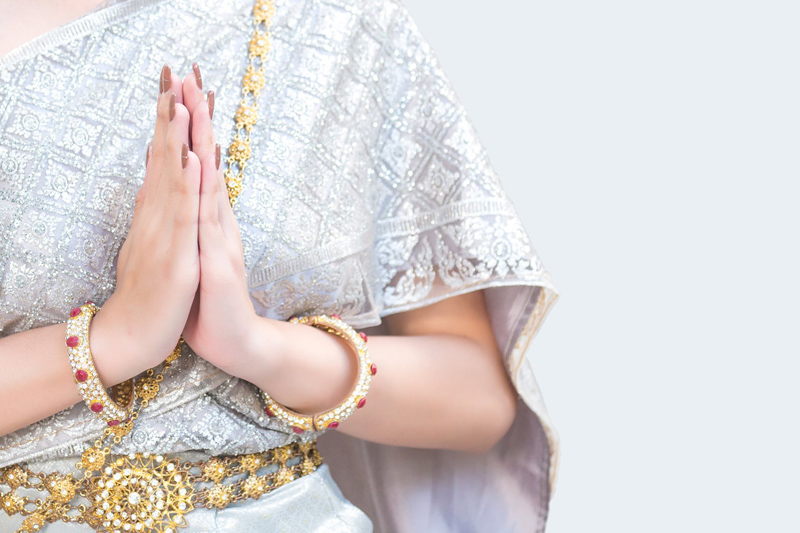 Fish and Pumpkin Coconut Milk Soup (Geng Liang Pla)

Geng means curry, Pla is fish, and Liang means "what is at hand" or grown locally. Much like the Slow Food movement that is gaining popularity in the US - eat locally. Geng Liang Pla is the old and simpliest form of curry paste containing fragrant shallots, grachai (also known as Chinese keys), peppercorns, and fresh water fish.

This recipe is much like the thickened soups of old Thailand and is still popular especially in the north and plains regions of Thailand. The thickening is from the inclusion of local fresh water fish, seasoned with salt and white pepper and perfumed with lemon basil (bai maengluk).

A variation to this dish is to add a filet of trout or fresh prawns as a garnish for a complete meal.

This is one of our favourite Thai Fall recipes. I often make this with Kabocha (pla salit) a very popular Thai vegetable, and coconut milk.

Kabocha is also called Japanese Pumpkin in some US markets. It is a squatty round hard green pumpkin about 8" in diameter 2# to 3# weight with an intense yellow-orange color on the inside. It has a rich flavour compared to a pie pumpkin and is not so watery.

Kabocha has an exceptional naturally sweet flavor that is perfect with the flavours of curry, as it has an even sweeter taste than butternut squash. It is similar in texture and flavor to a pumpkin and a sweet potato combined.

Fish and Pumpkin Coconut Cream Soup

If you buy a whole fish you can make your own fish stock from the head, tail and bones, or buy fillets and use seafood fish stock base.

If making your own stock, which tastes the best, add coconut milk, shallots, lemongrass, and krachai to flavour the stock. Simmer for only 20-30 minutes, then strain. Remove any meat hanging on the bones to add to your curry paste.

2 trout or catfish fillets, roughly (4-5 oz each) cut into 2" pieces
If using a whole fish use a 1 1/2# fish (before filleting)

2 cups stock
1 cup coconut milk
pinch of salt

4 to 8 oz of pumpkin (Kabocha), peeled, cut into 1 in cubes
1 Tbs julienned krachai (also called finger root or Chinese keys)
1 cup unsweetened coconut cream (hard part of the can of coconut)
pinch of ground white pepper
1 cup of lemon basil (maengluk)leaves

paste
3 Tbs chopped krachai(wild ginger)
pinch of salt
1/2 cup minced shallot
1 teaspoon white peppercorns
2 Tbs fish from bones from the stock - if using a whole fish (see above)
Or
1 Tbs shrimp paste (kapi), roasted in tinfoil in toaster oven or in skillet until aromatic

Make a paste: place ingredients in a mortar and pound until smooth with the pestle. Be sure and add the fish meat taken from the bones if making your own stock.

Bring stock including coconut milk to a boil and season. Add a little salt. Add the paste, gentle stirring in to the stock until combined.

After a couple of minutes add the chunks of kabocha, cook 2 for minutes, add the fish, krachai and coconut cream. Simmer for just a minute or two until the fish is cooked, then finish add the white pepper and maengluk (Lemon Basil).

This fragrant soup is salty and peppery.

You can serve with steamed Jasmine rice if desired.

Optional vegetables: 1 cup total of any 3 or 4 vegetables including - boiled bamboo shoots, baby corn, winged beans, oyster or straw mushrooms, snow peas, or pumpkin tendrils. We usually just use the pumpkin as it is such a rich taste with the curry. Pumpkin tendrils make a nice garnish added and stirred in at the finish.





Related Articles
Editor's Picks Articles
Top Ten Articles
Previous Features
Site Map





Content copyright © 2023 by Mary-Anne Durkee. All rights reserved.
This content was written by Mary-Anne Durkee. If you wish to use this content in any manner, you need written permission. Contact Mary-Anne Durkee for details.