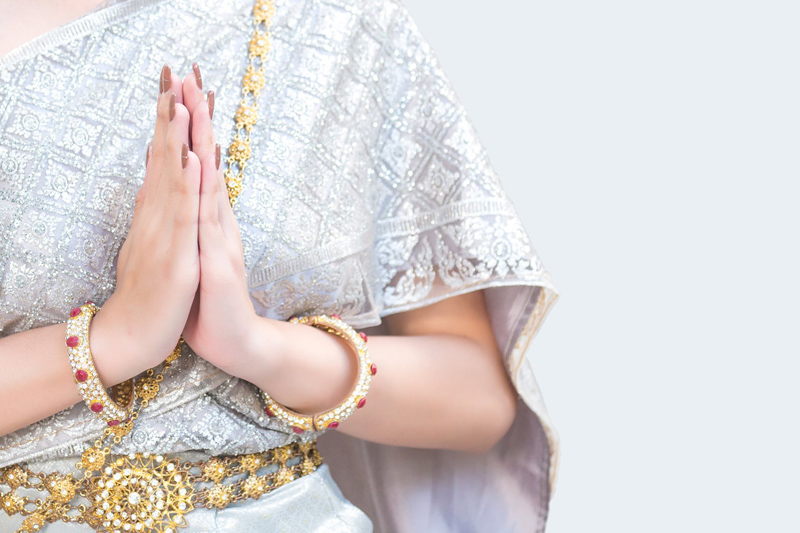 Lobster Spring Rolls (Poh Pia Gôong Mang-gon)
(variation use juilenned chicken or pork)

Makes 12 rolls

Ingredients

For the Lobster Filling:
1 pound lobster meat
1 tablespoon mayonnaise
1 tablespoon tamarind paste
2 Thai Dragon chiles, finely minced
1 teaspoon fish sauce (nam pla)
*optional – 2 slivered Kaffir lime leaves

For the Rolls:
12 rice paper wrappers
4-5 cups of fresh canola or vegetable oil

For the Dipping Sauce:
1/4 cup rice vinegar
2 tablespoons nam pla (fish sauce)
2 garlic cloves
1/3 cup tamarind paste
2 Thai Dragon chiles
2 tablespoons date palm sugar
1/2 cup canola oil

For the Garnish:
12 leaves Boston or Bibb lettuce, large enough to wrap around spring roll
Sprigs of cilantro
Fresh mint leaves
Fresh Thai Basil leaves
Cooked somen noodles tossed with sliced scallions

Method:
Remove all shells from the lobster meat. Fold in the mayo, kaffir lime if using, tamarind paste, minced chile, and fish sauce.

Set up your assembly Line:
Pie plate or other shallow plate (9" diameter or greater filled with very hot water, refill as it cools)
Bowl of lobster meat mixture
Package of round 8" rice paper wrappers
Working surface such as plastic cutting board

To make the rolls:

Gently dip and "massage" a rice paper wrapper in the hot water to soften. Remove and place on your working surface. Smooth out to form a flat circle. Place a heaping tablespoon of the filling in the center on the bottom third, fold in each side snugly, fold up the bottom third over the filling. Now snugly and tightly roll the rice paper roll up.

Preparing the Dipping Sauce:
Place all ingredients in a food processor, excepting the oil and pulse until smooth. Then drop the oil gradually in the food processor while the food processor is running – it will emulsify like a dressing. Taste and adjust to balance taste. Add more sugar or tamarind if needed.

Deep-Frying the Rolls:
Heat oil in wok or deep small skillet to 375 deg F. Drop 2 or 3 rolls at a time in to the hot oil and carefully turn them to brown on all sides evenly. Remove with wire skimmer and drain rolls on paper towels.

Place a crisp fried roll in a lettuce leaf, add a sprig of cilantro, basil leaves, and a couple of mint leaves, and about a tablespoon of cooked somen noodles, tuck in the ends of the lettuce, roll the leaf, dip into sauce. Repeat dipping with each bite.

AWESOME TASTE TREAT!

Enjoy!







Related Articles
Editor's Picks Articles
Top Ten Articles
Previous Features
Site Map





Content copyright © 2023 by Mary-Anne Durkee. All rights reserved.
This content was written by Mary-Anne Durkee. If you wish to use this content in any manner, you need written permission. Contact Mary-Anne Durkee for details.