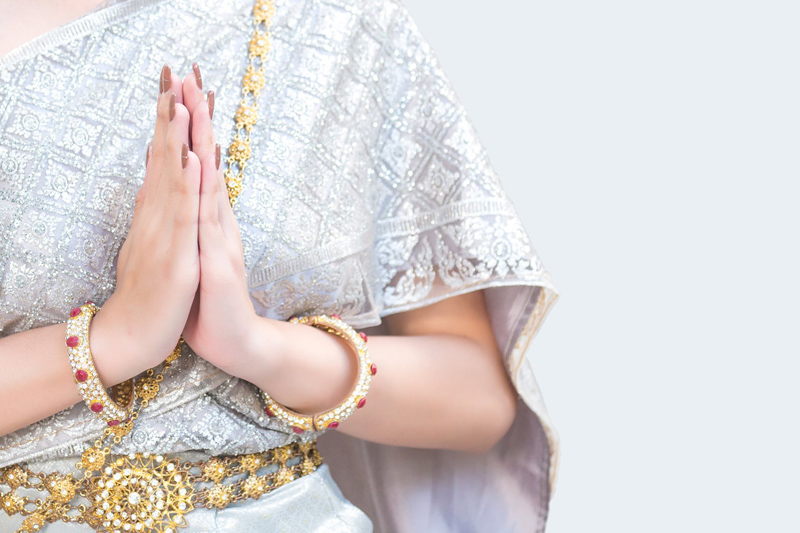 Pork Fried Rice
(Khap Pad Mu)

This is a great recipe for leftover Jasmine rice. It is important that the rice is throughly chilled and not mushy or too moist. You need the rice kernels to be separate. I prefer using Thai Hom Mali (new crop) Jasmine rice. It has a very pleasing fragrance that fills the air as it steams. Normal ratio is 1 cup rice to 1 cup of water. It cooks nicely in a microwave rice cooker or electric rice cooker.

Pork & Lopchong Chile Fried Rice

4 cups Jasmine Rice*, cold left over from refrigerator
*Butterfly or Elephant brand is good

6 to 8 ounces of boneless lean pork tenderloin cut into matchstick pieces
2 lopchong sliced in ¼" thick diagonal slices
2 Tablespoons chopped garlic (Kratiem)
2 Tablespoons of vegetable oil
3 Tablespoons of Oyster Sauce (I prefer the Thai Oyster Sauce, Maekrua Lee Kum Kee)
6 to 8 Thai chiles (Phrik chee fa) diced (wear rubber gloves when chopping and touching)
2 Tablespoons of Fish Sauce (Nam Plah) (Golden Boy is excellent)
Generous sprinkling of white pepper.
Smoked dry chilies ground up for garnish and extra heat *Optional

Handful of 1 inch pieces red and yellow bell peppers
Handful of ½" pieces red onion

1-2 eggs beaten and fried in a separate pan, sprinkle w/white pepper, slice and add at the end
2 handfuls of Thai Holy Basil (bai Krapao) if available, otherwise use Thai Sweet Basil (bai Horopa)


Method

Heat a well seasoned pan (wok is best)
Add the oil and heat until hot, add the pork quickly stir fry,
Add the lopchong slices to brown
Add the onions and bell peppers, fry
Add the garlic and chopped chilies when pork is still pink
Add the Oyster Sauce,
Add the rice (make sure all big chunks are broken up)
Stir fry
Add the egg pieces
Add the fish sauce and Basil and stir until leaves are wilted

Garnish with Cilantro/Basil leaves and sliced cucumber

Allow about 1 1/2 cups of rice per person for a main course. This is so easy and tasty.

I like the smokiness of roasted chiles in this dish, and sometimes I add this as I stir fry.

C. GlobalAccess,ltd 1999






Related Articles
Editor's Picks Articles
Top Ten Articles
Previous Features
Site Map





Content copyright © 2023 by Mary-Anne Durkee. All rights reserved.
This content was written by Mary-Anne Durkee. If you wish to use this content in any manner, you need written permission. Contact Mary-Anne Durkee for details.