Fried Bananas (Gluay KhaegTod)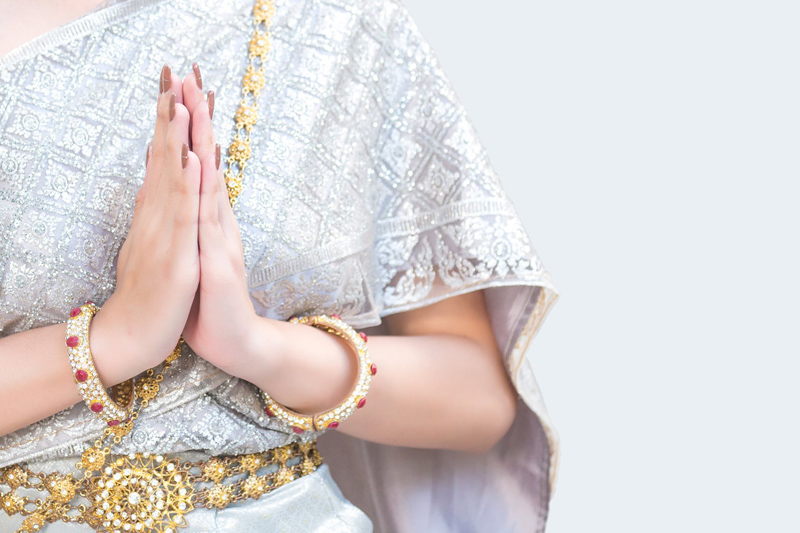 If at all possible, use small fragrant bananas (finger bananas)

•SERVES FOUR-SIX.
3 cups/'12 oz rice/lour
1 cup/8 fl oz water
1/2 cup/ 12 oz unsweetened grated coconut
3 Tbs plain (all-purpose) flour
3 Tbs sugar
2 Tbs sesame seeds
2 tsp baking powder
1 tsp salt
approx. 6 cups/48 fl oz/ peanut or corn oil for deep-frying
1 lb. small, slightly green bananas, quartered

Place all ingredients, except the bananas, in a mixing bowl and mix thoroughly.

Heat the oil in a wok or deep pan to about 325°F to 350°F
Dip the banana pieces into the coconut batter and then deep-fry until golden brown but not dark, about 3 minutes. Turn over and cook for 2 more minutes. Take out with a slotted spoon and drain on kitchen paper (paper towel).

Enjoy!

Note* Rice flower can be found in Asian Markets


Notes on Bananas (Kluai)

Bananas are available in Thailand and the US all year round. Bananas are one of the most popular fruits. Thailand has about 30 different varieties, ranging from fragrant, sweet little "finger bananas" to large specimens with thick golden skins. I love the little finger bananas as they are fragrant, sweet morsels to eat in one bite.

In Thai cuisine banas are used ripe in many dishes, but also as young green fruits eaten raw as a vegetable with a spicy sauce. Medium developed green bananas sliced are sun dried and fried and eaten as a snack. Bananas are also grilled and soaked with syrup (Kluai ping), boiled in coconut milk with salt and sugar (Kluai Buat chi), boiled in syrup (Kluai chuam), smoked in the peel (Kluai phao), and turned into golden fritters (Kluai khaek).

Bananas in Thailand come in all sizes, shapes and colours. There are ping-pong ball-sized Kluai Khai Tao (turtle's egg bananas), red-orange coloured Naga bananas, curved, delectably perfumed kluay lob mue naang (dancer's fingernail bananas), and many more exotic types.

About five varieties are commonly available in most fruit markets. The Kluay Hawm, or "fragrant banana" is the one commonly found in US markets.

Kluay Khai, Egg Banana has a thinner golden-yellow skin when ripe. It is eaten fresh or cooked in a light syrup. It is also popular as dried banana, candy, or cake

The smaller, firmer, and sweeter IE Finger Bananas which are a dark-yellow are called Kluay Khai, or "egg bananas" and are often found in Asian markets.

Kluay Nam Waa, a rotein-rich banana are said to be a aphrodesiac when steeped in honey, and Kluay Hak Mook are at their best when split open and grilled to softness over a charcoal fire.

Kluay Hom Thong is similar to the Cavendish, but with a finer skin, and it is aromatic and sweet tasting.

Kluay Nam Wa, is sticky and sweet when ripe, and is valued for its high nutritional value. It is often used in Thai desserts like Kluai Buat Chee, Khao Tom Mut or Khanom Kluai.

Kluay Hak Mook is referred to as a cooking banana that is delicious when roasted or grilled often offered by street hawkers.

Banana blossoms, "Hua Bplee" are used fresh as a garnish for the famous Pad Thai noodle dish, used in Thai salads or yam, or eaten raw as a salad vegetable served with a chile dip called nam prik. You must remove the tiny forming bananas or the blossom weill taste bitter.







Related Articles
Editor's Picks Articles
Top Ten Articles
Previous Features
Site Map





Content copyright © 2021 by Mary-Anne Durkee. All rights reserved.
This content was written by Mary-Anne Durkee. If you wish to use this content in any manner, you need written permission. Contact Mary-Anne Durkee for details.