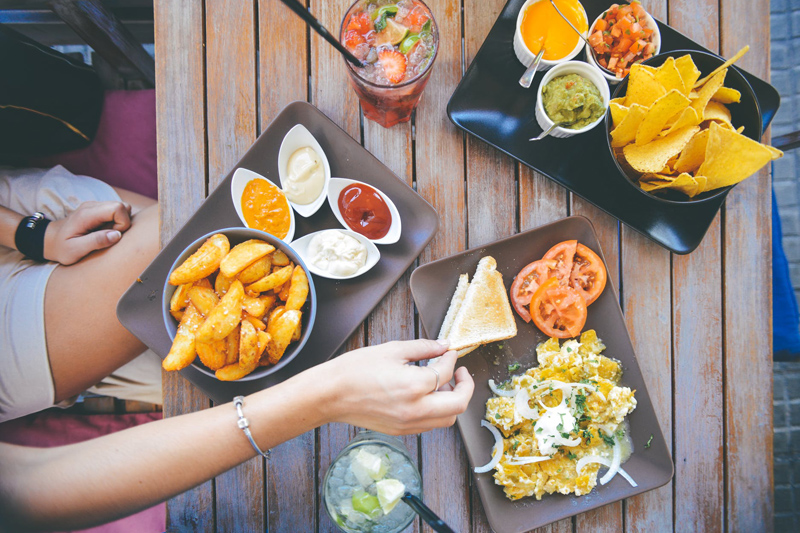 They simmer quietly for hours on a backburner. They may be plain, flavoured with nothing more than a chopped onion, a sprig of the native herb, epazote, and a bay leaf; or they may be richly perfumed with spicy chorizo, roasted tomatoes and a purée of dark, dried chillies. Their texture is creamy and smooth, their broth thick and nourishing, their fragrance warm and comforting. They are utterly earthy – true Mexican food for the soul, wholesome, soothing, satisfying. No Mexican kitchen is ever without its bubbling earthenware cazuela of frijoles – beans are an integral part of everyday life and food.
My childhood weekend breakfasts always featured frijoles, as well as a spicy egg dish like Huevos Rancheros (more about these soon!), perhaps a spoonful of savoury "chilaquiles", a cup of steaming hot chocolate redolent with cinnamon… No 'cooked breakfast' could ever compare. Frijoles are still one of my favourite foods and there is always a pot of them in my refrigerator, ready to be reheated for a quick and easy lunch; or to be turned into "frijoles refritos", fried and mashed up with onions, bacon and spices and eaten with tortilla chips or on toast; or to be added to a salad or vegetable soup. They are wonderfully versatile and adaptable, and although they take time to cook and therefore need forward planning, they require little attention and are content to be left alone for hours on end until they stew to a luscious softness.
Frijoles in the Cholula market © Isabel Hood
A stroll through any Mexican market will take you past huge woven baskets – or more large plastic bowls nowadays! - of beans in a wonderful range of earthy hues – from shiny black to creamy white and all manner of pinks, reds, golds and russets in between. There are countless varieties and the colour changes with the region, starting off pale in the North and growing progressively darker on the way South. A recent visit to Jalisco produced light tan beans, which I call "pinto" or even "borlotti" but every stall holder I spoke to was emphatic about the name: "peruana", Peruvian. Others go by romantic names like "Flor de Mayo" or something far more prosaic like "frijoles negros", black beans, but more often than not they are just "frijoles", beans, or "el frijol de aquí", the local bean.
Wherever you travel in Mexico, and whether you stop to eat at a market fonda, a street stall, a "lonchería" or a proper restaurant, you are bound to be served beans in one form or another with everything: as a side dish, refried and piled onto tostadas or stuffed into large chillies, spooned over scrambled eggs, in a taco or enchilada, spread in tortas, stirred into rich moles and tingas - and however they are done, they will be utterly delicious and utterly Mexican.
All pulses have one drawback, and that is that they can be notoriously difficult to digest! Soaking them and then cooking them in fresh water is supposed to deal with this problem, but in my experience, it makes no difference and there is a loss of flavour and texture. Mexican cooks do not soak beans: they do, however, often add epazote and this does indeed make a very considerable difference – so try adding a sprig of fresh epazote or a teaspoon of dried to your frijoles. Alternatively, a piece of kombu seaweed and bay leaves are both good substitutes, but the best solution I have found is to cook the beans for a long time, a good couple of hours at least.
A pot of beans - Frijoles de Olla
These simple beans are eaten by virtually every Mexican at least once a day and, together with corn, are an essential source of protein for the many who cannot afford meat. There is virtually no preparation involved and all they need is to be allowed to cook undisturbed for several hours, by which time they will be soft, thick and irresistibly earthy. They will keep in the refrigerator for days and are an excellent stand-by, as they can be made into a quick and satisfying meal with very little effort.
Serves 6
500 g/18 oz beans, black, red kidney, haricot or pinto
200 g/7 oz onions, peeled and finely sliced
3 garlic cloves, peeled
1 bay leaf
60 ml/4 tbsp olive oil
Warm tortillas, bread or cooked rice, to serve (optional)
Sea salt and freshly ground black pepper
Place the beans in a colander and rinse them under cold, running water. Put them in a large saucepan with the onions, garlic and bay leaf, add enough water to cover by 10 cm/4 in, and bring to the boil over medium heat. Turn the heat down to low, cover the saucepan and simmer very gently for at least 2 hours, preferably 3 or 4, until the beans are totally tender. Check them every now and then to make sure that they are not drying out and are covered by at least 1 cm/1/2 in of water. Add some seasoning and cook for another 20 minutes. Stir in the olive oil just before serving.
Serve in warm, deep bowls with tortillas, bread or rice.
Buén provecho!
You Should Also Read:
Mexican Refried Beans Recipe
Veracruz - Tortillas in Black Bean Sauce Recipe
Yucatán - Beans with Pork Recipe


Related Articles
Editor's Picks Articles
Top Ten Articles
Previous Features
Site Map





Content copyright © 2023 by Isabel Hood. All rights reserved.
This content was written by Isabel Hood. If you wish to use this content in any manner, you need written permission. Contact Mickey Marquez for details.