Sea Bass with Lemon Grass & Shallots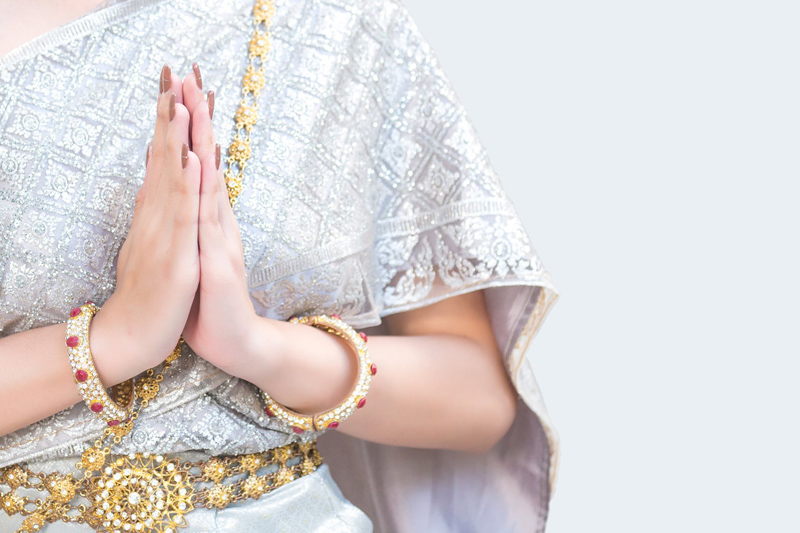 Various types of whole fish or fillets work for making this dish. Thais prefer whole fish. I have made this with whole Rock Fish, Pomfret, or Red Snapper as well as using wild salmon fillets.

This fish turns out moist and flavourful with the Thai seasonings. I cook it in a claypot, but any baking dish will work.

Baked Sea Bass with Lemongrass (Pla Neung Takrai Hom Lek)

1 sea bass, about 1 1/2 pounds, cleaned and scaled leaving head and tail intact
1 tbsp peanut or vegetable oil
2 lemon grass stalks, finely sliced
4-5 shallots , finely shredded (1 red onion can be used instead)
1 chile, seeded and finely chopped (I use 4 to 6 as we like it spicy)
2 inch piece fresh root ginger, finely shredded
3 tbsp chopped fresh
coriander (cilantro)
rind and juice of 2 limes
*optional 4 Kaffir Lime leaves slivered
2 Tbs light soy sauce
Dash of Fish Sauce (nam pla)
sea salt and ground black pepper

If using a clay pot, presoak for 25 minutes in cold water.

Make 3 to 5 slits on each side of the fish.

Rub the fish with sea salt, pepper, and peanut oil.


Mix together the Thai seasonigs – the lemon grass, shallots, chili, ginger, coriander, kaffir lime leaves, and lime rind. Place part of this mixture in the bottom of the claypot.

Lay the fish on top, and cover with the remaining seasonings mixture. Sprinkle with the lime juice, soy sauce, fish sauce, and remaining oil.

Cover and place in an unheated oven.

Turn the oven to 425 F and cook the fish for 30 – 40 minutes, or until the fish flakes easily when tested with a fork.

Serve immediately with steamed Jasmine Rice.

Notes:

Sea Bass can refer to White Sea Bass, Chilean Sea Bass, etc.

Pomfret are perciform fishes belonging to the family Bramidae.

They are found in the Atlantic, Indian, and Pacific Oceans, and the largest species, the Atlantic pomfret, Brama brama, grows up to one metre long.

Several species are important food fish in some parts of the world, especially Brama brama in south Asia.

Rockfish may refer to one of the following fishes:

Striped bass, a member of the Moronidae family (temperate basses) that spawns in the mid-Atlantic United States
Rock salmon, also called Rock eel, Flake and Huss, the flesh of the spiny dogfish or the bull huss (Scyliorhinus stellaris)
Shortraker rockfish (Alaskan rockfish)
Stonefish, a fish with the appearance of a rock or stone

The red snapper, Lutjanus campechanus, is a reef fish found off the Atlantic and Pacific coasts of The Americas and the Gulf of Mexico. The original name in Latin American Spanish is Huachinango or Pargo.









Related Articles
Editor's Picks Articles
Top Ten Articles
Previous Features
Site Map





Content copyright © 2023 by Mary-Anne Durkee. All rights reserved.
This content was written by Mary-Anne Durkee. If you wish to use this content in any manner, you need written permission. Contact Mary-Anne Durkee for details.