Pomelo and Grilled Shrimp Salad (Yam Som-O)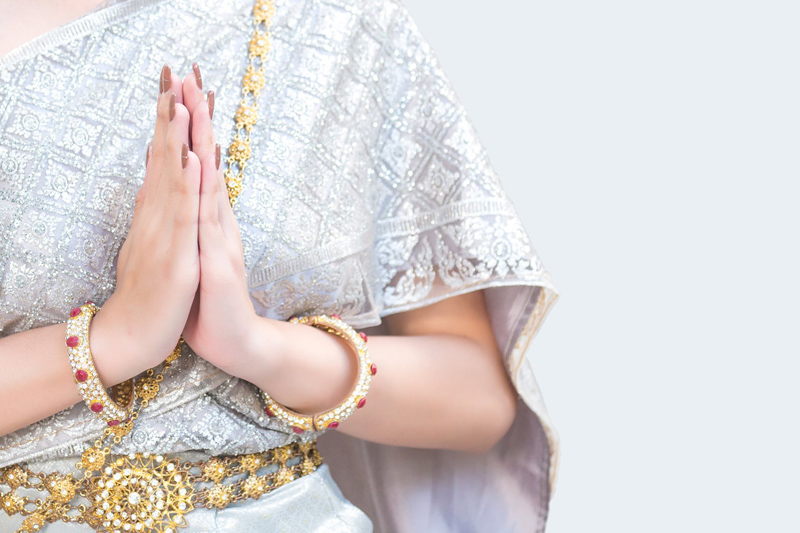 Pomelo originated in Thailand, and is said to be the ancestor of
grapefruit. It tastes so much sweeter and more pleasant than
grapefruit. However, it hasn't become so popular in America, but is
very popular in Asia particularly in Thailand.

If you can't find pomelo in your Asian Market you could substitute
pink grapefruit, but I'd sprinkle a little sugar or splenda on
them. Test and taste first, as Pomello is not sour just refreshing.

Pomelo and Grilled Shrimp Salad

Yam Som-O

Salad
1 large pomelo (1 1/2#)
1/2 pound shrimp in shell
6-8 long (12") bamboo skewers (soaked in water for 30 minutes first)
Half a medium cucumber (Asian or English type is best)
1 small tomato cut in half and cut into thin wedges
1 cup loosely packed mint leaves
1/3 cup roasted unsalted peanuts, crushed in a mortar or finely
chopped
3 tablespoons shrimp powder with chili (kung phrik pon)
2-4 minced Thai Chiles

Dressing
3 tablespoons fresh lime juice
1/2 tsp salt
1/4 teaspoon white pepper
2 tablespoons plus 1 teaspoon palm sugar or brown sugar

Toppings
Fried garlic chips
Crispy Shallots
Sprigs of cilantro

Cut off the ends of the pomelo. With a sharp knife, score the skin
lengthwise into eighths. Pull off the rind with all the pith, using
the scored sections as a guide. Separate the fruit into sections
and completely remove the tough thin membrane enclosing each
segment. Cut the membrane with a pair of kitchen sissors and peel it away from the sac. It's an easy job as the sacs are firm, neat bundles that roll out intact. Break the fruit segments into bite size pieces and remove any seeds.

Place the unshelled shrimp on to the soaked bamboo skewers, about
four or five shrimp per pair of skewers. Grill shrimp turning
once or twice, just until they are pink, about 2 to 3 minutes
total. Remove the shrimp from the skewers, peel, cut into 3/4" long pieces and add them to the bowl with the pomelo.

Peel the cucumber half. Cut in half legthwise cut the halves crosswise into thin slices, and add them to the bowl. Add the remaining ingredients to
the bowl and gently toss to mix.

Set aside

Combine the dressing ingredients and whisk until smooth. Pour the dressing over the salad and toss until well mixed.

Transfer the salad to a large serving platter, and sprinkle
with the fried garlic chips and crispy shallots on top. Garnish with a few
cilantro sprigs and toss over the salad and serve.

To make fried garlic chips (kratiem tod) skip if watching fats

Makes 6 tablespoons

1 cup of vegetable oil

1/2 cup thinly sliced garlic cloves (about 20)

Pour the oil into a wok or a small cast iron skillet set over medium
heat and bring to 350 deg F.

Add the garlic and cook until golden (do not burn!) stirring
occasionally, about 1 minute. Remove with a wire skimmer and drain
on paper towels. Let cool. Strain the cooled flavoured oil for
later use.

The chips will keep for a week or two in a sealed jar.

I offer a side of nam pla phrik for those who want more heat.








Related Articles
Editor's Picks Articles
Top Ten Articles
Previous Features
Site Map





Content copyright © 2023 by Mary-Anne Durkee. All rights reserved.
This content was written by Mary-Anne Durkee. If you wish to use this content in any manner, you need written permission. Contact Mary-Anne Durkee for details.