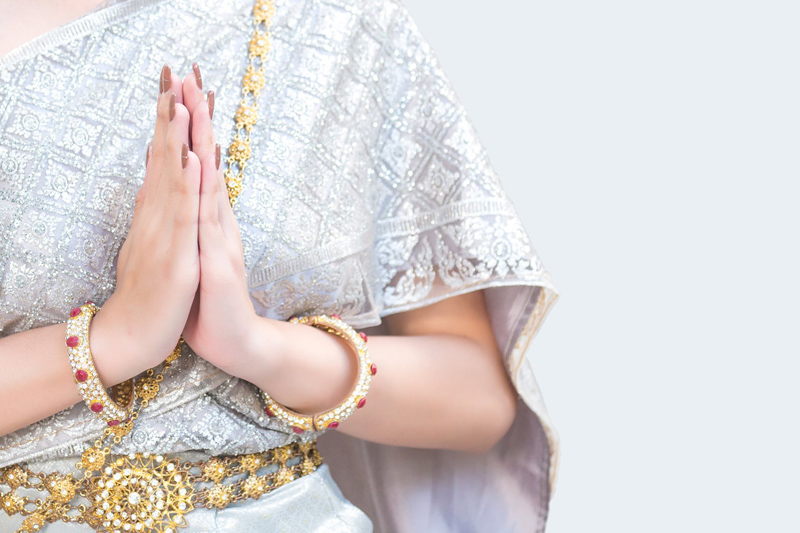 My husband and I love cooking together and we love crab! We live in the San Francisco Bay where we have access to almost year round Dungeness Crab. However, we have made this recipe with quality canned crab, the type you find in the refrigerator section for $10 and above for a pound can.

When we first made this dish we had some smoked chiles from Warrot Market in Chaing Mai and when we ran out of these glorious large smoky chiles from the Hill Tribes we expierimented and found that using chipotles en adobe puree gave the same lovely complex smokey flavour.

Serves 6

12 ounces Dungeness or Peekytoe crabmeat, cleaned
4 Tbs chopped fresh chives
1/2 cup minced red bell pepper
2 Tabs freshly squeezed lime juice
1/4 cup mayonaise
2 tsp togarasi
1 cup bread crumbs (reserve 1/2 cup for breading)
Salt & Pepper
4 tsp. butter or ghee
2-3 slivered Kaffir Lime Leaf (bai Magroot)

Serve with 2 cups of Hollandaise Sauce with the following added:
1/2 to 1 tsp. of Chipotle Puree or to taste

Garnish
lemon-infused extra-virgin olive oil
chives
cilantro leaves

2 cups of Hollandaise Sauce-I have oftenb used Knorr Hollandaise Mix with great sucess, or make a from scratch version shown below.

Place the crabmeat, chopped chives, minced red bell pepper, lime juice, mayonaise, togarasi, magroot leaf and 1/2 cup bread crumbs in a bowl. Toss together and season to taste with salt & pepper.

Fill 6 2 3/4" bottomless ring molds with the crab mixture and pack tightly. Dust the top and bottom of the molds with the remaining 1/2 cup bread crumbs.

Just prior to serving, saute crab in molds in a very hot pan with butter for 1 or 2 minutes on each side until golden brown. Blot on paper towel, carefully remove from molds.

Place a generous swirl of Hollandaise on plate, place crab cake on top.

Drizzle plate with lemon-infused extra-virgin olive oil. Plate with 3 large cilantro leaves per serving and cross the crab cake with 2 chives.

Ingredients notes:
Dungeness crab is seasonal and only available on the US West Coast. You may substitute Peekytoe crabmeat, or any other firm crabmeat available. We also use Phillips® Backfin crabmeat, which is available, canned and refrigerated, at Costco.

Togarashi is a Japanese condiment that is available in small shaker vials at most Japanese or Asian specialty stores. It is a combination of chili pepper, black and white sesame seeds, orange peel, ginger and seaweed that adds a very special and unique flavor to the Crabcakes.

Ghee is clarified butter that can be found in most Indian specialty markets. We prefer it because it has a much higher flash point than regular butter, and doesn't smoke or burn as easily, while still adding authentic butter flavor.

Bai Magroot (Kaffir Lime) is a lime variety indigenous to Thailand. The leaves have a very unique citrus flavor and are frequently used in Thai cooking. They may be found fresh or frozen in many Oriental specialty markets.

Chipotle is the dried, smoked Jalapeno pepper frequently used in Mexican cuisine. It is available in Mexican specialty markets, canned in an Adobo sauce. To use, pour the contents of a can in a food processor or blender and process until a smooth paste is formed. The paste will keep, refrigerated, and can be used to add flavor and spice to a wide variety of dishes.

Lemon-infused Extra Virgin Olive Oil is made by adding the oil from lemons to extra virgin olive oil. It is generally bottled in Italy (some is now being made in California), and is available in better gourmet specialty markets.

Hollandaise Sauce

Makes: 2 cups

Ingredients
1/4 cup fresh lemon juice
1/4 cup boiling water
6 large egg yolks
1 cup unsalted butter
1/4 to 1/2 teaspoon cayenne
1/2 teaspoon salt

Method

Melt the butter and keep it warm.

Heat the lemon juice until just warmed. Have small saucepan with boiling water and a measuring tablespoon ready.

Place the top of a double boiler over hot water. Do not allow the bottom of the insert pan to touch the water.

Place the egg yolks in the top of a double boiler and whisk until they begin to thicken. Now add 1 tablespoon of the boiling water. Continue to whisk the sauce until it begins to thicken. Repeat with the remaining water, one tablespoon at a time, whisking the mixture after each addition.

Now add the lemon juice. Remove the double boiler from the heat. Beat the sauce briskly with a wire whisk. Continue to beat the mixture as you slowly pour in the melted butter. Add the salt and cayenne and beat the sauce until it is thick. Serve immediately.







Related Articles
Editor's Picks Articles
Top Ten Articles
Previous Features
Site Map





Content copyright © 2023 by Mary-Anne Durkee. All rights reserved.
This content was written by Mary-Anne Durkee. If you wish to use this content in any manner, you need written permission. Contact Mary-Anne Durkee for details.