Chicken with Black Mushrooms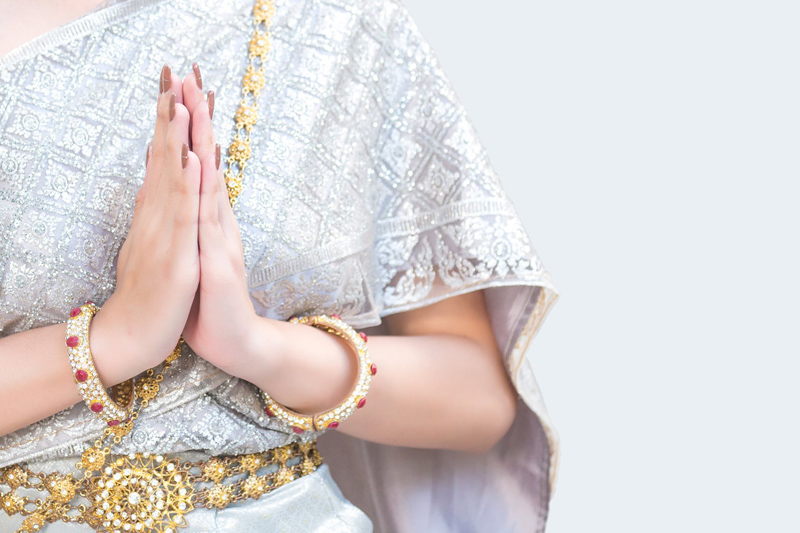 Chicken with Black Mushrooms (Gai Bet Phat)

1 pound boneless skinlessd chicken breasts
10 large dried Chinese black mushrooms *
1/4 cup peanut oil
4 cloves garlic minced
4 shallots, chopped
1/2 ounce ginger, shredded
1 teaspoon cornstarch
1/4 cup water
2 to 4 tbs fish sauce (nam pla)
2 tablespoons brown sugar or honey
1/4 teaspoon salt

Garnish
Cilantro springs
1 green onion, cut into 2-inch lengths
3-5 red chile peppers, seeded and thinly sliced
*optional-chile flowers: slit chiles lengthwise in quarterd but do not cut through the stem. Place in ice water for 20 minutes. They will curl up to form flowers.

Cut chicken breast into thin 2-inch strips.

Soak Chinese black mushrooms in hot water for 10-20 minutes; drain and cut off the stems and discard. Slice the mushrooms into 1/4" slices.

Heat a wok or skillet, add the oil, add garlic, shallots and ginger and stir fry until light brown.

Add chicken and stir-fry 3 to 4 minutes.

Mix the cornstarch and water whisking into a smooth paste.

Add the mushrooms, cornstarch mixture, fish sauce, brown sugar, and salt to the chicken.

Stir-fry for 2-3 minutes, reducing heat to medium and simmer for 6-8 minutes until chicken is cooked.

Garnish with cilantro, green onion and red chile slices.

Serve with steamed Jasmine rice or broken jasmine rice.

Notes: Chinese Black Mushrooms-are called simply Chinese mushrooms or shiitake mushrooms. Others know these mushrooms by other names including just black forest mushroom, golden oak mushroom, oakwood mushroom, lion's mane, pasania, nameko, doubloon, and donku, to name but a few. No matter their name, Chinese and other Asian people adore the rich meat-like taste of these fragrant mushrooms.

The shiitake, the most common name in the United States is the world's most widely available cultivated mushroom. In China, they are the third most popular mushroom. They are preferred dry to be reconstituted, because the mushroom flavor is more intense.

I buy the dried thinly sliced Shiitakis in local Asian markets and even at Costco. I also can readily find the fresh shiitakis and use both.




Related Articles
Editor's Picks Articles
Top Ten Articles
Previous Features
Site Map





Content copyright © 2022 by Mary-Anne Durkee. All rights reserved.
This content was written by Mary-Anne Durkee. If you wish to use this content in any manner, you need written permission. Contact Mary-Anne Durkee for details.