Pork Curry with Long Beans (PHRIK KHING MU TUA FAK YAO)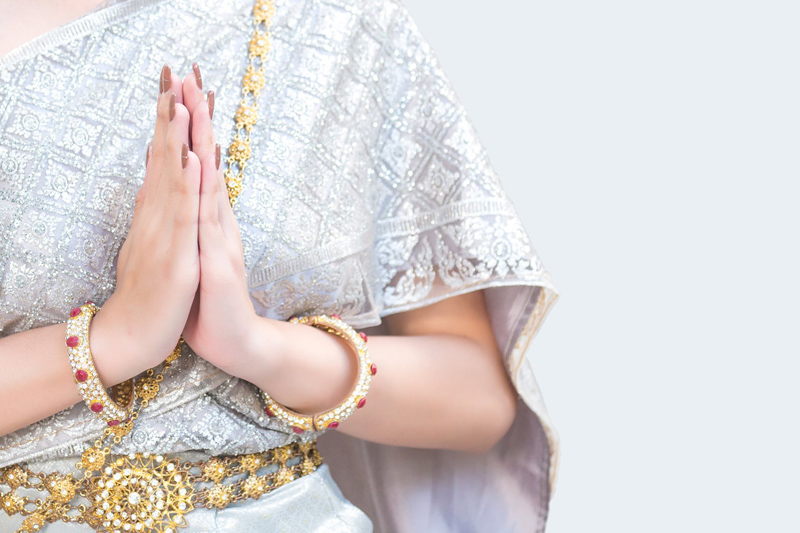 Dinner last night was a quick and yummy meal. You either make ahead
the curry paste and have it in the refrigerator or you can use a
premade PHRIK KHING CURRY PASTE. MaeSri makes a good one.

Country Style Curry with Pork & Long Beans - Thai
(PHRIK KHING MU TUA FAK YAO)

½ cup Phrik Khing Curry Paste
2 Tbs. peanut oil
2/3# of lean pork loin cut into 3" by ¼" matchsticks
1# Yard Long Beans cut into 4" lengths (French filet beans can be
used)
½ cup chicken or pork broth
2 pairs Kaffir Lime leaves slivered (Magroot)
1 Tbs. date palm sugar (white sugar can be used)
1/3 cup chopped roasted peanuts for garnish

Fry curry paste in oil until it is fragrant and beginning to separate
Add broth and pork matchsticks, stir, and simmer for 4 minutes on
low heat. Add the beans , sugar, and slivered kaffir lime leaf.
Slivering is easiest with scissors. Cook until the beans are just
tender, do not over cook. Serve with Steamed Jasmine rice. Garnish
with chopped roasted peanuts.

To roast peanuts: Place raw peanuts in a skillet on medium high
heat. Wiggle skillet to keep the peanuts from burning. When they
are golden and fragrant remove from skillet to cool. Then chop for
garnish.

Serves 2

Although this is traditionally a dry type curry it can be made using
coconut milk for a wonderful creamy coconut milk curry.

Variation: omit the 2 tabs of peanut oil and replace with the thick
part of coconut milk from a 15 oz. size can. Fry according to
directions above. Omit ½ cup of broth, use the liquid part of the
coconut milk. Serve as above with steamed jasmine rice.
PHRIK KHING CURRY PASTE
(COUNTRY STYLE or DRY CURRY)
Nam Phrik Khing), Chow Na
Makes about 1' 1/3 cups

"Dry-style curries." are barely liquefied with a bit of chicken
stock, instead of being cooked into a rich sauce w coconut milk..
A phrik khing curry is a smooth stir fry curry and is often not as
spicy hot as some coconut milk based curries, but still are peppery
tasting and flavourful. This type of curry is especially well
suited to deep fried fish, or matchstick cut pork or chicken.
Sometimes crumbled pork cracklings are added to the curry paste to
add a crunchy texture typical of the country style dishes. Without
the pork cracklings, it is a Phrik Khing Curry Paste, in the style
of Bangkok cuisine.
6 large dried red Guajillo chiles (see note below)
1/2 teaspoons finely chopped, peeled fresh galangal or kha
I teaspoon shrimp paste (kapi), wrapped neatly in a double layer of
aluminum foil
1/4 cup chopped garlic
I teaspoon whole black peppercorns
½ cup chopped shallots
1/4 teaspoon salt
1/2 tablespoon minced fresh Kaffir lime peel or domestic lime
peel
1 large stalk lemon grass, tough outer leaves discarded, lower stalk
trimmed to 3 inches and finely sliced
I small package (3 ounces) pork cracklings (optional)
With a pair of scissors remove the stem from the chiles and shake
out the seeds. Then cut the chiles into 1" sections and soak in
very hot water for 30-45 minutes to soften them.
To roast the Kapi either place on tinfoil in a toaster oven for a
few minutes or place in a medium hot skillet for 4 or 5 minutes
until aromatic (understatement). It is a good idea to leave the
kitchen window open and put the cat outside.
Place the peppercorns in a mortar and pound with the pestle until a
fine powder. Add the lemongrass, lime peel, and ginger in the mortar
and pestle and pound thoroughly. Then add the shallots and garlic
and continue pounding to make your paste. Then add the kapi and
pound a bit more to incorporate it into the paste.
*Note: This process can be done in a small food processor bowl -
however better flavour and feelings of achievement are accomplished
using a mortar and pestle. Squeeze out the liquid from the chiles,
reserving about 1/3 cup of the soaking liquid and add them to the
mortar. Repeat the pounding again until your paste is smooth. Be
sure and scrape down the sides of the mortar regularly adding a
little of the reserved chile water as needed to achieve a smooth
paste.
.
*Optional cracklings can be added at this point and mixed in.

This paste can be stored in an airtight container in the
refrigerator for up to 3 months or in the freezer for up to 6
months.
Guajillo Dried Chiles are used as they are as close to the Thai
large smoked dried chiles we find in the US. The Guajillo is
related to the Pulla Chile, which is a very common chile in Mexico.
It is a shiny chile about 4 to 6" long and 1 ½" across. It is an
orange-red-brownish colour with thin flesh. It is a sweet mild heat
with berry and green tea overtones. It is commonly used in Mexican
salsas and stews. For a smokier overtone Mulato chiles can be
used. They are a deep chocolate brown so the sauce will not have
the nice red colour.







Related Articles
Editor's Picks Articles
Top Ten Articles
Previous Features
Site Map





Content copyright © 2022 by Mary-Anne Durkee. All rights reserved.
This content was written by Mary-Anne Durkee. If you wish to use this content in any manner, you need written permission. Contact Mary-Anne Durkee for details.