Shrimp Salad (Pla Gkoong)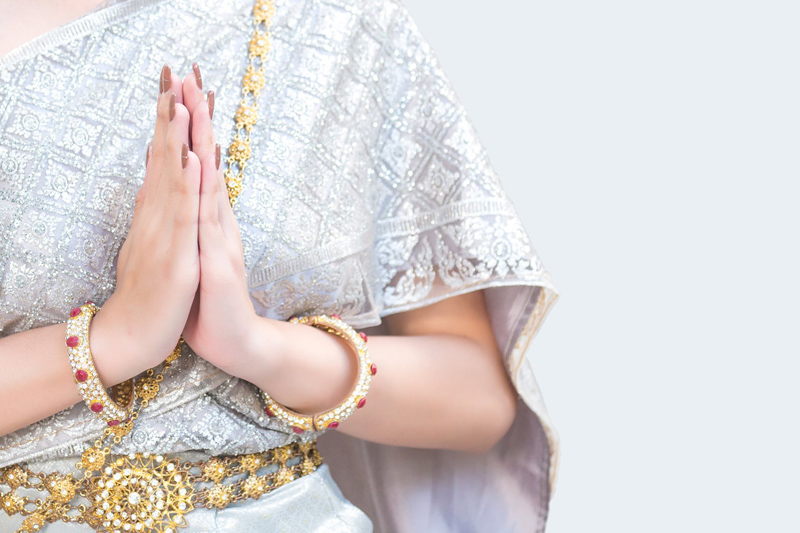 In Isan (Northeast Thailand), this dish is sometimes prepared with raw fresh water shrimp. This variant is known as pla kung lao (ie shrimp prepared in the Laotian style). In essence the shrimp are "cooked" in the lime juice much like ceviche. However, this dish has a Thai slant as the shrimp are "blanched" as you often do veggies and not raw.

Bai chaploo are the leaves of a vine often found in Asian markets under the Vietnamese name of La lot. If you can't find them, mint or even tender spinach is a good substitute.

Tamarind juice is made using a spoonful of the prepared concentrate mixed in water until disolved, and readily available in Asian and India markets. I prefer the Thai Tamarind as it is not so sour.

ingredients

1 pound of medium shrimp
2 tablespoons takrai (lemon grass) thinly sliced and pounded
1 tablespoon bai makgroot (kaffir lime leaves)slivered
2 tablespoons of bai chaphlu leaves, juilenned
2 tablespoons bai pak chi(coriander/cilantro leaves) chopped
2 tablespoons of hom daeng (shallots), thinly sliced
2 tablespoons of hom (green onions) sliced thinly
1 teaspoon phom prik (ground dried red chile)
1/4 cup nam pla (fish sauce)
1/4 cup lime juice
1 tablespoon tamarind juice
1 tablespoons vinegar from prik dong (pickled red chili)
1 - 2 tablespoons sliced red and/or green birdseye chilis to desired hotness

Garnish:
Cucumber slices
Limme wedges

Sticky Rice

Bring a medium size pot of water to a boil. Drop in unsheeled shrimp with heads if possible into the water for 30 seconds to blanche.

Drain, remove the shells and heads but leave the tails intact.

Place the shrimp in a bowl and add the fish sauce, lime juice, tamarind juice and chiles.

Marinade for about an hour in the refrigerator.

Toss with the remaining ingredients to combine.

Garnish with cucumber slices and lime wedges and serve with sticky rice.

Special thanks to the late Colonel Ian Khuntilanont-Philpott, professor in Korat Thailand, who passed on in 1998 the year after we visited him and his wife Muoi in Korat (Isan).




Related Articles
Editor's Picks Articles
Top Ten Articles
Previous Features
Site Map





Content copyright © 2022 by Mary-Anne Durkee. All rights reserved.
This content was written by Mary-Anne Durkee. If you wish to use this content in any manner, you need written permission. Contact Mary-Anne Durkee for details.