Cashew Chicken on a Bed of Spinach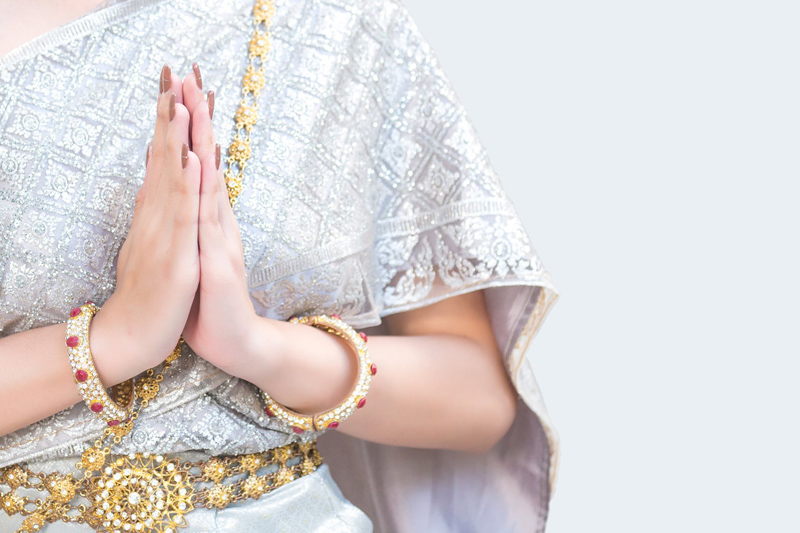 This recipe is one of my all time favourite Thai dishes. It is quite simple to make but the flavour is huge!

Cashew Chicken on a Bed of Spinach (Gai Pad Met Ma-Muang Himmaphan Pak Kam)

2 - 4 Tablespoons oil (peanut or vegetable)
4 garlic cloves (kratiem), minced
1 lb boned, skinless chicken, thinly sliced
1/3 cup sliced red bell pepper or sweet red peppers
2 to 6 dried Thai Dragon Chiles (optional)

Lightly steam in a wok 1 pound of spinach* leaves tossed with 1/2 teaspoon of sesame oil. Sit aside.

Sauce

2 tablespoons oyster sauce (Thai brand)**
1 tablespoon date palm sugar
1/4 teaspoon white pepper

1 - 2 tablespoons fish sauce (nam pla)to taste

1/2 cup dry roasted cashew nuts

Garnish:
1 green onion, sliced

Method:

Heat a large skillet or wok, add the oil, chicken, bell peppers, chiles, garlic, and quickly stirfry. When the chicken is no longer pink add the sauce ingredients, sugar and sprinkle with the white pepper. Continue cooking on a medium high heat until the sauce is reduced and coats the chicken thoroughly.

Toss in the cashew nuts and stirfry an additional 30 seconds.

Plate the spinach spreading out to form a bed for the chicken mixture. Place the chicken on top of the spinach. Garnish with green onion slices. Serve with steamed jasmine rice.
Serves 4

* Spinach - I buy the large bags of washed baby spinach for this dish. This eliminates the need to wash and wash and drain the spinach leaves.

** Oyster Sauce (Nahm Man Hoi)-It is important to use a Thai brand of Oyster Sauce as it is less salty than Chinese brands. The Thai Oyster Sauce has a very rich and wonderful flavour and do not contain monosodium glutamate (m.s.g.). It is a dark brown sauce made from oysters with salt and water, thickened with cornstarch and color-enhanced with caramel or burnt sugar, is extensively used as a seasoning for stir-fried vegetable, meat, seafood and noodle dishes.

Maekrua brand oyster sauce shows a plump woman stir-frying while shaking sauce from a bottle into the wok on the front of the label. Underneath her are the words Mae Krua, which means "mother of the kitchen," the Thai way of referring to a female cook. On either side of her are pictures of oysters. This brand is quite flavorful and is available in small, medium and large bottles, the largest holding 20 fl. oz. Another tasty brand is the Healthy Boy brand, but more difficult to find in the US.

Oyster Sauce when refrigerated after opening keeps for up to one year, but in our house we use several large bottles a year.







Related Articles
Editor's Picks Articles
Top Ten Articles
Previous Features
Site Map





Content copyright © 2023 by Mary-Anne Durkee. All rights reserved.
This content was written by Mary-Anne Durkee. If you wish to use this content in any manner, you need written permission. Contact Mary-Anne Durkee for details.