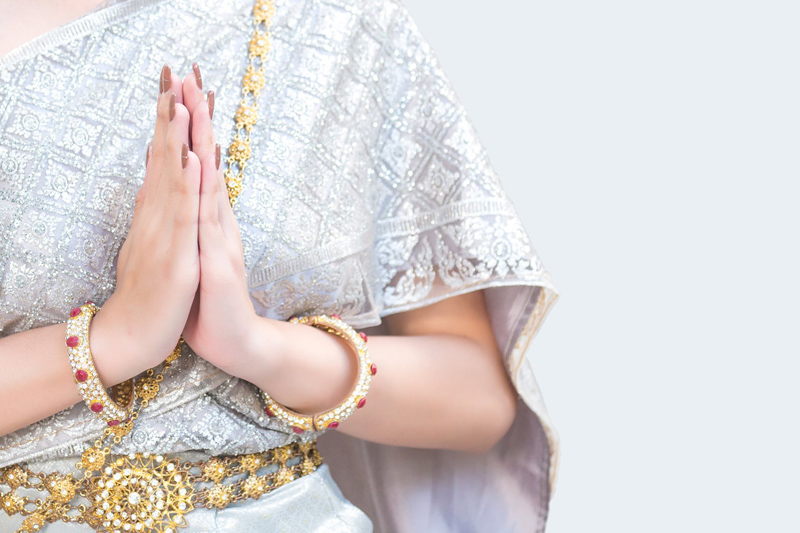 Lentils are not a common Thai ingredient, but the combination with eggplants gives a great balance of flavour and textures. Serve this as a side dish or with steamed jasmine rice for a great lunch.

This is a great tasty, low calorie, low fat recipe that is suitable for both vegetarian and non-veg meals. The combination of garlic, chiles, and Thai Basil make for an exciting and fresh taste.

If you can not find Asian Long Eggplants or Thai green or white golf ball size eggplants use cubed Italian Globe type eggplants. Also Indian egg size purple eggplants work just as well. You can use various types of lentils from the common brown or yellow lentils to the green French lentils or the split red lentils of India. I sometimes use the Beluga or small black lentils which cook very quickly.

Aubergine With Lentils (Phad Makhua Sai Thua)

1/4 pound lentils
1/4 tsp sea salt
1/2 pound Asian long eggplant
4 - 5 cloves garlic
1-3 Thai Dragon chile
2 tab vegetable or peanut oil
1 tab fish sauce (nam pla)*
4 tab water
10 Mint leaves (Thai Basil and or mint)

Cover the lentils with boiling water and leave for 2 hours. Drain,
cover with fresh water, add salt, bring to the boil and cook, covered
for 1/2 hour. Drain.

Cut the eggplant lengthwise into 4 pieces and then cut these
quarters into 2-inch pieces.

Place the garlic and chile in mortor and pound into a paste with pestle.
Fry until fragrant in oilstiring until golden.

Add the lentils, aubergine pieces and water to the garlic and chile in the pan. Continue frying for 3-4 minutes until the aubergine is cooked.

Add the fish sauce, blend in taste and adjust flavour, add the mint leaves, turn the mixture just once with a spoon, and remove from the heat and serve.

Serves 6

* Nam Pla (Fish Sauce) is an important Thai ingredient. I prefer using high quality Fish Sauce such as Golden Boy or Dragonfly as they do not contain the cheicals used in processing such brands as Tiporas. Fish Sauce is very inexpensive so please toss out any old bottle that has become concentrated and dark. The flavour in old fish sauce can be too salty and strong with an unpleasant aroma.



Related Articles
Editor's Picks Articles
Top Ten Articles
Previous Features
Site Map





Content copyright © 2023 by Mary-Anne Durkee. All rights reserved.
This content was written by Mary-Anne Durkee. If you wish to use this content in any manner, you need written permission. Contact Mary-Anne Durkee for details.