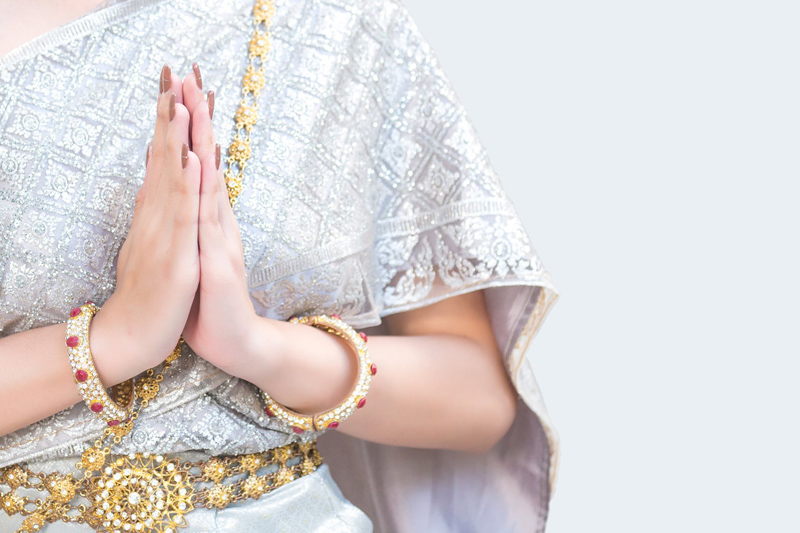 The most important thing about making baby back ribs is to get the right cut of meat. Baby back ribs, sometimes called pork loin ribs or simply back ribs, are taken from the top of the rib cage between the spine and the spareribs, below the loin muscle. They have meat between the bones and are shorter but meatier than spareribs. The rack is shorter at one end, due to the natural tapering of a pig's rib cage. (See notes below for pointers)

Be sure and remove the silver membrane on the ribs as it is tough! Have your butcher do it for you!

Marinade
4 large stalks Lemon Grass, thinly sliced and chopped
3 tablespoons garlic, minced
4 Shallots, chopped
4-8 Thai Dragon Chiles
1/4 fresh lime juice
3 tablespoons Fish Sauce (Nam Pla)
1 tablespoon Sesame Oil
1-2 tablespoons date palm sugar
1/2 teaspoon salt-optional

Place the above ingredients in mortor and pound with pestle until a fine paste is made, or place in food processor and process until a smooth paste is formed.

5 lbs. Baby Back Pork Ribs

Marinade in sauce over night

BBQ ribs slowly offset, over a medium fire, do not allow to dry out or burn. We sear the ribs, then move to the side of the grill and close the top so the ribs do not get direct heat and cook them slowly.


DIPPING SAUCE:
2/3 cup lime juice
4 tablespoons date palm sugar
1/4 cup Fish Sauce
6-8 Garlic cloves
4 Thai chiles

Blend above ingredients and use as a dipping Sauce for Ribs.
Blend and adjust hot-sweet-sour taste balance.

Garnish
3/4 C fresh Thai Basil leaves

Notes on rib selection:

Baby back ribs, sometimes called loin ribs, are cut from the loin section. They are shorter and smaller than spareribs. They have a covering of meat over the bones and also between them. Because they do come from the loin, they are leaner and meatier than spare ribs. They are also considerably more expensive and in shorter supply.

Spare ribs are the traditional slab of ribs. They come from the belly of the pig, behind the shoulder. They include 11 to 13 long bones. There is a covering of meat on top of the bones and between them. They are the most inexpensive cut of ribs. St. Louis style ribs are a variation of the full slab. They are trimmed and have the brisket bone removed. Kansas City style ribs are another variation. They are trimmed even more than the St. Louis style ribs and have the hard bone removed.

Country style ribs are actually not ribs at all but are cut from the blade end of the loin, right behind the upper portion of the pork shoulder. They are more like fatty pork chops than ribs. While they have more fat per pound than any of the other styles of ribs, the fat is in layers and the meat between those layers is leaner and less marbled than most other ribs. They are the meatiest of all the ribs.




Related Articles
Editor's Picks Articles
Top Ten Articles
Previous Features
Site Map





Content copyright © 2023 by Mary-Anne Durkee. All rights reserved.
This content was written by Mary-Anne Durkee. If you wish to use this content in any manner, you need written permission. Contact Mary-Anne Durkee for details.