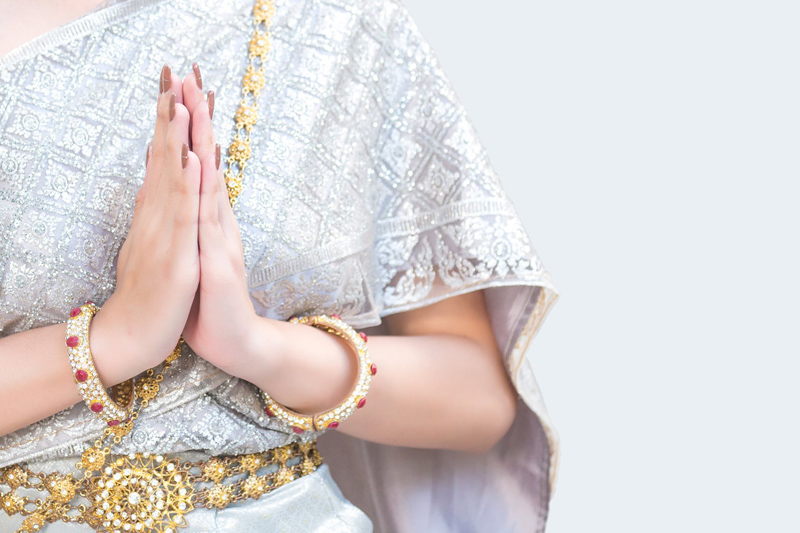 Phrik King Curry Paste is often used for a smooth, peppery taste for grilled fish. It is especially nice with pork and green beans. This is one of the easiest of all curry pastes to make, as well as being very low in fats as this is a dry curry without coconut milk.

This type of dry curry is traditional in the north and north east of Thailand where there are not any coconut trees growing. This type of curry is very weight loss or low calorie friendly.

You can make an entirely vegetable Phrik King Curry using a variety of available fresh vegetables. I especially like green beans, carrots, onions, kabocha, and eggplants with this curry paste.

This curry paste is a wonderful compliment to seafood including shrimp or whole fish.

6 to 8 dried red chiles, roasted and ground

1/2 tsp sea salt

1" galangal chopped

1 stalk lemon grass

2 tsp cilantro roots

1 tsp minced kaffir lime peel

1 head of garlic, minced

2 shallots, chopped

1 tsp kapi

2 tabs dried shrimp, minced

Pound ingredients with mortor and pestle a little at a time until it is reduced to a paste. It is important to pound all the ingredients together until smooth and well blended. Then add the dried minced shrimps. And pound until blended.

This is great for dry highly seasoned dish using pork, green beans, shrimps, fish, or?

Notes: Mortar and pestle are a common kitchen tool for making smooth Thai curry pastes. Hand crushing using a morat and pestle changes the flavour as it breaks down the fibers and releases oils in the ingredients.

You can use a food processor, but if possible I highly recommend using a mortar and pestle. It also makes for a fun cooking event. I do the cutting and dicing of ingredients and my husband does the pounding! They say it takes out agression and is theraupetic.

There are several different mortar and pestles available. First is the teak wood ones that are more suitable for making Som Tom (Green Mango or Papaya Salad).

Most popular are the hard clay mortar and pestles found in Laos and North east Thailand.

Also 100% hand-carved solid granite mortar and pestle is very sturdy. It is an important tool for Thai cooking.

Many famous American chefs like Ming Tsai, Mark Bittman, Jean-Georges Vongerichten and David Rosengarten are seen using these amazing Thai Mortar and pestles for various pounding chores.

Using a mortar and pestle infuses fresh ground flavors of herbs like basil, lemongrass, galangal, garlic, chile peppers etc. I couldn't prepare curry pastes without a set.




Related Articles
Editor's Picks Articles
Top Ten Articles
Previous Features
Site Map





Content copyright © 2018 by Mary-Anne Durkee. All rights reserved.
This content was written by Mary-Anne Durkee. If you wish to use this content in any manner, you need written permission. Contact Mary-Anne Durkee for details.