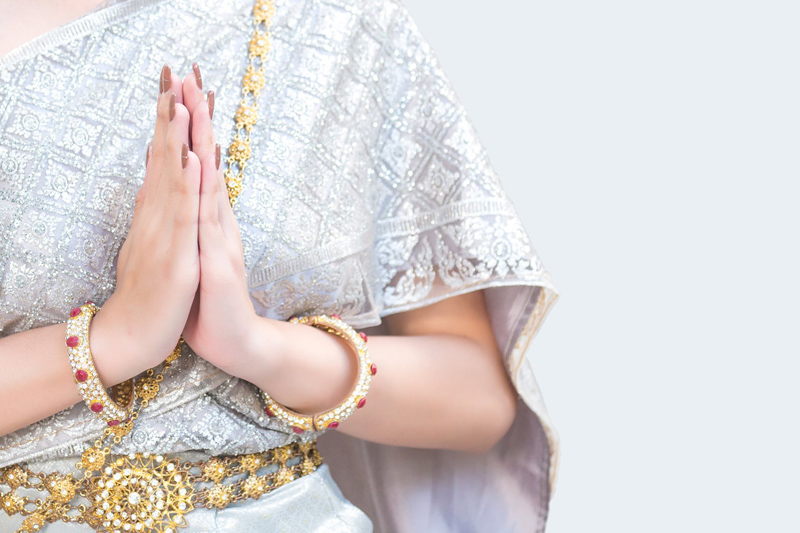 Swimming Rama
Yield: 2-3 Servings

Ingredients

1 lb chicken breast skinless, boneless
1 tsp peanut oil
1 can (14 oz) coconut milk
3-4 tsp red curry paste
2-3 cloves of garlic minced
2 fresh kaffir lime leaves slivered *optional
2-4 tabs fish sauce to taste
1 tsp date palm sugar *optional to your taste
2/3 cup chopped toasted peanuts
1- 1 1/2 pounds fresh washed spinach leaves chopped

Garnish: Thai basil

Method:

Wash and drain fresh spinach or defrost frozen spinach and drain well.

Slice chicken in 1/4 inch wide by 2" long strips.

Stir fry the chicken in a little peanut oil quickly to seal in the juices just until no longer pink.

Remove the chicken and set aside.

Add the red curry paste and garlic to the thick part of the coconut milk in hot wok or pan. Fry until fragrant and the oil begins to separate. Add the sugar if being used, kaffir lime leaves, and the peanuts, on medium heat, stirring frequently uncovered for 8 - 10 minutes. Add the spinach, and then the chicken. Stir and heat for another few minutes.

Serve with steamed jasmine rice.rice.
Garnish with fresh Thai Basil.

History Note: I have yried to trace down the meaning of this dish Swemming Rama, but all I am told is that it is just named that period.

Okay, but I still wonder, as the first King Rama was crowned in 1782. He moved the capital across the river to Bangkok, and ruled as the first king of the Chakri dynasty. In 1809 Rama II, son of Rama I, took the throne and ruled until 1824. King Rama III (1824-1851) began to develop trade with China and increase domestic agricultural production.

When king Mongkut (Rama IV) took the throne in 1851 he quickly established diplomatic relations with European nations, while at the same time astutely avoiding colonisation. He also began a period of trade reform and modernisation of the Thai education system. His son, King Chulalongkorn (Rama V 1868-1910), continued this tradition with the modernisation of the legal and administrative systems, and the construction of railways. During his 15 year reign from 1910 to 1925 king Vajiravudha (Rama VI) introduced compulsory education and other reforms.

In 1925 the brother of king Vajiravudha, king Prajadhipok (Rama VII 1925-1935) ascended the throne. Seven years later a group of Thai students living in Paris mounted a successful bloodless coup d'etat which led to the establishment of a constitutional monarchy similar to that which existed in Britain. A key military leader in the coup, Phibul Songkhram, took power and maintained control until after the end or WW II. Rama VIII, Ananda Mahidol, became king in 1935 but was assassinated in rather mysterious circumstances in 1946. He was succeeded by his younger brother Bhumipol Aduldej who became Rama IX. His Majesty King Bhumipol Adujdej remains on the throne today, and he commands great respect in both Thailand and throughout the rest of the world.

So where does King Rama swim?



Related Articles
Editor's Picks Articles
Top Ten Articles
Previous Features
Site Map





Content copyright © 2023 by Mary-Anne Durkee. All rights reserved.
This content was written by Mary-Anne Durkee. If you wish to use this content in any manner, you need written permission. Contact Mary-Anne Durkee for details.