Steamed Seafood Custard in Banana Leaf Cups(Haw Mok Talay)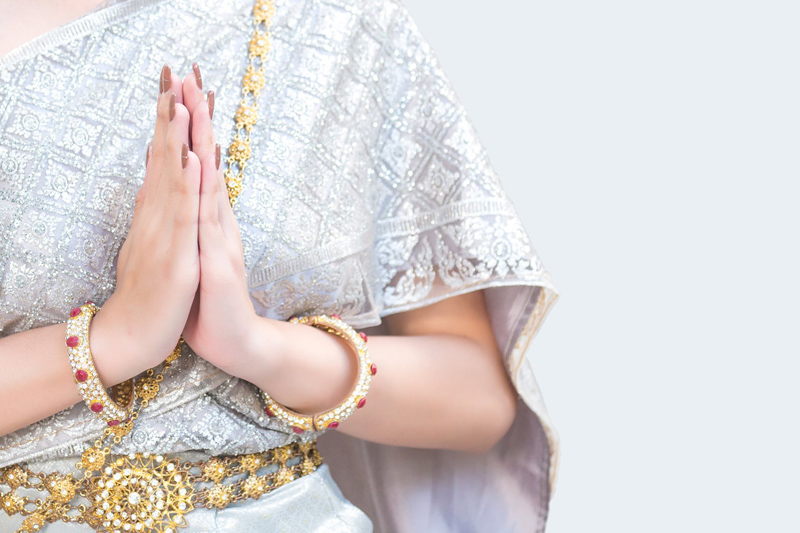 Hor Mok Talay
(Steamed Seafood Custard in Banana Leaf Cups)

Ingredients:

* 2 tbsps. red curry paste (from can or plastic tub is fine or
better yet make your own)
* 1 Tablespoon of oil
* 2 cups coconut cream
* 1 Tablespoon of rice flour
* 1 lb. filet of a firm fish (1/2 ground in food processor,
1/2 in coarse cubes)
* 1 lb. mixed shellfish-peeled shrimps, scallops, and mussels
if desired
* 2 large eggs, beaten
* 5-6 makrut leaves (kaffir lime leaves), very finely
julienned
* 2 green onions chopped
* 3 tbsps. nam pla (fish sauce)
* 1 cup fresh basil leaves (reserve some for garnish)
* 1 dozen cilantro roots, pound into a paste (optional)
* 2-3 cups bok choy or Napa Cabbage cut into 1" pieces and
lightly steamed in fish sauce and water, squeeze all the liquid out
* 3 older banana leaves from outside of plant, split
lengthwise with rib removed (or 1 pkg. frozen leaves)
* 2 Thai or Serrano chile peppers, thinly julienned for
garnish

Preparation:

Fry the curry paste in the oil until fragrant.

Add the kaffir lime leaves, green onions, half the basil that has
been chopped, and cilantro roots and continue frying for another
minute or so.

Mix the rice flour with the liquid part of the can of coconut milk
(about 1 cup). Pour this rice flour and coconut milk mixture into
the curry paste, stirring to incorporate. Simmer for a few minutes
to thicken. Add fish sauce and stir.

Take off the stove and add the rest of the coconut milk. Stir, and
allow to cool. When cool add the ground fish and stir again.

Place fish chunks and shrimps, scallops and mussels in a large
bowl. Pour beaten eggs over them. Mix to coat evenly.

When coconut milk curry mixture is cool, add a little to the seafood
mixture in the bowl and stir. Add a little more at a time and stir
thoroughly after each addition. This stirring is very important as
it draws the moisture out of the fish and shellfish into the custard
mixture.

Mix steamed and well drained (squeeze out excess liquid) bok choy or
Napa Cabbage with basil leaves and distribute evenly in bottoms of
banana leaf cups.

Place scallops, shrimps, chunks of fish and mussels if using into
the cups.

Spoon the custard mixture into the banana leaf cups until nearly
full and place in covered steamer for 20-25 minutes.

A few minutes before they are finished steaming, remove steamer
cover and garnish tops with a little coconut cream and two or three
strips of red chile pepper to suit your taste.

Serve with hot, steamed Jasmine rice.

Serves 4-6.

To make Banana Leaf Cups:

Wash leaves well.

Stack 3 banana leaf sections on one another and, with a pair of
scissors, cut a series of 5 1/2" circles.

Take a pinch-fold in four or five places and secure with short
bamboo picks or toothpicks to form a round cup two layers thick,
with 1" sides.

Add toothpicks as necessary to maintain shape.










Related Articles
Editor's Picks Articles
Top Ten Articles
Previous Features
Site Map





Content copyright © 2023 by Mary-Anne Durkee. All rights reserved.
This content was written by Mary-Anne Durkee. If you wish to use this content in any manner, you need written permission. Contact Mary-Anne Durkee for details.