Tofu stir-fried with basil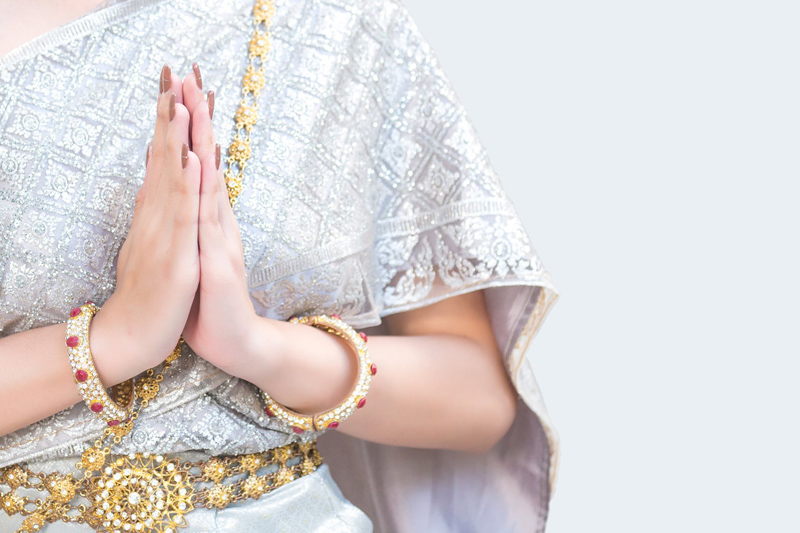 Tofu stir-fried with basil (Tao Hoo Pad Bai Kaprao)

4 oz. Firm tofu or deep-fried tofu

3-4 Garlic Cloves, minced

4-8 Thai Dragon chiles, minced

1 Shallot, chopped

Splash Fish Sauce, Nam Pla, to taste

1 Tabs Light soy sauce

1 Tabs Dark soy sauce

1/4 cup Stock or water

1 tsp Date Palm Sugar

1 Tab Peanut oil

Generous Sprinkling of White Pepper

1 1/2 cups Holy basil leaves (bai kaprao, torn into smaller pieces

Method:
Cut the tofu into 3/4" pieces.

Heat a wok until hot. Add the peanut oil, add the garlic and ginger, stirfry until fragrant for about 10-15 seconds, make sure not to allow the garlic to burn or it becomes bitter.

Add the tofu and stir-fry again for another minute. Add the light and dark soy sauces, the date palm sugar, generous sprinkling of white pepper, and the stock or water.

Stir-fry for one more minute to allow the sauce to thicken a bit and coat the tofu. Add basil leaves stir fryinguntil they begin to wilt. Splash with fish sauce, taste and adjust seasonings to your taste.

Serve with steamed Jasmine rice.

Garnish with additional basil leaves.

Notes
If you can't find holy basil, you can use Thai sweet basil and mint leaves torn.

Tofu has become mainstream in much of America. Even guys who are meat-eaters are considering tofu products as a way to improve their diets and provide a variety of health benefits. High in protein, vitamins and minerals while low in calories, sodium and fat, tofu packs a one-stop nutritional punch not found in many other foods.

Tofu, made from the curds of soybean milk, is primarily available in four textures: soft, firm, extra firm and silken. Silken tofu has a custard-like consistency and is usually substituted into dressings, protein shakes and desserts. I also use the silken in potstickers and such as a moist binder. Firm and extra firm varieties are usually cut up into chunks that stand up well to marinating and can be sautéed, grilled or baked, or diced for soups and stir-frys. Tofu itself is rather bland, but absorbs the flavors used to prepare it.

Tofu's primary health benefits stem from its soybean base. Soybeans are very rich in protein, minerals and plant components called isoflavones, which act as a form of estrogen hormones in the body. This combination of nutrients, coupled with tofu's low sodium and fat content, delivers some significant health benefits for those who consume tofu regularly.





Related Articles
Editor's Picks Articles
Top Ten Articles
Previous Features
Site Map





Content copyright © 2023 by Mary-Anne Durkee. All rights reserved.
This content was written by Mary-Anne Durkee. If you wish to use this content in any manner, you need written permission. Contact Mary-Anne Durkee for details.