Mexican Refried Beans with Pineapple Salsa Recipe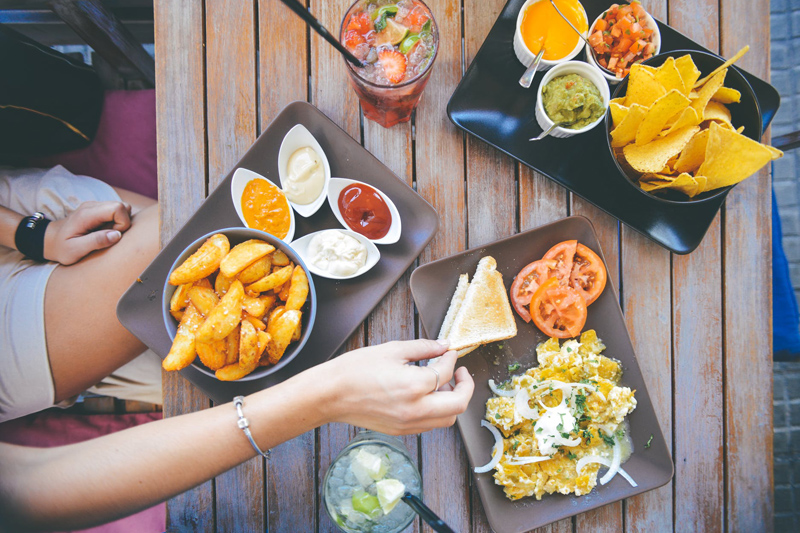 16 September, 16 de septiembre, is Mexican Independence Day, and I am celebrating this momentous occasion with a quintessentially Mexican dish: "frijoles refritos", otherwise known as refried beans.
Frijoles - soothing, comforting, earthy and utterly delicious - are one of the most time-honoured pre-Hispanic Mexican ingredients, which grew in the "milpa" or traditional cornfield, alongside the corn itself as well as chillies and tomatoes. They come in all colours and sizes, and bubble quietly away in a pot, cazuela, in every Mexican kitchen, ready to be used in any number of recipes or just on their own, as a simple accompaniment – and they are certainly an ever-present inhabitant of my home kitchen where they have an important role to play: with an "olla de frijoles" in my refrigerator, I need never go hungry, however busy I may be.
One of the most popular bean dishes is "Frijoles Refritos", which has been popularly interpreted as "refried beans". This, however, is a misnomer, as the beans are only fried once. The prefix "re" in Mexico is used for emphasis, as in "re bueno", really good, or "re bonita", so pretty. When it comes to these beans, the "re" would be better translated as "well" fried, and frijoles refritos make an appearance at every meal: they sit beside eggs at breakfast and tacos and enchiladas at lunchtime; garnished with a spiky crown of tortilla chips, they are served in restaurants as a small appetiser, to keep hunger at bay while decisions are taken about the rest of the meal; they find their way into huge savoury tortas, sit in splendour atop tostadas, and fill the hollows of mild poblano chillies. At their most modest, they may simply be rolled into a soft, warm corn tortilla, sauced perhaps with a mixture of roasted tomatoes and chillies; or they may be used as a blank canvas and given a fancier turn with spicy chorizo or bacon, a mouth-searing purée of dried chillies, a bouquet of local herbs, or a good handful of rich, savoury cheese.
While an acceptable version of Frijoles Refritos may be achieved with tinned beans, the flavour and texture cannot compare to the home-cooked variety, and since it takes little effort – but plenty of cooking time! – to prepare the beans from scratch, it is well worth setting them to simmer in a cazuela on a back burner, Mexican style, and making the real thing.
You need to start off with the most basic of bean dishes, known as "frijoles de olla" or pot beans. All that is required is to cook the raw beans (black and red kidney beans are particularly good for this dish) in water with a bit of onion and garlic, and a sprig of the native herb, "epazote", if you can lay your hands on it, or a bay leaf or strip of kombu seaweed (all help to make the end product more digestible!), until they are totally soft and luscious, at least two hours if not longer. This step can even be done several days in advance and the beans refrigerated. Then when you are ready for the "refrying" step, fry them up with or without bacon, chorizo, chillies, spices – in fact, to be proper frijoles refritos, they need only be mashed down in a bit of hot oil (or rich, tasty lard if you want to be authentic) as nothing more is actually necessary. However, I always flavour them with some kind of chilli, whether fresh or dried, some onions and a sprinkling of freshly ground cumin; and when I am eating them on their own, I love to partner them with a bright, zesty salsa, spiked with a properly hot chilli to bring them to life and balance their rich earthiness: this can be a straightforward Salsa Verde or Salsa Mexicana, or a slightly more exotic and fruity combination like my Pineapple Salsa.
Piña © Philip Hood
How you reach the ideal consistency is up to you: if you like your frijoles refritos chunky and textured, use a potato masher to crush them in the frying pan – this takes a little time but is very satisfying. If you prefer a smooth, velvety purée, a food processor is your best bet.
Frijoles Refritos con Salsa de Piña – Refried Beans with Pineapple Salsa
Serves 6
For the frijoles de olla:-
500 g/18 oz beans, preferably black or red kidney
200 g/7 oz onions, peeled and coarsely chopped
3 garlic cloves, peeled
1 sprig epazote, fresh or dried, or 1 bay leaf, or 1 strip kombu seaweed
Sea salt and freshly ground black pepper
For the frijoles refritos:-
60 ml/4 tbsp olive oil
175 g/6 oz onions, peeled and coarsely chopped
2 garlic cloves, peeled and sliced
5 ml/1 tsp chipotle chilli paste or powder, or to taste
5 ml/1 tsp ground cumin
Sea salt and freshly ground black pepper
Warm corn tortillas or tortilla chips, to serve
For the pineapple salsa:-
1 medium ripe pineapple, peeled, eyes removed, and diced (you should end up with about 400 g/14 oz of pineapple flesh)
50 g/2 oz red onions, peeled and finely chopped
20 g/3/4 oz fresh coriander/cilantro, coarsely chopped
Fresh habanero or Scotch bonnet chillies to taste, deseeded and chopped medium fine – or leave the seeds in if you dare or wish!
15 ml/1 tbsp fresh lime juice or to taste
60 ml/4 tbsp olive oil
Sea salt and freshly ground black pepper
Start off with the initial cooking of the beans, which can be done well in advance. Place the raw beans in a colander and rinse them under cold, running water. Put them in a large saucepan with the onions, garlic and herb or seaweed, add enough water to cover by 10 cm/4 in, and bring to the boil over medium heat. Turn the heat down to low, cover the saucepan and simmer very gently for at least 2 hours, preferably 3 or 4, until the beans are totally tender. Check them every now and then to make sure that they are not drying out and are covered by at least 1 cm/1/2 in of water. Add some seasoning and cook for another 20 minutes. The beans can now be used immediately, or set aside to cool and then refrigerated.
When you are ready to make the Refried Beans, heat half the oil in a large, heavy frying pan and cook the onions and garlic gently until soft and lightly browned, about 15 minutes.
Make the salsa by stirring all the ingredients together in a bowl.
Remove the epazote or bay leaf from the beans (if you have used kombu, leave it in as it will be very soft) and, with a slotted spoon, transfer them to a food processor. Add the onion mixture, chipotle, cumin, some seasoning and enough of the bean broth to enable the blades to turn efficiently. Blend until you have a chunky paste, or until it is as smooth as you like.
Heat the remaining olive oil in a heavy frying pan, add the bean purée and cook over gentle heat for about 15 minutes, stirring occasionally – it should be fairly thick, soft but not sloppy. Check and adjust the seasoning and heat.
Serve immediately topped with the pineapple salsa and accompanied by warm corn tortillas or totopos, tortilla chips.
Buén provecho!
| | |
| --- | --- |
| Chilli and Chocolate Stars of the Mexican Cocina by Isabel Hood is available from Amazon.co.uk | Just The Two of Us Entertaining Each Other by Isabel Hood is available from Amazon.com and Amazon.co.uk |
You Should Also Read:
A Pot of Beans
Veracruz - Black Gorditas Recipe
Yucatán - Beans with Pork Recipe


Related Articles
Editor's Picks Articles
Top Ten Articles
Previous Features
Site Map





Content copyright © 2023 by Isabel Hood. All rights reserved.
This content was written by Isabel Hood. If you wish to use this content in any manner, you need written permission. Contact Mickey Marquez for details.