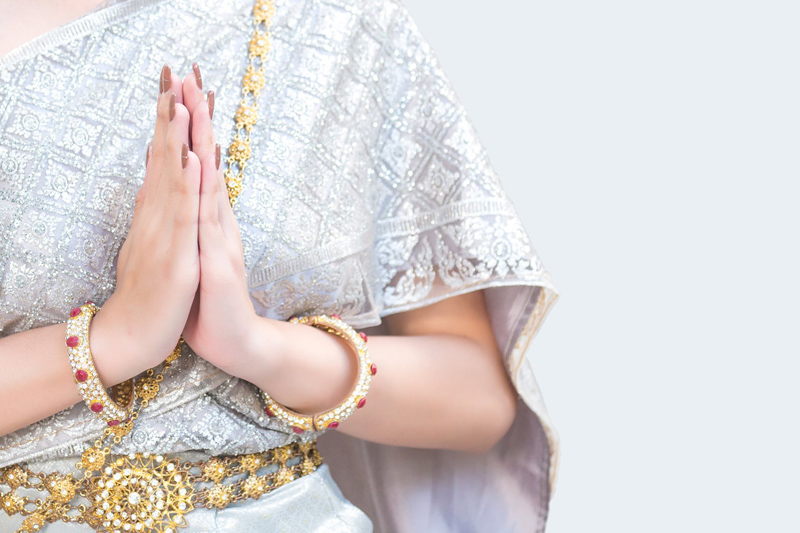 Fresh fruit is abundant in Thailand and is typically eaten as a snack. A favourite thing is to dip the pieces of fresh fruit in this dip.

4 tsp phom prik ki nu (ground dried red birdseye chiles)
4 tsp sugar
1 tsp salt

Try it to add zip to Apples, Asian Pear, bananas, plums, grapefruit, pomello, or Pears... superb with mangoes and melons. For very sweet fruits such as oranges and pineapple increase the amount of salt.

There are many fruits in Thailand that are rarely seen outside SE Asia while many are routinely shipped to Australia, the US, other parts of Asia and europe. Some below ewill b familia to you others may not be so common.

One that is popular all overt the world is the banana, but in Thailand there are over 40 varieties of bananas from tiny finger bananas to large ones used in deep frying.

Banana :
You can eat fresh as a fruit or add syrup & deep fry with a coating of flour as a dessert. There are 3 different kinds; Kluy Hom, Kluey Nam Wah, Kluey Khai all different in size and flavor.
Season : All year round

This is one of my favourite Thai fruits.

Custard Apple :
With the help of both hands, gently squeeze to open the fruit & enjoy the very soft & sweet taste of the meat with a spoon. Watch out for the seed in every particle.
Season : June to August

One fruit that you always think of when you think of Thailand is the coconut.

Coconut :
With a straw you can sip straight from the shell the natural & healthy fresh fruit juice. Then scrape out with a spoon the soft white flesh from inside the shell. You may need an expert to open the coconut for you. There's an art to making a hole in the top portion of the fruit with a hatchet to get the juice & flesh.
Season : all year round.

Longon :
The dark brown & very thin shell is easily cracked by a squeeze between thumb & forefinger. Every bite of translucent meat is delightful with sweet taste & juice. Watch out for the hard stone. Grown in the North of Thailand.
Season : May to July

Lychee :
Peel a way the reddish skin with your thumb nail & let the sweet & sour taste of the fruit dry up your thirst. Watch out for the stone.
Season : April to May

Papaya :
Refreshing & very rich in Flavor. Try a slice of ripe papaya with a squeeze of lemon or lime juice. You can also eat unripe papaya as Thai salad with a lot of ingredients.
Season : All year round.

Pineapple :
Pineapple is very rich in flavor & vitamin C . You will find the taste of Phuket pineapple is special-meat is pale in color, a lot more crispy, Not to juice or sweet, However, you will enjoy the difference with a pinch of salt to smooth the taste. The only pineapple where you can eat the core.
Season : all year round.

Rambutan :
This kind of fruit with a hairy red rubbery shell is very well know in Thailand & other Asian countries. The flavored meat is a must to try . Slightly cut round the middle with a knife to remove shell and then cut the meat to remove the seed.
Season : May to July.

Roseapple :
With the different varieties of Rose Apple ; some have bright green skin some have pink skin. They are different in sizes ,although they all have white interior & the same flavor. cut in half-remove seeds. Add sugar & salt to bring out the flavor.
Season : March to May

This next fruit is another favourite of mine, but you must be careful as the shell stains badly!

Mangosteen :
Gently cut about 0.5 inch deep around the middle. Remove the top portion & you will find the pure white flesh underneath the thick skin.
Season : June to October.

And this last fruit is quite famous. There are signs in most Thai hotels saying Durian forbidden. This precaution is due to the smell-which some liken to a cross between dirty gym socks and Linberger cheese on a hot day.

Durian :
It's an oval, spiny and thorny shaped fruit, grown only in this part of the world. Known for its unpleasant odor yet it's consider the king of fruits. The sweet creamy texture make it irresistible to your taste buds. Health conscious people seek it for its energy preserving elements.
Season : May to July



Related Articles
Editor's Picks Articles
Top Ten Articles
Previous Features
Site Map





Content copyright © 2023 by Mary-Anne Durkee. All rights reserved.
This content was written by Mary-Anne Durkee. If you wish to use this content in any manner, you need written permission. Contact Mary-Anne Durkee for details.