Noodle Soup with Pork Meatballs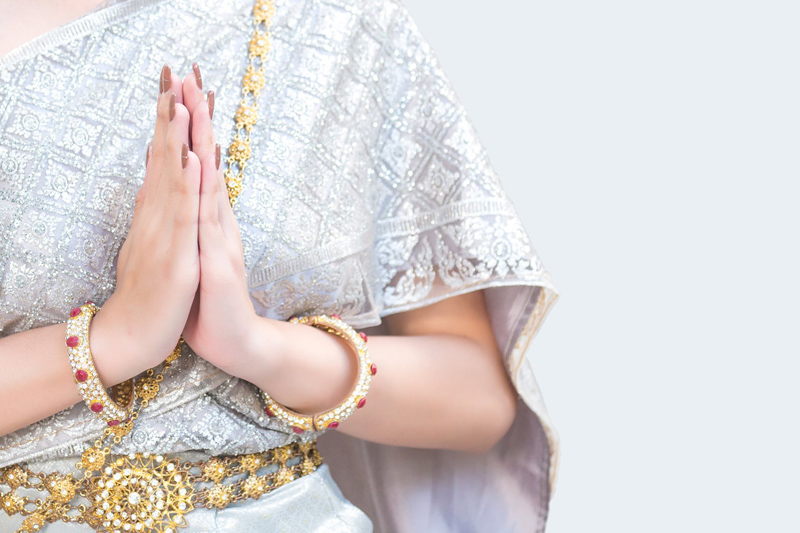 This is a typical Thai soup with noodles and meats. In this case
the meatballs are made of ground pork and seasonings.

Noodle Soup with Pork Meatballs (Yum Wunsen Sai Mu)

Serves 2

I learned this recipe from Muoi and her husband, the late Colonel Ian F.
Khuntilanont-Philpott of Korat, Thailand whom we met in 1994/1995.
Noodles are very popular in all of Asia including Southeast Asia. A
noodle dish is a typical lunch favourite often with a tasty broth
and meat or seafood or poultry. They usually are served with
condiments including fish sauce, soy sauce, and ground chiles.
Most soups are called Yum in Thailand as everything is put in one
pot together and simmered.

This soup is also sometimes called Kaeng Jued Wunsen (Kaeng Jued
implies a rather mild flavoured soup- by Thai standard).
This can be made with a variety of ingredients, but the most typical
is made with pork meatballs. However, lobster, beef, chicken,
shrimp, fish balls, or a mixed meat ball called monkey balls not
actually made from monkey meat, or one of the various Thai
sausages. I like the Chiang Mai round pork and rice fermented
meatballs!

Vegetarian options could include marinaded tofu. Marinating some
tofu in dark sweet soy sauce for about 2-3 hour. This sweet soy is
also called Ketjap Manis in Indonesia. The tofu would replace the
pork meatballs. Another favourite is the pre-marinated firm
compressed tofu available at most Asian markets.

Various fish balls, such as cuttlefish or shrimp and even lobster
can be found frozen in your Asian market and make for an even
quicker Yum/soup.

For the Soup:

1 T minced garlic
4 cups soup stock
2 ounces of cellophane noodles (wunsen), soaked in hot water for
about 15 minutes.
¼ cup fish sauce (nam pla)
1 cup sliced swamp cabbage (water vegetable, phak bung) or Napa
cabbage
2 spring onions thinly sliced, including the tender green tops
¼ cup cilantro - including the root which is chopped and pounded to
a paste
¾ to 1 t. freshly ground black pepper
For the meatballs:
8 ounces lean ground pork

1 T fish sauce (nam pla)
1 T Maggi sauce
1 T minced garlic
1 t ground black pepper
1 t rice flour (or cornstarch)
Mix the ingredients with the ground pork, and make the pork into
small meat balls (1"diameter), then set aside and leave to marinate
for 3 or 4 hours in the refrigerator.
Soak and drain the noodles, set aide.
Place the stock in 3 quart stock and bring to a boil. Add the
garlic, swamp cabbage, pepper, cilantro leaves and root paste, and
the meatballs, continue to boil until the meatballs are cooked
through, they will float to the surface. Add the fish sauce and
stir. Place portions of the noodles into large soup bowls and ladle
the soup over the noodles this heat up the noodles. Garnish with the
cut green onions and additional cilantro leaves.
Serve with the usual Thai table condiments chiles in fish sauce (nam
pla phrik), pickled chiles (phrik dong), sugar, roasted dry Thai
ground chile (phrik pon, and ground peanuts.
Nam Pla Prik (Chiles in Fish Sauce)

Put two thirds of a cup of finely sliced green or red birdseye
(phrik kee nu ) in a 1 pint jar, and fill with fish sauce (nam pla).
Seal and age for a week in the refrigerator before using. A good
quality fish sauce is important. I like Golden Boy or Dragonfly
Thai Brands best.

Condiments:

Phrik Dong (Pickled Chile)
Put two thirds of a cup of finely sliced red birds' eye chiles
daeng (phrik kee nu) in a 1 pint jar, and fill with rice vinegar .
Phrik Dong may also be purchased . I keep a jar of the red, green
and also yellow whole chiles as well as the ground chiles in my Thai
pantry at all times.

Phrik Pon (Dry roasted chiles)
Prik pon is roasted dry Thai ground chile or chile powder. Note in
Thailand this is spelled as chili or even chilli. There is both a
fine powder and a coarse powder which includes seeds.

You Should Also Read:
Pickled Chile (Phrik Dong)


Related Articles
Editor's Picks Articles
Top Ten Articles
Previous Features
Site Map





Content copyright © 2022 by Mary-Anne Durkee. All rights reserved.
This content was written by Mary-Anne Durkee. If you wish to use this content in any manner, you need written permission. Contact Mary-Anne Durkee for details.