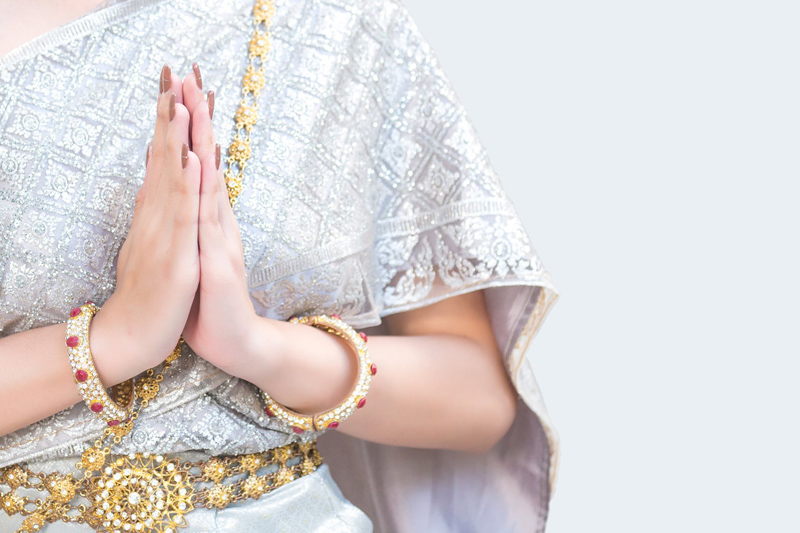 This isd a very popular Thai salad which is often served as a side dish with barbecued meats, seafood, and curries, as well as fried rice and noodle dishes.

Thai meals often are accompaniedby various condiments such as this refreshing cucumber Salad. I like using the Asian seedless cucumbers best as they are also thin skinned and do not require peeling.


1 tb Vegetable oil
1 tb Peanut Oil
2 tb Raw peanuts
Drizzle Sesame Seed oil * optional
1 lg Asian or English type Cucumber, peeled
2-6+ Fresh red chile, Thai Dragons or Birds, to taste
1 Shallot, finely chopped
2 ts Finely chopped lime peel**
1 1/2 tb Lime juice
2 ts Fish sauce (Golden Boy or Dragonfly Brand is good)
1 ts Date Palm Sugar or Lt. Brown sugar
8 ounces Fresh salad shrimp
or
2 ounces Large size dried shrimp, pounded
Garnish Fresh Cilantro leaves

Brown peanuts at high heat in a wok with the oil or brown in dry skillet.
Chop the peanuts up. Set aside.

Peel cucumber grate 1/2 of the cucumber and slice the other half in
very thin slices (or grate the whole thing, or slice the whole thing,
depending on which you like best).

Mix everything together and serve.
Garnish with chopped peants and cilantro leaves

Variations: Grated cabbage or daikon in place of cucumber

** I use minced young bai magroot/kaffir lime leaves, but most don't have access so the grated lime peel is a good substitute.

Garnish with chile flowers for added colour.

Chile Flowers:

Hold chiles by stem, slit them lengthwise into quarters, but do not cut through the stem. Carefully using knife remove the seeds. Place these slit chiles into a bowl of ice with ice water for at least 20 minutes. The chiles will curl outward forming the flower petals of your chile-flowers.






Related Articles
Editor's Picks Articles
Top Ten Articles
Previous Features
Site Map





Content copyright © 2022 by Mary-Anne Durkee. All rights reserved.
This content was written by Mary-Anne Durkee. If you wish to use this content in any manner, you need written permission. Contact Mary-Anne Durkee for details.