The Chillies of Mexico - El Serrano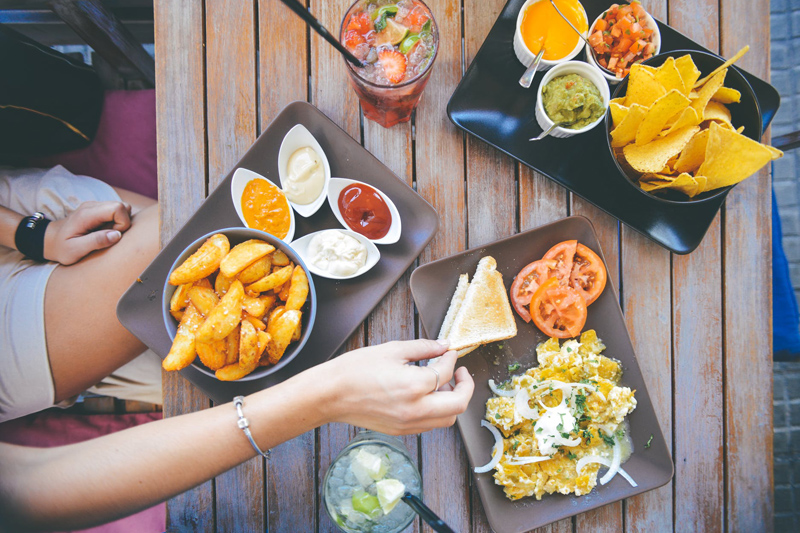 The bullet-shaped serrano chilli, small, slender and dark green, reminds me of a delightful Mexican song, which goes: "soy como el chile verde, picante pero sabroso", "I am like the green chilli, hot but tasty". It is one of the most widely used fresh chillies in Mexico, along with the milder jalapeño and the very fiery habanero, and yes, it is hot, with a good strong kick, but not overpowering – not a beginner's chilli certainly, more suitable I would say for experienced and hardy palates, as it rates somewhere between 8 and 9 on the heat scale – and while I have often read in Mexican cookery books that the jalapeño and the serrano are interchangeable, I disagree as their heat level is most certainly not comparable.

The serrano is said to have originated in the high sierras of the states of Puebla and Hidalgo, hence the name "serrano", of the sierra or mountain, although Poblanos tend to refer to it as a "tampiqueño", ie from Tampico on the Gulf of Mexico, which is somewhat confusing! Countrywide, however, it often simply goes by the name "chile verde", green chilli, and it is to be found in every Mexican kitchen and by the side of every Mexican street cook.

The flavour of the serrano, like the jalapeño, is quite grassy, crisp and biting with the addition of herby undertones and a hint of fruit to balance its bold warmth. With a colour ranging from dark green when mature to bright red when fully ripe and eventually yellow, the serrano, habitually complete with seeds, is most often used raw, in a salsa, although it does feature regularly in cooked sauces and dishes, where it is sliced and fried, or griddled and peeled before being added to the other components; I have also seen market cooks holding it over an open flame or above red hot coals, a method I often use as the intense heat causes the skin to blister away almost instantly, leaving the flesh intact.

In the following recipe, raw serrano chillies are scattered over fried eggs on a bed of pepper strips to show off their very distinct flavour. Poblano chillies are traditional in "rajas" or chilli strips, and if you can find any, do use them, but in the absence of these mild, very Mexican chillies, a green bell pepper is an acceptable substitute for this particular dish. I like to add red and yellow bell peppers to my rajas, as they contribute a caramelised sweetness which works well with the heat of the serrano chillies.

Fried eggs with multicoloured peppers - Huevos fritos con rajas de pimiento y poblano

Serves 2 as a main course

For the rajas:-
1 large red bell pepper, about 200 g/7 oz
1 large yellow or orange bell pepper, about 200 g/7 oz
1 large poblano chilli or green pepper, about 200 g/7 oz
60 ml/4 tbsp olive oil
250 g/9 oz red onions, peeled and sliced
3 garlic cloves, peeled and crushed
1/4 tsp chipotle chilli sauce or powder, or to taste
5 ml/1 tsp Mexican dried oregano
Sea salt and freshly ground black pepper

2 serrano chillies, with or without seeds, finely sliced
50 g/2 oz white onion, peeled and finely chopped
30 ml/2 tbsp coarsely chopped fresh coriander/cilantro
Vegetable oil, for frying
4 eggs
Sea salt and freshly ground black pepper
Warm corn tortillas, to serve (optional)

Start off with the rajas. Heat the grill to high. Line the grill pan with foil, arrange the peppers and poblano chilli on it, and grill about 10 cm/4 in from the heat, turning them as needed, until the skin is blistered and charred all over. Cool, peel, discard the stem, core and seeds, and cut into long strips about 1 cm/1/2 in wide.

Heat the olive oil in a frying pan and cook the red onions until soft and starting to brown, about 15 minutes. Add the garlic, chipotle chilli sauce or powder, oregano, pepper and chilli strips and some seasoning, and cook on medium heat for a further 10 minutes, stirring occasionally. Check the seasoning and keep warm.

The rajas can be prepared up to 48 hours ahead and refrigerated. Reheat gently before serving.

Mix the serrano chillies, white onion and coriander in a small bowl.

Heat some vegetable oil in a non-stick frying pan. Carefully break the eggs into the pan and fry sunny side up until the whites are set but the yolks still soft. Season with salt and pepper.

Divide the rajas between two warm plates and top with the eggs. Sprinkle liberally with the serrano chilli mixture.

Serve immediately with warm corn tortillas.

Buén provecho!

You Should Also Read:
The Chillies of Mexico
The chillies of Mexico - El Jalapeño
The Chillies of Mexico - El Habanero


Related Articles
Editor's Picks Articles
Top Ten Articles
Previous Features
Site Map





Content copyright © 2019 by Isabel Hood. All rights reserved.
This content was written by Isabel Hood. If you wish to use this content in any manner, you need written permission. Contact Mickey Marquez for details.