Thai Chicken Salad with Baby Ginger (Gai Yam King om)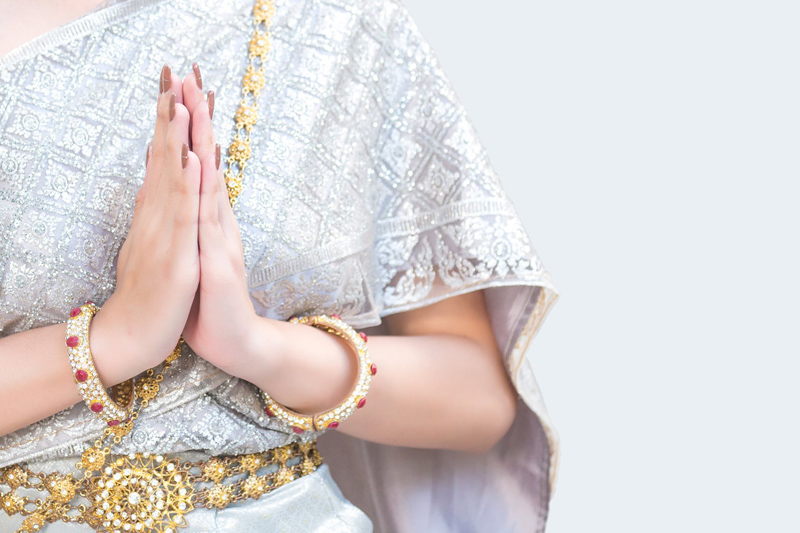 1 whole chicken, cut into large pieces or 2-3 Cornish Game Hens
1/2 English or Japanese cucumber
3 - 5 red Thai Dragon chiles, seeded, cut into thin slivers
1 large shallot, thinly sliced
1 1/2 tablespoons fine match -stick shreds of baby ginger *
3 garlic cloves, minced
1/4 cup fresh lime juice
3 tablespoons Thai Fish Sauce (Nam Pla) Golden Boy is a good brand
1 1/2 tablespoons date palm sugar
1 1/2 tablespoons peanut oil
1 teaspoon toasted sesame seed oil
1/2 teaspoon or more Sa-te oil or Chile oil to desired heat
2/3 cup fresh cilantro leaves
2 tablespoons dry roasted, unsalted peanuts for garnish
Optional-Bibb or Boston Lettuce leaves to serve the chicken salad in for out of hand eating, especially nice a appetizer lettuce cups
Place chicken into a large pot with enough water to cover. Bring to a boil and skimfoam from the surface. Reduce the heat to medium-low and simmer for 5-10 minutesTurn off the heat cover, let the chicken sit in the hot water for 30 minutes. Remove the chicken from the pot, and let cool. You can place the chicken or game hens in the refrigerator until ready to use.
When the chicken has cooled, remove the skin. With your hands, pull the meat apart into shreds about 1/4-inch wide and 1 1/2 inches long; put them in a bowl.

Peel the cucumber and cut it into match-stick shreds. Place in a bowl with the chiles, shallot, ginger and garlic. Toss with the lime juice, fish sauce, sugar, salt and the oils and let sit for 20-30 minutes. Add this dressing to the chicken and mix thoroughly. Stir in the cilantro leaves, garnish with peanuts and serve.

Serves 6 or 18 as an appetizer

Per serving: 220 calories, 30 g protein, 8 g carbohydrate, 6 g fat (2 g saturated), 86 mg cholesterol, 951 mg sodium, 1 g fiber.

Mary-Anne's notes: To make a rich broth from the chicken broth
You can place the skin and bones back in to the chicken broth to continue simmering to make stock. Add onion, celery, unused cilantro stems, 2 cloves of smashed garlic and desired spices to make a rich stock for later use. This makes a great stock for soups. I usually add two stalks of lemongrass cut in half legthwise nd hacked with the back of a clver to releas the oils. a couple of fresh Kaffir Lime leaves are also add nice fragrance. This broth is good for won tons.

*If you use fresh ginger, peel by scraping the bowl of a spoon over the peeling. I often use pickled baby ginger (Gung Mieng Caravelle Brand) from Thailand. It is found in Asian markets in a 16 ounce glass jar. It is also very convenient to add to stir fries.




Related Articles
Editor's Picks Articles
Top Ten Articles
Previous Features
Site Map





Content copyright © 2022 by Mary-Anne Durkee. All rights reserved.
This content was written by Mary-Anne Durkee. If you wish to use this content in any manner, you need written permission. Contact Mary-Anne Durkee for details.