Chicken Rice Porridge (Gai Kao Tom)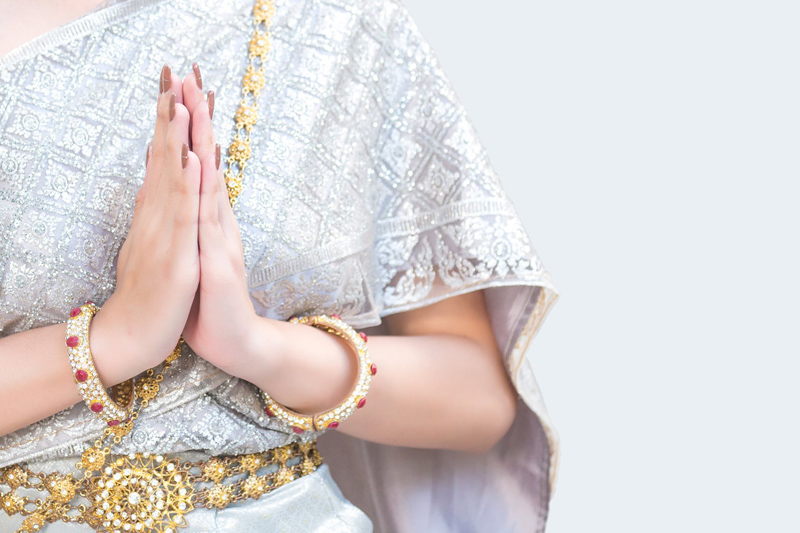 Khao/Kao means rice in Thai - Jasmine rice or Thai Hom Mali meaning a rich fragrant jasmine rice grown in the Northeast province known as Isan.

Chicken Rice Porridge (Gai Kao Tom)

In Thailand a popular breakfast is Gai Kao Tom which is know by the Chinese names of Jook or Congee. This rice porridge is a traditional Chinese comfort food, and is a favorite late-night snack, breakfast in a bowl and dim sum specialty all over Asia.

Every SE Asian country has their own adapted version of this old Chinese classic. The ideal consistency for this porridge resembles medium-bodied Cream of Wheat that falls easily off the spoon.

It's easy to reheat Gai Kao Tom in a microwave or on the stovetop over a very low heat in a non-stick pn.. It does not freeze well, but will keep up to a week in the refrigerator. The condiments are served in small dishes to allow diners to customize their bowl to their taste. It is fun to try a different one with each spoonful which is a totally new taste.

In some regions of Thailand you will be offered various variety meats and chunks of coagulated blood to personalize your bowl of Kao Tom. Another popular version uses spices mixed with ground pork which is added to the boiling Kao Tom.

This chicken version, Gai Kao Tom is my favourite IE chicken soup with attitude.

INGREDIENTS:
The Jook
Carcass of a roasted chicken or turkey, with some meat and skin
4 quarts cold water
2 Tbs. minced cilantro roots (or substitute with bottom stems)
1 cup jasmine rice
1/2 cup glutinous (also known as sticky) rice
5 slices of peeled fresh ginger, smashed
White Pepper to taste
Fish sauce (nam pla) A good quality one, such as Golden Boy
1/2 teaspoon Toasted sesame oil
The Garnishes
Cilantro sprigs
Spring onions sliced
Fresh water chestnuts, peeled and minced, or canned if fresh aren't available
Dried Cloud Ear Mushrooms, re-hydrated and julienned
Dried shiitake mushrooms, re-hydrated and sliced
Roasted sesame oil
Lite Soy sauce or Thai Soy (Golden Boy Mushroom is great)
Pickled turnip or salted radish (hua chay poa), cut into small dice
Pickled Garlic (gratiam dong)
Deep fried shallots,a vailable in Asian markets
Nam Pla Phrik - Fish Sauce with diced chiles

Remove excess skin from the chicken carcass but leave any browned, crispy pieces for additional flavor. Break up the carcass as needed to fit into your stock pot. Add enough water to cover the bones, and bring to boil, skinning off the foam. Reduce heat and simmer for 30 ninutes.

Rinse the jasmine rice several until water runs clear. Add the rice to the pot. Bring back to a boil, stirring occasionally. Add the ginger. Reduce heat to low, cover, and simmer for about 3 ½ hours, stirring occasionally. Low heat and stirring are important to prevent scorching as the Gai Kao Suay thickens.

Remove the bones and skin from the Gai Kao Suay. Discard bones and skin. Shred any large pieces of meat or cut into bite-size pieces and return them to the soup. Add the fish suce to taste, and simmer for about 20 minutes, until a good consistency is reached. Finish with the sesame oil.
Serve with small dishes of garnishes and condiments.
Note: Black fungus is a dried mushroom available in Asian markets.
Yields 3 quarts (12 servings)
Per cup: 100 calories, 3 g protein, 20 g carbohydrate, 0 fat, 0 cholesterol, 268 mg sodium, 0 fiber.




You Should Also Read:
Nam Pla Phrik (Chile Fish Sauce)


Related Articles
Editor's Picks Articles
Top Ten Articles
Previous Features
Site Map





Content copyright © 2023 by Mary-Anne Durkee. All rights reserved.
This content was written by Mary-Anne Durkee. If you wish to use this content in any manner, you need written permission. Contact Mary-Anne Durkee for details.