Basic Thai Sweet Chili Sauce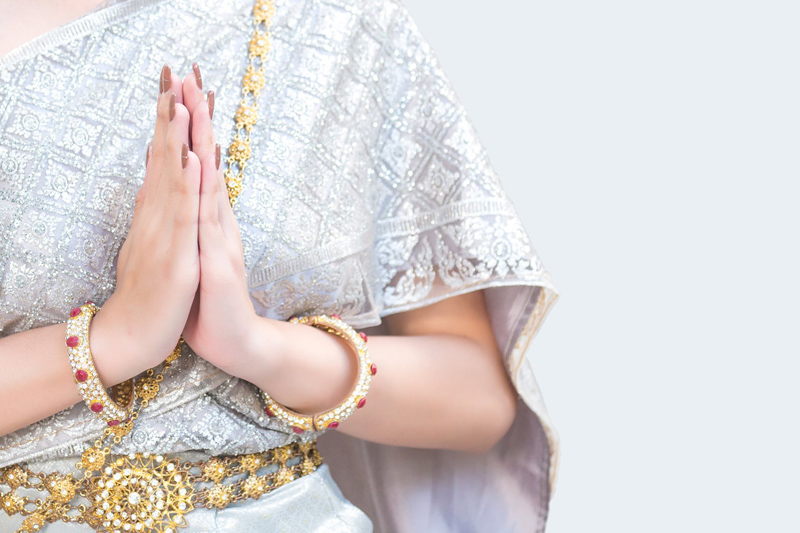 We use this "magic" sauce for many things including barbecued chicken, with sliced cucumbers as an instant salad, for dipping egg rolls, over deep fried whole fish, etc.

We prefer the bottled Sweet Chili sauce to home made, but this recipe is a nice simple substitution for it. There are many brands such as Mae Ploy, Dragonfly, and others. Some are sweeter than others and I prefer the hotter sweet to the sweeter hot versions.

This is a basic recipe and adjust the quantity of chiles to your taste.

1/2 cup date palm sugar
3/4 cup rice vinegar
1/2 teaspoon salt
4-6 Thai red chilies, chopped (or pickled red chiles in a jar)

Heat sugar and vinegar in a saucepan until sugar dissolves.

Boil the mixture until it starts to thicken.

Remove from heat and stir in salt and chili.

If it is too stron add a little hot water and stir.

Allow to cool before serving.

The Importance of Thai Table Condiments

Whenever you dine in a Thai restaurant you will find several table condiments for you to adjust the flavours to your taste. There will always be a Nam Phrik Pla (Fish Sauce with cut up chiles), a smoked ground dried chile powder, a little bowl of MSG, perhaps others such as Shrimp Paste and Chile (Nam Phrik Kapi).

If you are served Barbecued Chicken (Gai Yang) you will be served the ever so popular Chile Dipping Sauce (Nam Pla Phrik Kee Nu). Also a Sweet and Spicy Chile Sauce (Nam Jeem Gai Yang) is served with Bangkok Barbecued Chicken. This most popular sauce is readily available in the US, Europe and South East Asia bottled. Some of the popular brands you will find are Mae Ploy and Dragonfly.In the North East of Thailand, Isan you will often be served this dipping sauce with a basket of sticky rice.

In the Northern provinces of Thailand you will often be served a country style tomato sauce with ground pork and red curry (Nam Phrik Ong). Spicy meat sauces are served as dips along with an array of raw or blanched vegetables, sticky rice and crispy pork skins. This type of snack food is usually eaten while sipping a cool drink or a frosty Singha beer.

One of my favourite sauces is the Isan style Spicy Mushroom dipping sauce (nam Phrik Het). This is one of the hottest dipping sauces nd the locales say it will make a tiger cry. This sauce is made from mudfish similar to American catfish, garlic, shallots and mushrooms. This is served with raw or blanced vegetables. The contrast of the crisp cool vegetables and hot spicy sauce are quite addictive!

Another popular dipping sauce is a very simple Chiles in Vinegar (Phrik Dong Nam Sod) . This basic sauce is a combination of salty fish sauce, slightly sour rice vinegar, and a few sliced chiles. It is often drizzled over noodle dishes.

Spicy Cucumber Relish (Nam Thaeng Kwa) is traditionally served with many Thai dishes from barbecued chicken to various appetizers including satays. This is a crisp combination of cucumbers, cilantro, and sweet and sour dressing adorned by chopped peanuts and fresh cilantro.

If you order Satay you will be served a Curried Panut Satay Sauce. This special combination of peanut-chiles-sugar is the perfect sauce for chicken, lamb, pork or beef.






You Should Also Read:
Grilled Quail (Nok Gata)


Related Articles
Editor's Picks Articles
Top Ten Articles
Previous Features
Site Map





Content copyright © 2023 by Mary-Anne Durkee. All rights reserved.
This content was written by Mary-Anne Durkee. If you wish to use this content in any manner, you need written permission. Contact Mary-Anne Durkee for details.