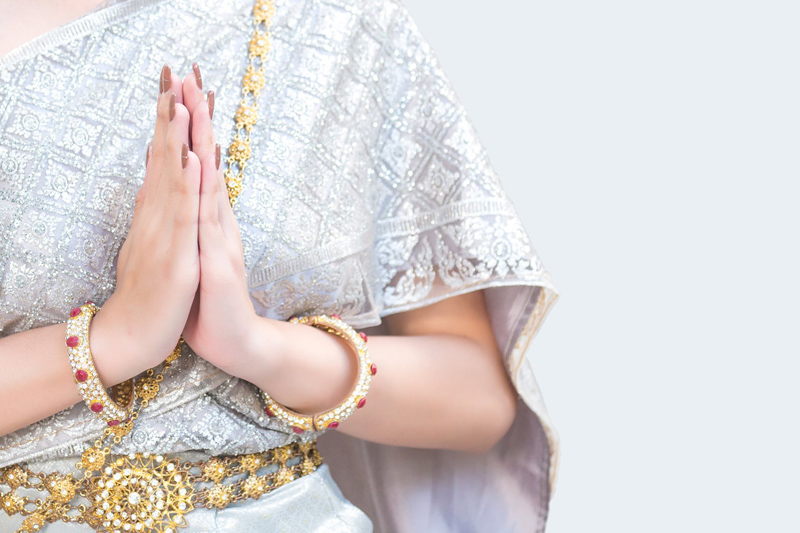 Thai red tea leaves are blended with star anise. The steeped tea then is flavored with sugar, and after being cooled is mixed with condensed milk for a refreshing cooling creamy drink. Each person adds either evaporated milk or half and half to their taste. Perfect drink with spicy Thai food!


6 cups water
1 cup Thai tea (Cha Thai)-available in Asian Markets
sugar
sweetened condensed milk
evapourated milk or half and half

In a kettle, bring the water to a boil. Place the tea in a teapot or glass container. Pour the water over the tea and let steep until bright orange in color, 5 to 8 minutes. Be careful not to spill the tea as it stains!

Strain into a clean container, such as a pitcher (or, if in tea bags, remove the bags). Add sugar and stir to dissolve.

Let cool to room temperature, then cover and refrigerate until ready to serve.

Fill 6 tall glasses with crushed ice and add tea to 3/4 full. Add condensed milk to each glass and stir.

Serve with iced-tea spoon so guests can swirl the mixture themselves.

I always serve additional condensed milk or half and half so everyone can add to their taste.


I use "Thai Style Spiced Tea" Pantainorasingh Brand.

I make Thai tea using a traditional Thai tea steeper- a funnel filter made of white cotton knit that is attached at the top with a metal ring that has a handle. These can be found in Asian markets. You also can use a coffee filter but will need to use more tea leaves, or a large fine mesh strainer.

Balance filter ring above a tea or coffee pot. Fill filter with the desired amount of tea. Pour in boiling water and steep to desired strength. Make the tea strong because it will be diluted later with milk and ice: I use approximetly 2 Tbs. tea to 1 cup hot water.

You also can just place tea in a pan of boiling water and pour through a fine mesh filter.

Sweeten the tea partially with sugar and finish off by adding sweetened condensed milk to taste. Pour over a glass of ice. Top with evaporated milk.

Take note that the rich orange color of the tea is from food coloring and it will stain. The tea mix is made of black tea roasted with star anise.








Related Articles
Editor's Picks Articles
Top Ten Articles
Previous Features
Site Map





Content copyright © 2023 by Mary-Anne Durkee. All rights reserved.
This content was written by Mary-Anne Durkee. If you wish to use this content in any manner, you need written permission. Contact Mary-Anne Durkee for details.