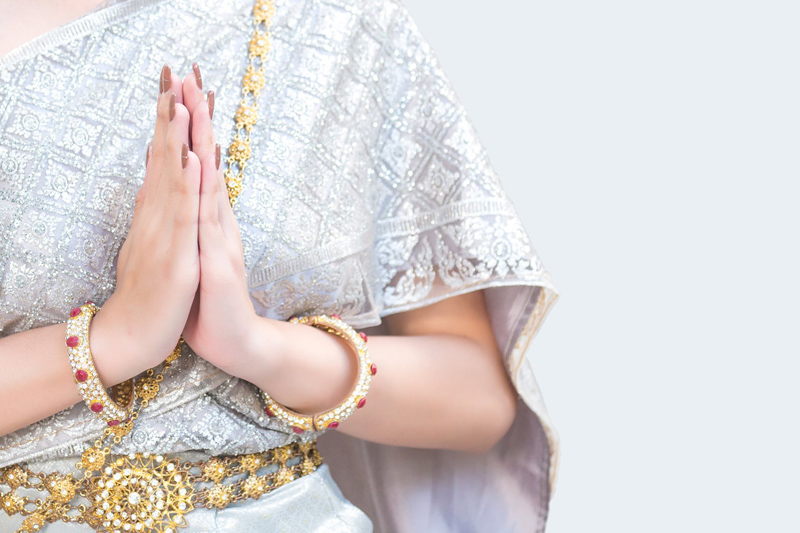 Sea bass is one of my favourite fishes to serve, as it is moist and rich tasting. The ti leaves lend a wonderful fragrance and flavour to the fish and are a perfect combination with the traditional Thai tastes of Thai Basil and Kaffir Lime Leaves.

The Nam Pla Cilantro dipping sauce lends an exciting touch to the ti cooked sea bass. The bursting flavours of garlic, ginger, cilantro, fish sauce, and chiles allow each diner to adorn their fish to their taste.

4-6 ounce sea bass fillets 1" thick
2 large ti leaves center stem removed
4 sprigs of Thai Basil
4 fresh kaffir lime leaves
Salt and Pepper
Sliced shitakii mushrooms
Sliced Maui or Walla Walla onions
Slivered carrots

Nam Pla Cilantro Sauce-see below

Take two of the ti leaves and form an even X
Place a kaffir lime leaf and a few Thai basil leaves on the center of the X on the ti leaves
Place a small handful of the vegetables on the cross point of the Ti leaves.
Salt and Pepper the vegetables.
Salt and pepper both sides of the sea bass.
Place the sea bass on top of the vegetables.
Place a kaffir lime leaf and a few Thai basil leaves of the fish.
Carefully bring the underneath Ti Leaf upwards to meet at the top holding with your fingers while you. bring each of the other two ends the ti leaves on either side of the ti leave you are securing with your fingers. Fold down these last two ti leaf ends and secure with bamboo skewers.

Steam in bamboo steamer for 15-20 minutes.

Serve with Nam Pla Cilantro Sauce.

Plate steamed Ti leaf wrapped sea bass with garlic crumbles and sliced green onions or chives. Pour nam pla cilantro sauce in a small ramekin and serve on the side.

Nam Pla Pak Chee Sauce (Cilantro Fish Sauce)

1-2 tablespoons fish sauce (nam Pla)
2 tablespoons water
1 tablespoon lime juice
2 tsp palm sugar
4 sliced Thai chiles (adjust to desired heat level)
1 teaspoon grated ginger
2 cloves garlic minced
1 teaspoon minced shallots
Handful of cilantro coarsely chopped

Place ingredients in blender and liquefy but don't over heat it or the leaves will turn gray. You want a bright green sauce.










Related Articles
Editor's Picks Articles
Top Ten Articles
Previous Features
Site Map





Content copyright © 2023 by Mary-Anne Durkee. All rights reserved.
This content was written by Mary-Anne Durkee. If you wish to use this content in any manner, you need written permission. Contact Mary-Anne Durkee for details.