Jackfruit Curry (Gaeng Kanun)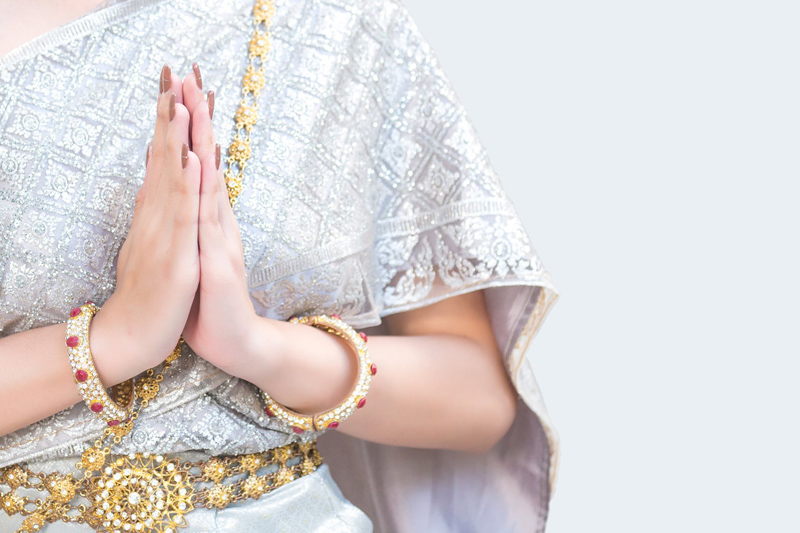 This a Karen (hill-tribe) recipe. Like many Northern recipes it is generally eaten fiendishly hot, but I have toned it down a little, mainly because the high heat is to mask the strong taste of the local "game". Wandering the local markets in Northeast Thailnd and also in Laos especially around Luang Prbang you see a lot of "game" being offered. Many of the offered meats are small animals-and it is best not to ask or figure out what this mystery meat might be.

This can be made with pheasant, venison, wild boar or alligator meat (close to one local ingredient), or with Cornish Game hen or pork. The sweet jackfruit and coconut shoots make this less hot than it might seem, but I still advise caution and to serve it with rice. The original recipe called for plumping the raisins and sultanas in a local "white spirit" made from fermented rice -- substitute Thai whiskey, sake or bourbon to taste.


2 kaffir lime leaves (bai makroot), slivered
1 cup jackfruit or lychees (canned or fresh)
1 cup coconut or bamboo shoots (canned or fresh)
1 cup "game" meat, cut into bite sized pieces,
1/2 cup golden raisins
1/2 cup dark raisins
1/2 cup coconut cream (thick part)
3 tablespoons red curry paste
1 to 3 tablespoonss prik chi fa daeng (red Thai jalapeños), julienned
2 tablespoons garlic (kratiem) minced
2 tablespoons fish sauce (nam pla)
2 tablespoons holy basil (bai kaprao), finely chopped
1 cup chicken stock

If using fresh jackfruit, blanch the jackfruit for about a minute in boiling water, then immediately cool, peel, pit, and cut into bite sized pieces. If using canned just open can and drain, sit aside.

Soak the raisins in Thai whiskey, also called Mekong for about an hour. The meat is sprinkled with fish sauce and freshly ground black pepper and left to marinade for an hour in the refrigerator.


The whiskey or sake is then discarded (or drunk).

Heat a little oil and sauté the garlic, remove it, and reserve. Sauté the red curry paste until fragrant, then add the coconut cream and stir to combine and cook until the oil begins to separates. Skim off any excess oil, then add the meat and stir fry until it just begins to change colour, then stir in all the other ingredients except the jackfruit, cover and simmer for about 5 minutes or until the meat is tender. Remove the lid, stir in the fruit and stir until the fruit is heated through, and the meat and coconut shoots are fully cooked.

Serve with steamed Jasmine Rice or with sticky rice as is common in Northern Thailand. The best Jasmine rice is called Thai Hom Mali or new crop jasmine. This rice requires less water and a shorter cooking time.


This recipe is based on one I learned from Colonel Ian F. Khuntilanont-Philpott and his wife Moiu in Korat (Ubon Ratchishima) back in the mid 80's on one of our many trips to Thailand.


Related Articles
Editor's Picks Articles
Top Ten Articles
Previous Features
Site Map





Content copyright © 2022 by Mary-Anne Durkee. All rights reserved.
This content was written by Mary-Anne Durkee. If you wish to use this content in any manner, you need written permission. Contact Mary-Anne Durkee for details.