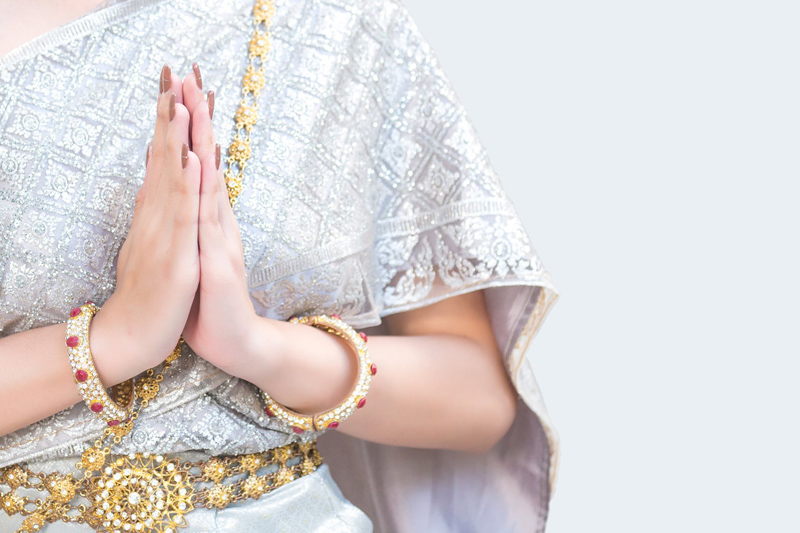 Namya Curry is a popular lunch for many busy Thais, and it is also a traditional meal for Thai New Year's/Songkran. You can make it yourself as below, or use an easy and tasty Namya Curry paste from the tin or tub available at Asian Markets. I like both Mae Sri and Mae Ploy Brands of Namya.

Variation on Namya-Nam Ngiew Namya Curry-use thin rice vermicelli (Wun Sen) in place of somen type noodles, or over Brown Jasmine Rice for a healthier alternative.

Namya Curry
4 servings
1 1/2-to 2-pound catfish, sliced into chunks
1 small slice salted fish, rinsed of oil and dried (see below)
1 stalk lemon grass, hard outer layers removed, sliced into 2" pieces, pound lightly to bruise and release the fragrance and oils
1/2 cup krachai (fingerroot), peeled (see below)
2 tsp. galangal
2 New Mexico or California chiles, soaked in lukewarm water, seeded and dried
1/4 cup de Arbol chiles, soaked in lukewarm water, seeded and dried
1/4 cup garlic cloves with peel
1/4 cup shallots, peeled
1 small mackerel, steamed and deboned
1 1/2 cups unsweetened coconut milk and cream
1 tsp sea salt
2 Tbs. fish sauce
4 bundles somen noodles
4 sprigs Thai basil
*optional accompaniments
1 cup green beans, parboiled in salted water for 2 minutes
1 ½ cup blanched bean sprouts (trimmed of roots)
2 hard boiled eggs
1 cup sweet basil leaves (maengluk)
Place the catfish in a pan with 3 cups of boiling water. Cook until the fish is done about 15 minutes Remove and place fish on tray to cool. Add the salted fish to the simmering broth, and turn heat to medium and continue simmering for boil for 6 minutes. Remove salted fish and place on the tray with the catfish to cool.
Add the lemon grass, krachai and chiles to the broth and boil for 10 minutes, then add the garlic and shallots and boil for another 5 minutes. Remove these ingredients and place in a bowl and set aside.
Remove the bones from the catfish and salted fish.
Place the fish and ingredients from the bowl in a food processor adding a little of the reserved broth to achieve a smooth paste. Put this prepared paste into the remaining broth.
Add the coconut milk (liquid and cream) to the broth and fish paste, stir, and heat thoroughly. Add fish sauce (nam Plah) to desired taste.
This can be made ahead of time up to this point and kept covered in the refrigerator.
When ready to serve you just reheat the Namya.
Bring a pot of water to a boil to cook the somen noodles. Drop the somen noodles into the boiling water (be sure and remove the little plastic wraps). Boil them on a simmer for about 2-3 minutes. Remove the noodles from the water in 4 equal portions. You can cool the noodles down in cold water to allow you to serve them in a figure eight fashion if you so desire for easy serving. We usually just plate each portion of noodles in their individual shallow bowls; pour Namya Curry on top of each serving making sure the sauce penetrates the noodle bundles.

Garnish with sprigs of Thai Basil (Bai Horpha).

Notes: Krachai bottled in brine or frozen can be bought in Asian markets.



Related Articles
Editor's Picks Articles
Top Ten Articles
Previous Features
Site Map





Content copyright © 2022 by Mary-Anne Durkee. All rights reserved.
This content was written by Mary-Anne Durkee. If you wish to use this content in any manner, you need written permission. Contact Mary-Anne Durkee for details.